Companies can blame Amazon all they want, but the fact is simple: e-commerce businesses' logistics operations must be predictable, seamless, and efficient if they want to remain successful in the market.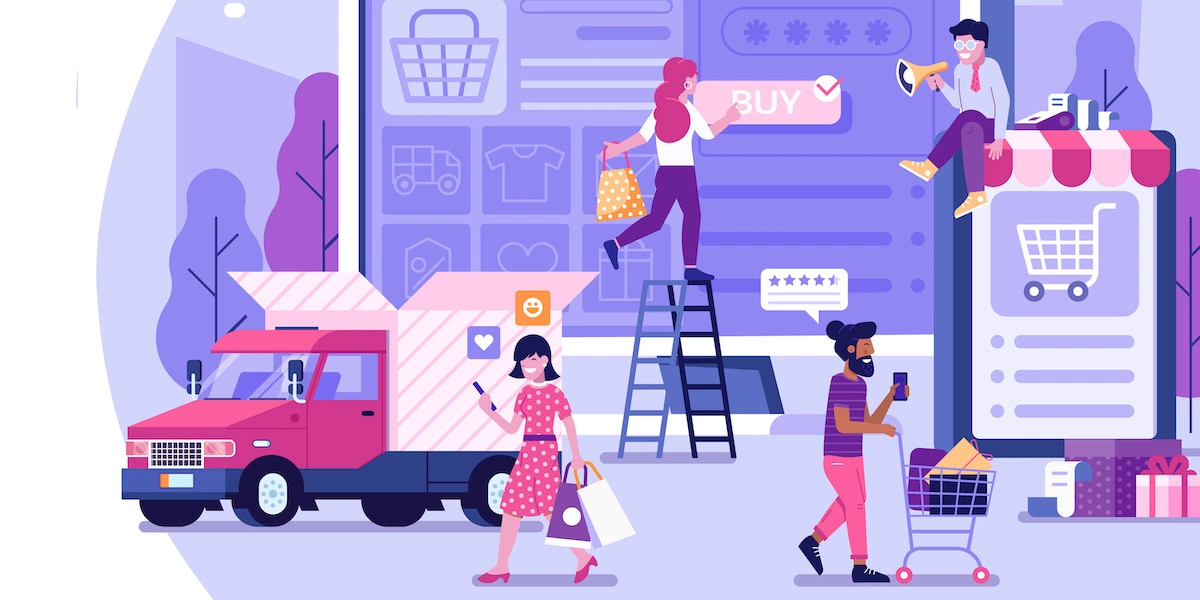 Consumers nowadays demand not just fast but also cheap or free shipping from online shopping sites. It doesn't matter whether you are an e-commerce giant or a medium-sized enterprise. Customer expectations have shifted dramatically.
Fortunately, it's never been easier for companies of all shapes and sizes to invest in technological tools that empower them to optimize their logistics operations. In this post, we will tackle e-commerce logistics and how a last mile delivery solution can help enable seamless logistics operations.
The Basics of E-commerce Logistics
E-commerce logistics refers to the end-to-end process by which online retailers reliably and efficiently deliver goods to end consumers.
Given the exponential growth of online shopping, there are now millions of orders of various kinds being transported across the country every day. That means online retailers need to have a reliable system in place that ensures that each order is delivered to the customer on time.
For some, delivering on time every time might seem impossible. Fortunately, integrated last mile systems can help you manage your delivery planning activities in a central hub while offering artificial intelligence and robust automation. This enables your business to make on-time deliveries consistently and meet increasing customer demands.
The key thing to remember here is integration, which is crucial in ensuring that the back office, customer-facing teams, and delivery teams are in sync.

How the Right Last Mile Delivery Solution Can Improve Logistics Performance
Streamlining the Last Mile
Improving e-commerce logistics requires optimizing your last mile delivery operations. The last mile isn't just the last leg of the supply chain, it's also the most time-consuming and expensive logistics process and the one that most directly affects the customer experience.
Last mile delivery solutions should help online retailers eliminate inefficiencies in the final mile to reduce operating costs and increase profit margins. This is key to elevating the customer delivery experience, which in turn allows your company to gain a competitive edge. The right last mile logistics app helps by streamlining processes such as order ingestion, routing, dispatching, tracking, and more—such that your processes aren't just smart and automated but highly visible and scalable.
Reducing delivery times
Improving last mile delivery efficiency begins with reliable data. This means that fleet managers need to have real-time visibility on driver and vehicle availability, orders statuses, driver statuses, and much more.
That's why a robust last mile delivery solution will ensure that data sources are synced and thereby facilitate real-time information exchange. This helps fleet managers and dispatchers to make changes on the fly without causing chaos, delays, or bottlenecks.
This kind of data integration also puts you in a position to find the most optimal and cost-effective routes in a matter of clicks. With a route planning feature that takes into consideration various factors such as driver skill, traffic and weather conditions, time window requests, as well as historical data, you can begin to find the most efficient routes without hours of manual effort. Ultimately, this enables you to reduce the delivery time required for each stop, thus boosting your capacity and improving your bottom line.
Improving Customer Delivery Experience
Again, customers are more demanding than ever these days. Aside from expecting quick and cheap deliveries, they also want to know where their orders are without calling the customer service team.
Luckily, a final mile solution that offers more transparency to shoppers can go a long way in creating a great delivery experience. The ideal solution should offer features such as real-time driver tracking, automatic status updates, and integrated customer communication features that connect drivers and dispatchers to end-consumers with ease.
Here, your last mile platform should enable you to capture customer feedback and measure delivery performance against key performance indicators (KPIs) such as distance traveled, on-time delivery rates, success rates etc. This way, you can accurately identify areas for improvement in the customer delivery experience.
Offering Fast and Flexible Delivery Options
Offering fast and free shipping is no longer optional for online retailers. Consumers are more likely than ever to go to a different retailer if they have a poor delivery experience—or even if they don't see the delivery options they want at checkout.
Fortunately, advanced last mile solutions automate routing, dispatching, communication, tracking, and driver management to enable you to stay agile and flexible when it comes to delivery management. This, in turn, means that you can speed up delivery turnarounds and otherwise pass that flexibility on to your customers.
The right dispatch delivery management system should enable businesses to offer contactless delivery and pickup. Businesses nowadays must be mindful of the threat of the COVID-19 and ensure the safety of both drivers and customers.
With contactless delivery, drivers and customers can communicate using SMS messaging, while real-time tracking helps order recipients know when the driver is going to arrive. Drivers can then complete their deliveries without asking customers to meet them.
Historically, manual signing of packages was the only way to obtain proof of delivery. These days, the norm is to use electronic proof of delivery through photo capture, electronic signatures, etc. With these capabilities, you should also be able to take customer signatures by sending a signature request directly to the customer's phone (rather than having them use the driver's device). All this helps keep drivers and customers safe while helping businesses protect themselves from false liability claims.
In the end, businesses that fail to make e-commerce logistics a priority are losing customers and decreasing their profit margins. After all, consumers these days don't care much whether you are a large enterprise or a digital mom-and-pop business. What matters to shoppers now is whether you can provide them with a great delivery experience. That's exactly where the right last mile delivery app comes in: last mile solutions help businesses reduce costs, streamline operations, and improve the customer experience with improved transparency and fast order fulfillment.