We are a

global

team
When you assemble the right people, on the right mission,
all you have to do is guide the ship.
Meet Our Teams
DispatchTrack is a truly global and collaborative company, with employees, customers, and partners all over the world. Learn more about our teams in each of these locations:
Leadership Team
DispatchTrack's Leadership Team brings a unique combination to the table: long-time tech entrepreneurs plus experienced furniture industry veterans.
Our History
DispatchTrack was founded in 2010 by entrepreneurs Satish Natarajan and Shailu Satish. In that time, DispatchTrack has grown into the leading right time delivery management solution relied on by 2,000+ companies around the globe.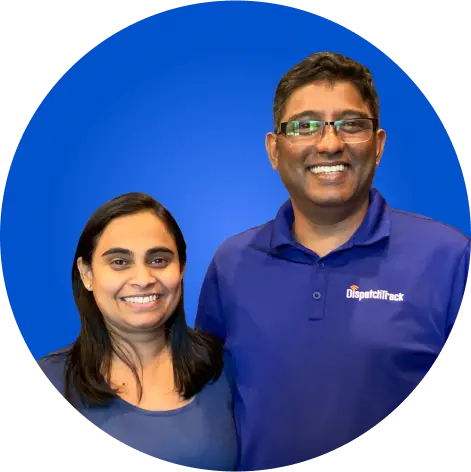 DispatchTrack's story begins with two entrepreneurs and a couch. After a smooth experience buying new living room furniture for their home, Shailu Satish and Satish Natarajan were surprised by the complete lack of transparency in the delivery process. They had no idea when their new couch would arrive—and when it did, it was missing a cushion that no one could seem to locate. It quickly became apparent that this was a persistent, industry-wide problem—exactly the kind of problem they'd made careers of solving.

Within months, they were exhibiting an early prototype of DispatchTrack in front of home furnishing retailers. Over the next decade, the company grew into a leading solution provider, solving delivery management challenges for furniture retailers, food and beverage distributors, 3PLs, and many other businesses around the globe. DispatchTrack is still led by its entrepreneur founders and their core team of collaborators.
Our Investor
In 2019, DispatchTrack received a $144 million investment from Spectrum Equity. Spectrum is the financial partner of many successful tech companies including GrubHub, GoodRX, Ancestry, and SurveyMonkey. Vic Parker, managing partner for Spectrum, and Adam Gassin, Spectrum principal, are members of the DispatchTrack board of directors, working closely with the leadership team.