Furniture & Appliances
Appliance and furniture delivery can be risky without the right software.
Delivering a gleaming new side-by-side Sub-Zero refrigerator or a posh Restoration Hardware couch is all in a day's work for you, but for your customer, it's a big event. They've purchased a luxury product and they want white-glove treatment. Your crew represents you, but just as important, they represent the manufacturer and retailer of the goods. When your customers are happy, your clients are happy.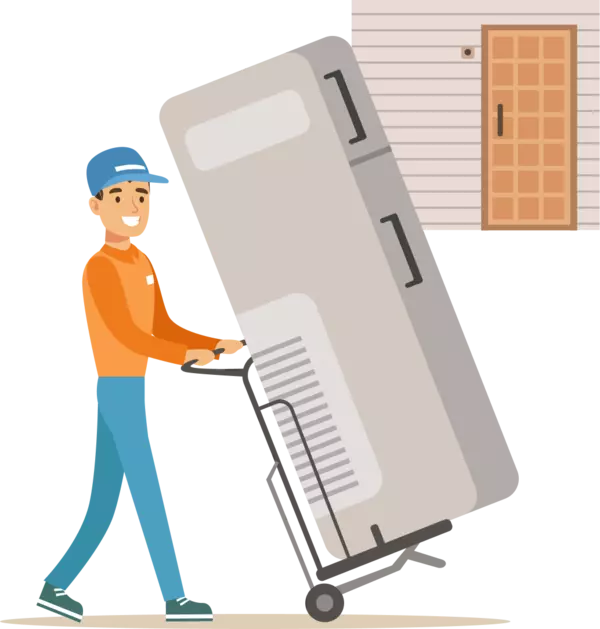 Reputation has its rewards
Undisclosed flights of stairs and too-narrow doorways aside, when you take on furniture and appliance deliveries, you take on a lot of responsibility. That $25,000 appliance suite you just loaded up has a mirror finish that the customer expects will be installed in their kitchen unblemished. Clients want to know that their merchandise — and their brand — are in good hands. If you do it right, time after time, your reputation for performance will be as valuable as a houseful of Mitchell Gold furniture.

Accurate ETAs — every time
You'll have a leg up with customers when you arrive on time. While it may be tempting to blame delays on drivers, drivers can't keep a schedule that was never realistic. DispatchTrack's AI-boosted routing optimizes each load, each truck and each route to put together the best combination of trucks, crew and schedule. It not only considers the assets needed — lift gate, crew with specific skills, heavy dollies — but also remembers what the roads in the delivery area are like during the customer's preferred time window and how long this particular crew took to perform similar deliveries in the past. All of this intelligence helps you nail two-hour windows time after time.

Success starts before the truck is loaded
Before anything hits the dock, DispatchTrack is working to ensure your success. Customers can pick a time window online, one that not only works for them but is also optimized for your assets and schedule. Customers fill out a pre-delivery questionnaire so your crew will know about — and the route timing will be adjusted for — locked access gates, overly protective dogs and narrow doorways before they leave the warehouse.

Provide detailed workflow for installers
Keep the work flowing with the DispatchTrack furniture delivery app. You or your client can create detailed step-by-step workflow documents to guide installers. They'll instantly know where to find the door lock release on the over-engineered oven, and they can check off each step as they go, assuring you and your client the job is being done right.

See your operation in real time in a single glance
From your all-in-one dashboard screen at headquarters, you'll see every truck, every route and every delivery as it occurs. Just as important, customers waiting for their merchandise can see where their goods are and that they're on time. If there's a hiccup or a question, driver, dispatcher, client and customer can communicate in real time via voice, text or email.

Delivered, sealed, signed
Once the work is finished, your crew can document exactly what they did with notes, photos and videos. That big scratch on the kitchen floor? Photos will show it was there before they arrived, so not your responsibility. Everything is handled on the crew's smart device. At the end, the customer signs on the screen and everything is uploaded to your dashboard in the office. This is how furniture delivery software should work. Ferguson had a vision for bringing full transparency to their customer delivery experience. They took the reins and designed an end-to-end last mile solution that upgraded their process, tools, and service. All while integrating 3PL providers seamlessly.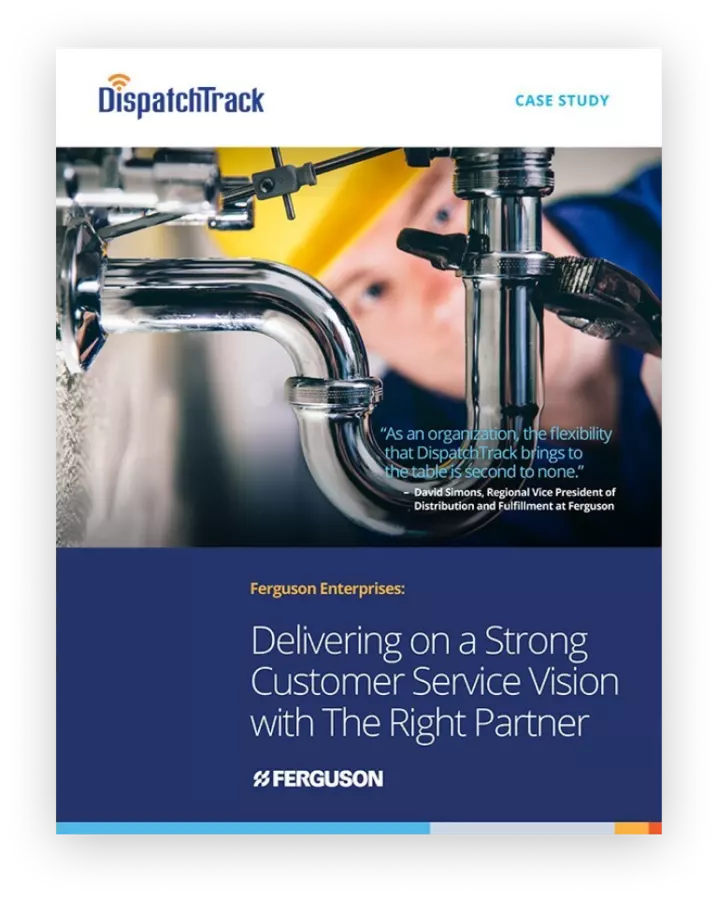 Customer Story
Ferguson finds the right recipe with DispatchTrack
Reduce Risk and Boost Satisfaction
Bouncing a Bernhardt buffet down a flight of stairs or forgetting to tighten an ice maker supply line connection can ruin your day and your reputation. DispatchTrack reduces risk by matching the right crew with each delivery and install, and it gets them there on time, every time. That makes everybody happy.