When it comes to big and bulky deliveries, the best thing a delivery can be is on-time—at least according to DispatchTrack's 2022 Big and Bulky Delivery Report. Our survey of more than 1,600 US-based consumers found that when consumers had positive delivery experiences, on-time delivery was what consumers cited most often as the best aspect of the experience. In spite of that fact, we found that nearly half of all respondents had experienced a big and bulky delivery in the last year that didn't arrive within the promised delivery window.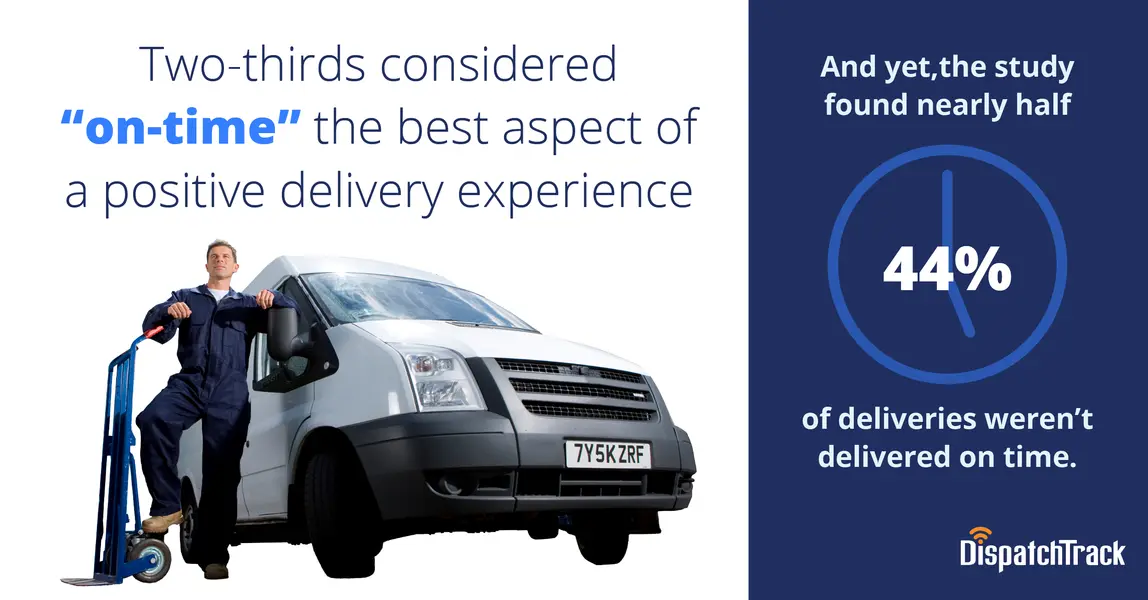 How much does this really matter to your customers? It matters enough that 60% of consumers say they're unlikely to purchase from a retailer again when a previous order misses the scheduled delivery window. That means that every time a delivery gets delayed on the day of delivery, the odds of losing that customer are worse than a coin toss.
All of this begs an important question: why is on-time delivery so important to consumers, and how can delivery organizations ensure consistent right-time delivery performance across their last mile operations?
Consumers Are Frustrated with Deliveries: Late Order Fulfillment Is a Big Reason
One of the other findings from our report that really stood out was the frequency with which big and bulky deliveries were rescheduled. All told, 58% wind up rescheduled—often more than once! It's easy to imagine how frustrating this can be, but in point of fact it was less problematic than providing a time window and failing to meet it. So what is it exactly that makes the headache of finding a new delivery time worse than the headache that arises when the truck is nowhere to be found at the end of the delivery window?
Essentially, consumers are concerned about exactly the same things that retailers are: missed and failed deliveries. They don't want the delivery truck to drive off because no one was home at the delivery site any more than you do. But even in the era of work-from-home, most folks can't make themselves available to receive a delivery throughout the entire day: they may need to run errands, walk the dog, or perform any other sort of task that might take them out of the house at a crucial moment.
As such, when customers don't have confidence in your delivery timetable, the whole day is suffused with anxiety. That makes them more likely to call in asking about their order status, and it may increase their ambient level of frustration with the whole delivery process. Providing transparency and order tracking for each and every delivery can help alleviate this to a significant degree (not for nothing do 90% of consumers say they want the ability to track their deliveries), but at the end of the day there's no substitute for getting the right goods to the right place at the right time.

Early Isn't On-Time
At this point, it's worth pointing out that when we say "on-time," what we really mean is "right-time." This is in contrast to the school of thought in which on-time means "not late." Why are we drawing this distinction? Because a sizable percentage of consumers (nearly one in three according to our research) considers early deliveries to be just as bad as late deliveries.
Based on the consumer delivery anxieties we talked about above, it shouldn't be too hard to see why. An early parcel delivery might be fine (or, it might get swiped from the recipient's porch while they're still out of town), but an early delivery of, say, a new refrigerator can throw off your customer's entire day. They might not be prepared to receive the delivery, for one thing. In fact, they might not even be at home.
That's why successful delivery management in the modern era is all about right time delivery. Right time means more or less what it sounds like: not early, not late, but at just the right time for your customer. This doesn't necessarily mean that the customer gets to dictate when the delivery is scheduled for (though customer self-scheduling can be a powerful tool for boosting delivery success and delighting customers), but it does mean that once they've confirmed that a delivery slot works for them, they can expect to receive their delivery squarely within that slot. And it means providing enough visibility and transparency throughout the process that the customer has plenty of time to reset their expectations and prepare to receive the delivery at a new time.
Our research shows that customer dissatisfaction with the delivery status quo is real—and in our experience, a right time delivery approach is the best antidote.
How to Ensure Right Time Deliveries
Right time delivery can be a great approach to ensuring customer satisfaction and repeat business in spite of the volatility that's plaguing the entire global supply chain. But how do you actually achieve right time delivery management from a practical perspective? To begin with, your operations need to be connected, agile, and intelligent:
Connected:

Last mile deliveries are complex—they have a lot of moving parts that all need to interconnect if everything is going to go smoothly. That's why connectivity between systems (e.g. your TMS, WMS, and

last mile delivery

solutions). At the same time, that means it's equally important to prioritize connectivity between back-office staff, drivers, and customers. After all, how can you be sure you're delivering at the right time if you're cut off from the person whose opinion matters most on that front.

Agile:

Often, when deliveries go wrong there is a significant gap between planning and execution. There might be a case where your drivers are perpetually running late because the ETAs generated in the

route optimization

process are unrealistic. Or a few last-minute requests or cancellations might throw your whole plan into disarray. When that happens, right time delivery depends on your ability to stay agile and adapt to changing situations. This requires last mile visibility, and it requires the technology to make the right decisions at the speed of real life.
Intelligent: As you can probably tell, a lot of connectivity and agility come down to data. You need the right information in the right place at the right time if you're going to make delivery decisions that actually work for your customers and your bottom line. Not only that, but you need to be able to analyze that data rapidly and effectively—which is exactly where technologies like artificial intelligence and machine learning come in. AI, for example, can help you generate delivery ETAs that are significantly more accurate than a human planner could achieve by hand—thereby ensuring that when you promise to deliver at a particular time, that's exactly the time the driver is most likely to arrive based on the existing route and its constraints.
When you put all these elements together, you can ensure that your planning and execution are centered around your customers' needs. Specifically, you can make delivery promises and actually keep them by consistently showing up at the right time. In today's hyper-competitive delivery environment, it's hard to overstate how impactful this can be. After all, consumers are more concerned with on time deliveries than ever before—if you can provide that confidently and consistently, you can earn repeat business going forward.