The increasing number of eCommerce platforms coupled with customers' greater demand for same-day delivery has resulted in a more complicated last mile delivery process than ever.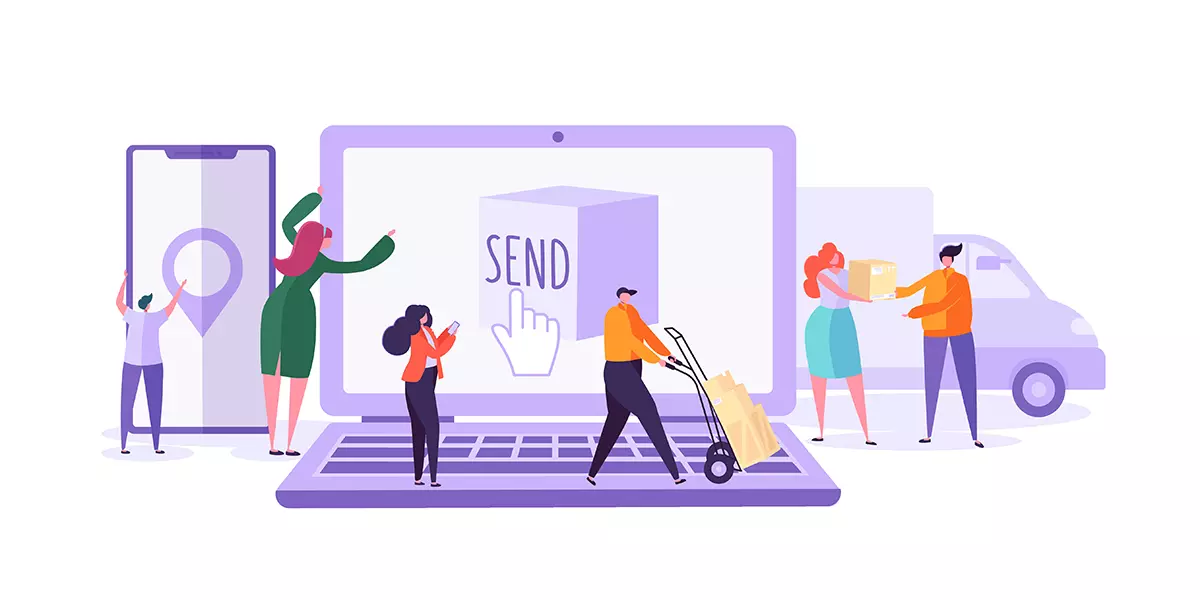 Consider the fact that consumers who previously ordered goods for delivery to their doorsteps didn't always demand same-day or free shipping. Plus, there were fewer home deliveries overall, which meant fewer trucks trying to navigate residential streets, meaning it was easier to find short routes from the warehouse to the customers' delivery address.
Those days are gone now, thanks to the rapid growth of the last mile delivery market. A Market Watch report showed that the last mile delivery market reached $31.198 billion (U.S.) in 2018. By 2025, the valuation is set at $61.573 billion, with a compound annual growth rate of 10.8 percent.
According to that Market Watch Report, the increasing shift to eCommerce platforms and the expansion of warehousing for online shopping are both boosting the growth of last mile deliveries. New technological advancements like self-driving vehicles, augmented reality, and vehicle management, to name a few, also have the power to shape the ongoing evolution of last mile deliveries.
Simply put, the increasing demand for quick door-to-door delivery is causing major issues for supply chain and logistics companies. Businesses have to transform how they do business to keep pace with evolving consumer demands. To do this, they need to make the right investments in technologies, including investing in the best last mile delivery software.
What Is Last Mile Delivery?
So what is last mile delivery? As its name suggests, last mile delivery is the final step of the delivery process where the goods ordered are transported from the warehouse or distribution center to the customer's doorstep. Last mile deliveries can cover anywhere from just a few blocks to hundreds of miles or more.
The main goal of last mile deliveries is to get the order to the consumer as quickly and efficiently as possible. As such, it's in some ways the most critical part of the logistics and supply chain process and is key to increasing consumer satisfaction.

Given their inherent complexity, last mile deliveries can be quite time consuming and are often considered the most costly element of the entire shipping process. But when done right, last mile delivery can save companies time and money, resulting in higher profits and happier customers.
How Can Last Mile Delivery Software Help?
One of the best ways to optimize last mile delivery is to invest in a feature-rich last mile delivery software solution that can transform the way you do business. Such a solution has the power to make final mile deliveries more efficient and profitable.
Here are some of the major features businesses should look into when choosing between last mile delivery solutions.
Route optimization
Route optimization has a key role in reducing the total delivery time by finding the most efficient routes, taking into consideration factors such as location, traffic, service time, and capacity. Route optimization technology also lets fleet managers make last-minute adjustments and send updates to the driver in real-time, all without losing out on efficiency.

Real-time visibility
Having better visibility over fleets means having the ability to track driver performance and ensure drivers' safety. Simply put, real-time visibility provides fleet managers with better control over the drivers and vehicles. One factor in this equation might be telematics integration.
Real-time updates
Last mile delivery logistics solutions can create transparency in the entire delivery process, via real-time status updates traveling between dispatchers, drivers, and customers. Key information such as the expected time of delivery, the delivery driver, and updates on potential delays can be given to the customer as needed if there is a real-time alert feature.
Plus, these features allow consumers to contact the delivery service personnel either through call or chat for whatever concerns they have. The result is that end customers feel like their needs are being met.
Proof of delivery
Any last mile delivery logistics application should enable a company to easily capture proof of delivery, such as photos, in-app signatures, videos, and notes.
KPIs, reporting, and analytics
The most valuable last mile software can also generate essential metrics such as service times, success rates, distance traveled, on-time rates, feedback scores, scheduled vs. actual deliveries, cost per delivery, and much more as needed. Having the ability to generate reports on important metrics allows you to make more data-driven business decisions, and thus improve your operations as you go.
What Is the Future of Last Mile Delivery?
Last mile delivery, despite its complexity, remains an important growth driver for both logistics firms and e-commerce businesses. As such, it's in the best interest of businesses to know the new trends in last mile delivery and final mile software.
Sensors for tracking
In the future, logistics companies will be relying heavily on sensors to keep track of the temperature of sensitive items such as pharmaceutical goods, frozen food, and spirits. Sensors will also have the ability to track the humidity levels.
Self-driving cars, drones, and robots
Robots, delivery via drones, and self-driving cars may seem like science fiction. But many large companies are already developing and testing their drones and autonomous vehicles that can revolutionize last mile deliveries.
Urban warehousing
Keeping warehouses in the city is one of the fastest-growing trends in last mile deliveries. After all, having urban warehouses makes last mile delivery quicker and helps limit the carbon footprint of door-to-door deliveries.
Major changes may further transform the logistics and trucking industry in the next few years. But last mile delivery will always remain the most important component of logistics. As a result, businesses determined to remain competitive are under real pressure to improve their last mile deliveries. Thankfully, reliable last mile delivery software can help any company increase its profits and move ahead of the competition.