Today, investing in an advanced delivery and logistics application or software is a necessity. With the increase of on-demand omnichannel delivery and rising customer expectations, organizations that don't adapt will be overrun by more technology-savvy competitors.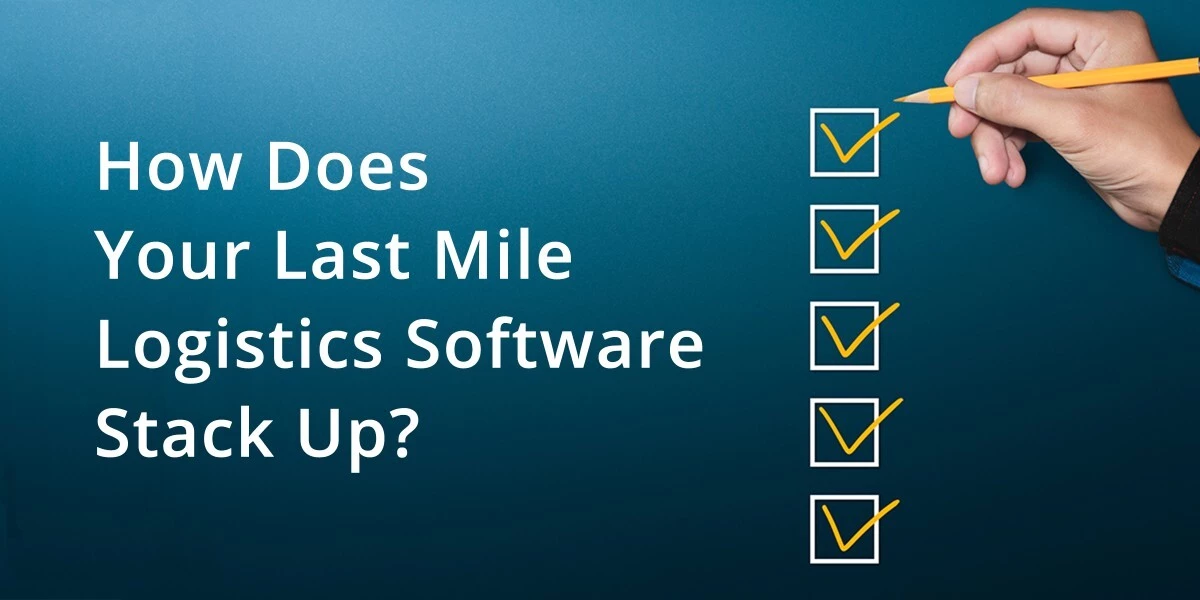 Questions to Ask About Your Current Last Mile Logistics Solution
Is your solution SaaS based?
Does your software improve the customer's experience?
Do you have a mobile app for your drivers, and are they using it?
How accurate are your delivery ETAs?
Do driver settlements continue to be a pain point?
Almost all organizations have some sort of logistics and delivery software in place. The purpose of this article is to help you quickly evaluate how your current solution stacks up to what is considered a best-in-class last mile logistics solution. Go through this shortlist of important functionality and must-haves to determine where you may have gaps that could be holding you back today or hindering your ability to compete successfully in the future.
What to Look For in a Logistics Application
1. A SaaS Model
SaaS solutions deliver superior performance, flexibility, and pricing.
It's probably no secret that cloud-based software, often referred to as SaaS (software-as-a-service), is superior to an on-premises system. You may have legacy software that was originally installed on-premises that is now being shifted to the cloud. This is often a painful, expensive process that leaves some customers without access to advanced functionality and features. While shifts in technology continue to disrupt, here is what you may be missing out on if you are using a legacy software solution that has not made the complete move to the cloud.
SaaS Benefits
Remote system management
Scalability
Access to new software upgrades and updates
Ability to pay-as-you-grow
First and foremost, SaaS-based solutions can be accessed remotely, allowing your distributed teams to work off of a fully functional, centralized system. You can have visibility into your entire operations from anywhere, with the ability to zoom in and get detailed information about any customer or order.
Unlike on-premises software, SaaS-based solutions are very easy to scale. You don't need to worry about adding additional hardware as your business grows, because that's taken care of by your software vendor. You only pay for what you need today, with the ability to seamlessly add extra capacity as your business grows, maximizing cost efficiency.
SaaS solutions often push out free upgrades that would most likely be expensive add-ons to your on-premises software. Since the software is centrally managed, you will have access to the bug fix patches and feature upgrades that your vendor is regularly applying as part of your monthly subscription.
Whereas an on-prem software that can be fully customized for your operations may initially feel like an obvious choice, you will likely lose out on the ability to take advantage of the future technology upgrades and innovations. If upgrades to your last mile logistics software are available, they often require heavy upgrade fees, large implementation projects, and possibly unavoidable downtime. With SaaS, you can feel confident that you are always automatically up-to-date without incurring additional effort, cost, or risk.
Last but not least is the financial advantage. SaaS is subscription-based, using a pay-as-you-go model that can be an operating expense. Traditional on-premises software tends to incur high initial costs for hardware, software, and setup. Paying for only what you use and the being able to add or remove features and licenses on an as-needed basis minimizes financial risk.
2. A Sophisticated Routing Engine
Core to successful last mile logistics, your software's routing engine needs to be sophisticated enough to navigate the complexity of your business.
The main function of route optimization software is to reduce costs across all delivery related activities like equipment, labor, fuel, and more. A basic routing engine, at the very least, can generate efficient routes for each truck in the fleet to ensure scheduled deliveries are fulfilled accurately and on-time each day. But the best-in-class routing engines elevate functionality to a higher plane, and this is where you want to be.
These top route optimizers are sophisticated enough to consider all the variables of our dynamic world and how those forces could potentially affect delivery windows. Without rich, predictive algorithms that dovetail data with historic traffic patterns, how else can you expect to achieve consistent, accurate ETAs?
It is important to note that a route optimizer is different from a route planner. A route planner, basically a map program, can plan deliveries according to one or perhaps two critical variables like distance or time. On the other end of the spectrum, a route optimizer takes into account many variables of different weights to come up with the best route to achieve your goals.
Routing Engine Checklist
Advanced optimization
Multi-mode routing
Machine learning
High performance
Some more sophisticated route optimizers are powered by self-learning algorithms that incorporate new intelligence and data, such as traffic patterns and updated customer preferences, to offer continuous improvements. In addition to route optimization, the most advanced engines are built to accommodate common challenges with last mile delivery, such as changes to recurring routes, consideration of customer priority or preferences, and adding or dropping stops in real-time, with speed and scale.
3. Customer Experience Features
In addition to optimizing day-to-day operational efficiency, your delivery and logistics application has to also solve for the customer experience.
As we discussed earlier, it is critical for brands to consistently deliver exceptional customer experiences to meet rising demands and expectations. In the past, companies had to choose between operational efficiency and customer experience. Today, it is imperative to solve for both at the same time, which is functionality that the newer, more advanced last mile logistics applications are offering.
Features That Improve Customer Experience
Self-scheduling
Automated communication workflows
Accurate, auto-updating ETAs
Real-time online order tracking
Going beyond routing engines that take customer priority and preferences into account, the most robust last mile solutions also solve for the single biggest customer pain point—lack of visibility—through features like real-time tracking, automated updates with notifications, two-way communication, and self-scheduling capabilities.
Proactive communication and increased transparency go a long way in developing trust and loyalty from your customers. While customers understand that unforeseen circumstances and unavoidable delays are an inevitable part of the delivery business, they have little tolerance for being kept in the dark. Your logistics application also must be flexible in how it reaches customers: communication inclinations vary from customer to customer, and your software needs the ability to reach customers via their preferred channel, be it an email, text, or voice call.
4. A Driver Mobile App
Drivers need a robust mobile app that's reliable and easy to use to enable the visibility your company needs to truly optimize last mile logistics.
It is abundantly clear that achieving increased visibility across the last mile is integral to achieving both the operational efficiency and the customer experience required to succeed in this omnichannel world. The only way to gain the end-to-end visibility that allows you to deliver real-time ETAs and live tracking is by staying connected to your drivers, who arguably play the most important role in representing your brand and differentiating the customer experience.
Mobile App Musts
Easy-to-use and consistently reliable
Paperless mobile dispatch
Proof of delivery & signature
Supported on all commonly available phones/tablets
Since being on the road while also being evaluated for efficiency and safety is not conducive to frequent phone calls, a mobile app is far more effective as a tool to enable your drivers to provide consistent status updates and communication while on the road. Of course, the key to any driver visibility solution is high driver adoption. To ensure that drivers are actually using the app, it needs to be both easy-to-use and extremely reliable.
Some mobile apps also offer tools designed specifically to help the driver, such as the ability to attach pictures to confirm delivery and protect them against false claims. These added benefits can result in measurably higher adoption and driver retention, which is directly linked to achieving the visibility you need to make critical operational decisions and successfully deliver upon an elevated customer experience promise.
5. Real-Time Visibility
Delivery and logistics success comes down to enabling real-time visibility throughout your process and ensuring all stakeholders have access to the same information.
Seeing all of your data in one place can be very powerful in pinpointing the root cause of service issues, identifying opportunities to reduce friction in your process, and improving efficiency and overall profitability. Most logistics solutions provide you with data, but more is not always better when it comes to data. Data is only valuable when it is easily accessible and digestible.
With this in mind, many advanced delivery and logistics solutions offer intuitive, easy-to-navigate management dashboards. These dashboards empower users to focus on critical data and draw actionable insights through well-designed UI and powerful reporting. Get a snapshot of delivery status at any time; receive alerts to potential delays and delivery challenges. Receive notes, signatures, and pictures from the field as they're logged into the system directly from the driver's mobile app.
Do You Have Good Visibility on the Last Mile?
Are you able to see these at a glance?
GPS location of your trucks
Order status
Exceptions
ETAs
Centralizing data also plays a critical role in customer experience. It allows you to ensure that stakeholders across your business are working off of the same data so whether a customer is tracking a delivery online in real-time or calling into your support center to get an updated delivery ETA, they receive the same accurate information.
How did your logistics solution stack up?
Achieving better visibility across the last mile is the key to operational efficiency, customer satisfaction, and overall profitability and sustainability for any delivery organization. Your current logistics application may be working for your business today, but unless you can answer yes to all of the questions discussed in this article, it may not be powerful, flexible, and scalable enough to set you up for long-term success.
It is not a question of whether to embrace rapidly advancing technology, as those who don't adapt simply won't be able to survive. The only question is when you choose to make that investment in your future. From a cost perspective, future-proofing is almost always more prudent than fixing something once it is broken. Start exploring your options today so you can time your move optimally.