In recent years, many companies have raised the bar for delivery experiences, and consumers' expectations and demands have grown. They expect a more convenience purchasing process, speedy order fulfillment, and accurate delivery ETAs.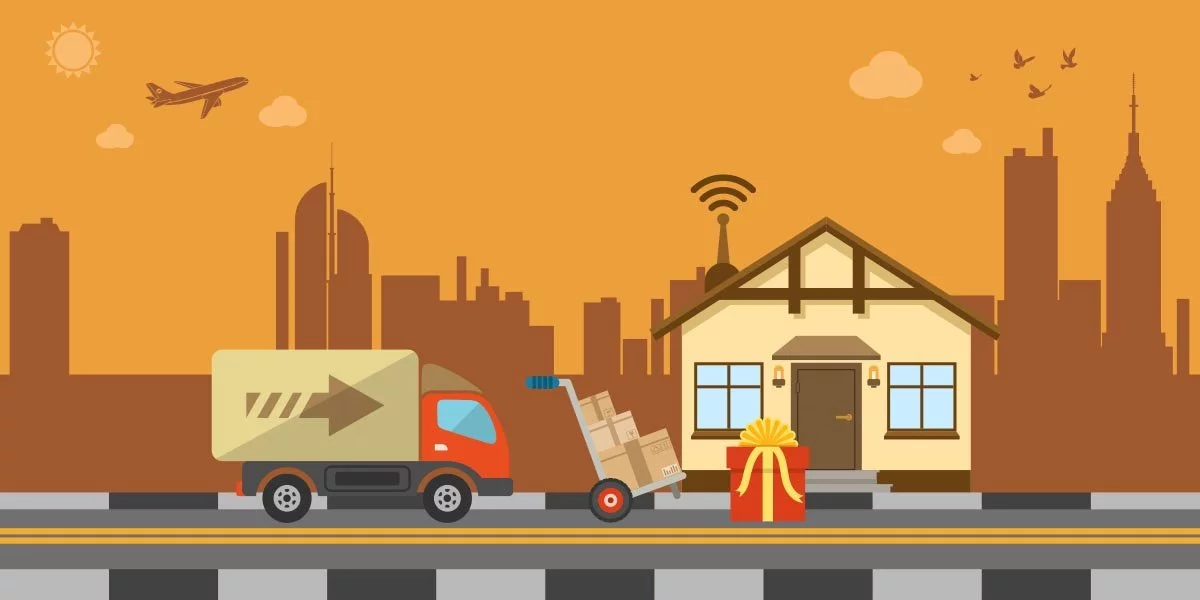 As such, businesses must find ways to enhance their ability to handle more orders and expedite deliveries, all while providing a great customer experience. Dealing with higher order volumes and delivering those orders quickly are not easy tasks, especially since there are cost considerations. Last mile delivery, after all, is one of the most challenging—as well as the most costly—aspects of the order fulfillment process. But what is last mile delivery, and how can your business overcome its challenges?
What is Last Mile Delivery?
Last mile delivery refers to the final leg of the logistics process where products are moved from a warehouse, fulfillment center, or transportation hub to the customer's delivery address. Last mile logistics is focused on making the deliveries to the end-user as quickly as possible.
There's a growing interest in last mile logistics among e-commerce businesses given the higher demand for integrated omnichannel fulfillment. Enterprises are now evaluating their transportation capabilities to adopt the omnichannel fulfillment strategy.
Online shopping platforms are putting a lot of effort into making last mile deliveries efficient for a good reason. Aside from last mile delivery being the costly area of order fulfillment, it's also a crucial differentiator for businesses. Keep in mind that consumers have many choices on where to place their orders, and they can easily shop from one online platform to the next. Providing an efficient last mile delivery service is key for businesses to retain loyal customers and acquire new ones.
What are the Challenges of Last Mile Deliveries?
Last mile delivery is a complex and expensive aspect of the logistics process that can also affect customer satisfaction. It's not surprising then for businesses to identify the bottlenecks of this logistics area. Now that we've answered the question of, "What is last mile delivery?" below are the major challenges enterprises are facing in their last mile delivery operations.
Potential Inefficiencies
High volumes of packages that need to be brought to end-users are a challenge because the process requires careful planning, trained manpower, and well-maintained vehicles. These requirements are by nature difficult to manage all together.
High Costs
Because of inefficiencies, the last mile delivery process can account for a large chunk of the operational expenses. Sending each order to the end-user is a huge undertaking that requires assets and labor.
Lack of Transparency
Businesses should do more than simply get the orders delivered quickly since consumers nowadays also demand to know the status of their orders and have the ability to track them easily.
The logistics industry traditionally gave tracking codes to customers, allowing them to know the expected date of arrival. But consumers have different expectations now, as they prefer to know where their packages are in real-time. Providing customers with the accurate expected time of arrival (ETA) is now the standard. Customers must also be informed in real-time of any hiccups that can affect their package's ETA.
Overcoming Last Mile Logistics Challenges
Enterprises engaged in last mile deliveries must work hard to minimize costs while optimizing consumers' delivery experiences. Achieving cost efficiency and high customer satisfaction scores is possible with the right strategies and investments.
Here are five strategies businesses can adopt to address the above-mentioned challenges for a better orchestration of their last mile delivery operations.
Ditch Manual Processes and Automate
Providing an exemplary delivery experience is feasible if businesses ditch their manual processes and go for automated systems. For example, replacing manual route planning with an automated route planning tool will allow the business to deliver more packages at minimal costs. Manually plotting routes is labor-intensive, costly, and cannot easily account for all variables, as even the most seasoned planners cannot compete with the computing abilities of software.
Likewise, a fleet management system that assigns drivers and vehicles automatically lets businesses optimize the capacity of their fleets and assign deliveries more efficiently. The solution assigns deliveries taking into consideration the drivers' current location and other factors.
Invest in the Right Solutions
Automation is only possible with the right investments in technological solutions. When choosing a system, enterprises must opt for those that allow them to digitize every step of the last mile logistics process. Likewise, companies must consider their business needs to determine which product features and capabilities are necessary for their operations.
Centralize Data
Businesses with last mile logistics have data coming from multiple sources such as aggregator sites, fleets, third-party logistics providers, and other internal and external sources. Unfortunately, it's hard to manage fleets efficiently when delivery-related data is coming from various sources and stored at different locations.
It's necessary for management and other key personnel to be able to access delivery-related data from a single system. Centralization of data is crucial in making more data-driven evaluations and decisions.
Rely on Data
Speaking of data-driven decisions, it's essential for businesses to gather and use data in their decision-making process. Having access to data on various aspects of delivery operations is always beneficial, as data provides businesses with in-depth insights on which aspects of their delivery process are in need of improvement.
Scale Gradually
Many businesses think that scaling and expanding their delivery models quickly is necessary. They fail to realize that gradually scaling their operations also has many advantages.
Upgrading services for only a few locations or testing delivery-related technologies first before going full blast with the expansion is a prudent way of scaling delivery operations. Gradual scaling allows businesses to spot inefficiencies in their new workflows and gives employees more time to adjust to new technologies and processes.
The growth of e-commerce platforms has given today's consumers more choices. Thus, it's necessary for businesses to provide a great delivery experience or risk losing customers to competitors. Having efficient last mile delivery operations lets businesses differentiate themselves from the competition. Addressing the challenges of the final leg of the logistics process is key to a business' long-term profitability.