New consumer expectations are difficult and expensive to meet. The key to staying competitive in shipping logistics is improving efficiency and reducing costs. This has a lot to do with how a company handles its last mile deliveries. For companies to remain competitive today, improving efficiency on this front is imperative.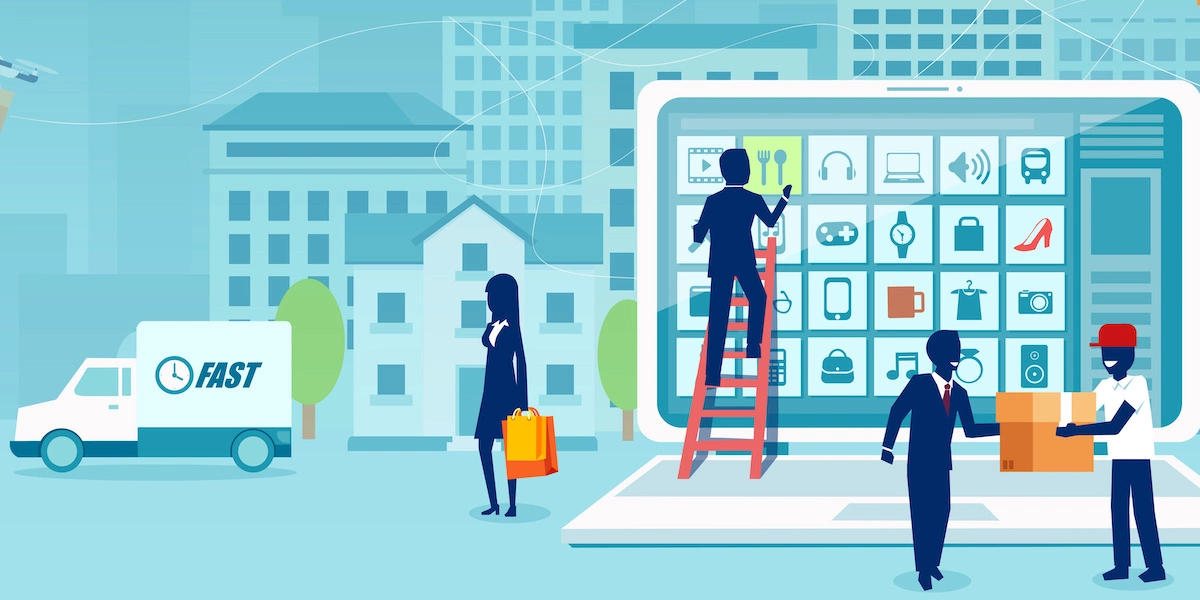 In this article, we'll explain what is last mile delivery, go in-depth about the logistics of last mile delivery. and take a look at the challenges delivery organizations are facing right now regarding the process of getting the right goods to the right place at the right time. We'll also examine how technological tools can be leveraged to address those challenges and provide your company with an edge. But before we do all that, we'll answer a basic—but very important—question: what does last mile delivery mean?
Last Mile Delivery Definition: What Does It Mean?
Last mile delivery pertains to the final stage of the entire order fulfillment process. The basic last mile delivery definition is when a package or order moves from a transportation hub to its end destination, which is typically a private residence or a retail establishment.
The last mile of the supply chain and logistics process is in many ways the most important step. Businesses are always striving to make it the fastest and most efficient one possible, due to the demand for fast shipping from consumers and, increasingly, from other businesses. Because the process typically involves a large number of stops on a given route and high level of complexity throughout, it's often the most costly part of the journey a product takes to reach its final destination.
A typical last mile delivery process might look a little like this:
Order placement. This gets the whole process started; a customer places an order, and your supply chain springs into action to ensure that the right goods are in the right place to facilitate a last mile delivery.
Awaiting delivery at the transportation hub. This is where the last mile delivery process really starts. A company needs to ensure orders reach their customers as quickly as possible from the transportation hub.
Assigning orders to drivers. Here, you need to actually turn your orders into delivery routes and sequences, then make sure you're assigning the right routes to the right drivers.
Scanning and loading of orders Packages typically undergo scanning during the loading process. Ideally, this allows the shipper and the end recipient to begin tracking the status of the order. Goods are therefore less likely to get lost during transit.
Delivery to the end recipient. Drivers go out on their routes and eventually deliver orders to their destinations. The delivery driver obtains proof of delivery, e.g. a signature or photo, and the delivery is logged in the centralized delivery management system. In other words, the last mile delivery has been completed successfully.
Understanding the Last Mile Problem
Just from the last mile delivery definition we gave above, it should be pretty easy to see why keeping customers happy requires an optimized last mile delivery process. The challenge, however, lies with the fact that although consumers demand faster and cheaper deliveries, the last mile as a whole is fundamentally inefficient.
Again, approximately 53 percent of a shipment's total cost can be attributed to last-mile shipping. In general, companies absorb about 25 percent of those costs (since end consumers tend to balk at high shipping rates), but as supply chain inefficiencies become more costly, this number keeps rising. Luckily, by optimizing last mile delivery you can empower significant savings at a time when the number of shipments is soaring across most industries.
Technology Solutions to Help You Overcome Your Biggest Last Mile Delivery Challenges
Making sure that your last mile delivery is on-time and fast is important for delivering a wonderful customer experience. But how exactly can you accomplish that goal?
The first step is to utilize an effective delivery management tool.
The right final mile delivery software acts as a comprehensive toolkit, offering features such as end-to-end route planning, real-time order tracking, customer communication tools, and analytics. All of this is highly automated in the right environment, so you can focus on your customers while the technology handles the details.
A robust last mile delivery solution can help maximize your delivery process in a number of ways:
Route planning and optimization
The congestion of traffic in heavily urbanized areas can also be extremely time-consuming, even when the drop-off points for deliveries are close together. In rural areas, the reverse is true, which means that a lot of time and fuel is being spent just delivering a few items. This, in a nutshell, is why efficient last mile deliveries are so hard to manage. Route optimization is the most effective to combat this high degree of complexity.
Smart last mile software calculates routes based on location, service time, vehicle capacity, and traffic to determine the most efficient routes. Drivers should then be automatically dispatched via a mobile app that works on their device of choice and prompted to give status updates along the route to help generate live ETA updates.
Here, automated dispatching helps streamline and speed up the delivery process by automating the manual effort that comes with dispatching route plans. In this way, it lets managers allocate resources more efficiently so they can focus on other high-value tasks. Automating last mile logistics in this way not only simplifies the process, but also eliminates some of the inefficiencies that cause last mile deliveries to be so expensive.

Reporting and KPI tracking
Identifying problems and weaknesses through reporting helps you avoid bigger problems down the road and spot areas for improvement. That's why advanced delivery management solutions should allow you to track key metrics such as on-time rates, success rates, service times, distance traveled, feedback scores, and more.
Keeping track of these KPIs allows you to assess how time is being spent on your company's last mile delivery supply chain and pinpoint your exact cost-per-route or cost-per-delivery. To be really valuable, whatever software you adopt should integrate effectively with other final mile software to ensure that you always have accurate, complete, and up-to-date data when making decisions.
Electronic proof of delivery
Proof of delivery is documented evidence that an order has been delivered, such as the recipient's signature and/or a photograph of the order having been delivered at the delivery site, with a date and time stamp.
Proof of delivery can be easily done with the right software. A mobile app that supports photo collection, signatures, barcodes, and notes allow drivers to easily capture proof of delivery, giving you a more complete audit trail for your deliveries and helping you reduce the potential for false liability claims down the road.
Enhanced customer service
The best last mile delivery software not only lets your customers track their orders, but also enables them to communicate bi-directionally in real-time while receiving frequent order status updates. This kind of visibility greatly reduces stress on the day of delivery, and it makes it much more likely that the customer will actually be home to receive delivery. Of course, to really provide an exceptional customer experience you also have to make sure that you're consistently delivering at the right time—which means that your ability to generate accurate delivery ETAs can be just as important as your communication infrastructure.
Indeed, last mile delivery operations are becoming more complex and expensive as consumers' expectations continue to increase. But with the right tools, you can easily overcome the last mile problem and meet customers' demands for fast, reliable deliveries.