TMS (transportation management system) solutions have long been one of the most important building blocks of enterprise supply chain management technology. And with more cloud-based TMS options than ever before, the barrier to entry is lower and TMS adoption is rising.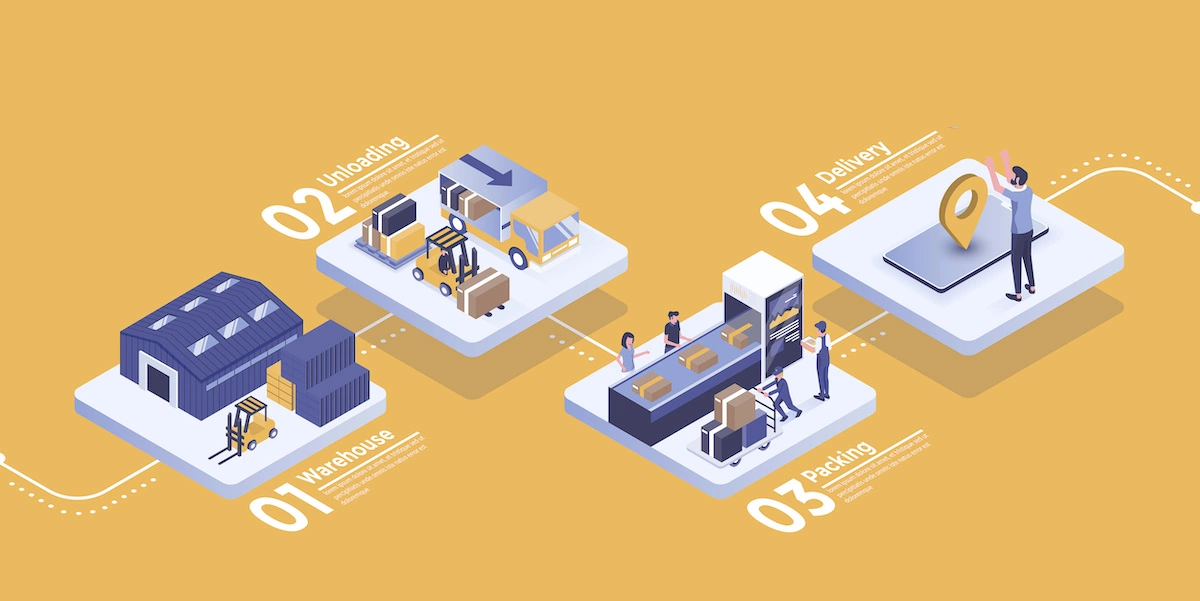 Of course, supply chain management and transportation management encompass a lot, with incredible complexity at nearly every stage. No one expects a single piece of software to be the be-all and end-all relative to their technology needs. Many TMS users adopt separate telematics solutions to enhance their fleet management capabilities; or they'll implement route accounting software to add more comprehensive resource management across the fulfillment chain.
But what about last mile delivery software? Is that a critical piece of the puzzle for businesses that already have TMS software? We'd argue that the answer is a resounding "yes!" In this article, we'll explain why.
TMS vs. Last Mile Software
In figuring out whether last mile delivery solutions can actually complement and add value to your TMS software, it's important to draw a clear distinction between the two. This can be tough: different TMS options have different sets of features and capabilities—and many have add-on modules that address elements of the last mile delivery problem. Generally speaking, though, there are a few key differentiators:
TMS features have to be fairly general by design—since they cover a large chunk of the supply chain, they have to be more about the big picture. Last mile software is specific to the last leg of the supply chain, meaning that it can offer a more granular view and more specialized functionality.
Where a TMS might have a limited number of communication tools, e.g. sending emails to customers and potentially messaging with drivers, a worthwhile last mile platform will offer a robust set of customer communication tools including text, email, and voice calls—as well as live order tracking.
Because the typical TMS is so complex, it also tends to be fairly heavy from a technological perspective. It won't be designed to move quickly or to power rapid changes—to say nothing of real-time—changes to transportation plans. Last mile software, on the other hand, is all about agility in the last mile. A robust solution will offer you the ability to monitor last mile deliveries in real time and make planning changes on the fly.
Most TMS options are designed to route full truckloads—they tend not to shine in cases where you need to make multiple stops. Last mile solutions, on the other hand, are designed around multi-stop

route optimization

. This means that they're more effective at maximizing your truck capacity and delivering on time to customers in the final mile.
Already, it should be pretty easy to see why these two solution types complement each other. Last mile software can essentially take over where TMS functionality stops being as robust. For companies that need to execute or manage deliveries to end customers, using these two types of solutions in conjunction with one another can give you better supply chain coverage and ultimately happier customers.

How Last Mile Solutions Impact Customer Experience
We briefly gestured at this above, but it's important enough to warrant its own section: one of the most important differences between a TMS and last mile solution is that the latter centers the needs of the end customer—whether that's a consumer receiving a new fridge or a grocery store getting a weekly shipment of beer.
While a TMS might be able to get the goods from the distribution center to the delivery site, it's not going to be designed to craft a great customer experience.
Why Does Customer Experience Matter?
Customer delivery experience in the last mile can help you with two important things: customer satisfaction and supply chain performance.
Customer satisfaction: Simply put, customers like to know what's going on with their orders—especially when it comes to scheduled deliveries. When there's a six-hour delivery window and no reason to believe that the truck will be on time, anxiety tends to run high. By giving customers live updates on their deliveries and constant communication throughout each delivery touchpoint, you can cut out that anxiety, inspire real confidence, and delight your customers.
Supply chain performance: The ability to keep customers in the loop and give them more control over their deliveries isn't just about boosting loyalty and racking up positive Yelp reviews. It's also about improving performance. When customers know when to expect their orders, they're more likely to be at home to receive them. This results in fewer failed delivery attempts and thus reduced reverse logistics costs. By the same token, when customers can check their order statuses from their phones, they don't need to call in to your customer service team—who in turn don't need to call the drivers. This makes the entire operation run more smoothly, resulting in reduced costs and better capacity utilization.
How Do You Optimize Customer Experience?
We've gone over the "what" and "why" of customer delivery experience, but what about the "how?"
To turn your last mile deliveries into "wow" moments for customers, you need a handful of capabilities:
Smart, accurate routing: At a baseline, you should be providing customers with accurate delivery ETAs that are dynamically updated over the course of the delivery run.
Automated customer communication: This can include everything from pre-routing notifications and confirmation messages the day before a delivery to texts, emails, and calls throughout the delivery process.
Live order tracking: Ideally, you'd give your customers the ability to track their orders in real time from the comfort of their own devices. This might include live ETAs, stop numbers, and information about the driver/technician heading their way.
Self scheduling/time window requests: For B2C deliveries, enabling customers to select their own delivery times (based on your capacity parameters) can elevate the experience while saving you phone time. For many B2B deliveries, meeting requested time windows is table stakes—you need to make sure you have the technology to make that possible.
Dynamic exception management: No matter how sophisticated your routing is, there will always be a percentage of orders that run behind schedule. When you have the tools to respond to those incidents quickly and resolve things proactively with the customer, you can maintain customer satisfaction even in the face of the unexpected.
Customer feedback: In addition to monitoring last mile performance based on your reporting and KPIs, you should be able to gather delivery feedback directly from customers and incorporate that into future plans.
Odds are, your TMS can't offer functionality on its own to make all that possible—which means you're losing out on opportunities to delight your customers.
How Else Can Last Mile Solutions Enhance Your Transportation Capabilities?
We've spent most of our focus in this piece on the ways that last mile technology can cover the customer experience gap that's often left in TMS-managed logistics operations. There's a reason for that: it's an incredibly important—and often overlooked—part of logistics and supply chain management. But that doesn't mean it's the only way in which a last mile logistics solution can benefit TMS users.
What are some of the other ways? Here are just a couple:
Improved capacity utilization: when you have multi-stop route optimization that's actually designed for the last mile, you can take a much more granular approach to schedule all of your orders in a way that gets the most out of your resources.

Greater visibility:

For real-time visibility into deliveries in the final mile, most TMS users wind up either relying on their telematics solution or adopting an entirely separate visibility solution. But the right last mile technology boosts your

last mile visibility

significantly from within the same solution that handles routing.
Each of them could easily fill another article—but in each case the upshot is the same:
The right last mile solution can go a long way towards helping enterprises get the most out of their TMS platforms.