As competition increases in business, you sometimes have to find new ways to gain an edge over the competition, whether that means cutting out waste in part of your supply chain, revamping some of your business processes, or even innovating new products or services. B2B delivery is one such area where modern businesses might be thinking of new ways to optimize or more effectively leverage existing processes.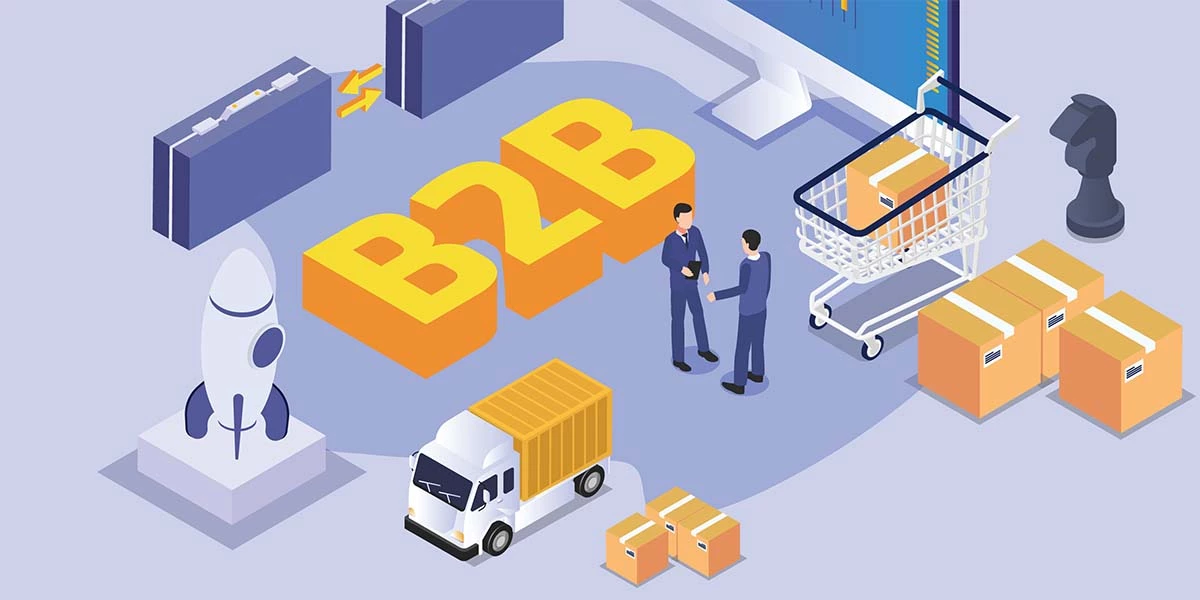 For B2B operations, this can be an incredibly fruitful approach—as long as you have the right framework for leveraging smarter deliveries into happier customers, plus the right technology to back that approach up. When you can do that, delivery operations can become a real driver of value that can be leveraged in business growth.
B2B Delivery
Defined
Let's start with exactly what we mean by B2B delivery: simply put, it means business to business delivery, meaning products are delivered from one company to another. The crucial thing to keep in mind here is the ways that delivering to other businesses is (and isn't) different from delivering to consumers. You're more likely to be making recurring deliveries to the same businesses every week, your customers might have particular time window requests, and they might not envision successful deliveries in exactly the same terms that consumers do.
At the same time, meeting your customer's expectations has always been a top priority. However, in today's world, technology is expanding companies' delivery abilities and helping transform customer expectations. Those who can use the advantages of the right technology will beat out the competition; other organizations will either not survive or come up short in achieving their desired growth. Correct sales forecasts, real-time inventory management, and on-time deliveries are critical in supply management. If your sales forecasts are underestimated, you will be out of stock before you know it. If you can't keep track of your deliveries, they'll inevitably be late and you risk losing customers. How do modern businesses navigate these complexities to drive towards growth and success?
Powering Smarter B2B Delivery with the Right Technology
Considering the technology that has been developed recently, modern B2B deliveries should be able to fulfill requirements on time and with relatively short notice. Customers, even in a B2B context, have a strong sense of this and will hold their suppliers to higher standards than ever.
Luckily, the right delivery management technology, like a B2B delivery app, can help you handle this process. Routing and planning tools can help you to optimize truck routes to save time and deliver on schedule, while real-time visibility and customer communications capabilities can help you keep customers in the loop throughout the delivery process. Modern driver mobile apps can ensure easy order tracking while enabling streamlined proof of delivery, cash on delivery, and customer notifications (telematics integration has the power to enhance the impact here even further by offering even more granular tracking and more robust data automation).
From there, you can leverage analytics tools to better understand your cost per case, cost per route, and other performance indicators. You can use the same technology to plan out potential network expansions, pre-plan seasonal load distributions, and otherwise leverage the power of data to improve your delivery operations. In this way, you can start to turn deliveries into a value driver and a competitive edge.
How a Hybrid Routing Approach Impacts Delivery Success
We said above that there were differences between B2C and B2B deliveries one, and we'd be remiss if we didn't talk about one of the most important ones: route planning. Most B2B use cases, from beverage distribution to food wholesaling to auto parts delivery, rely on static, recurring routes in a way that B2C deliveries generally don't. When you're selling furniture, you certainly expect repeat business, but you don't expect to send the same order to the same home at the same time every week the way a food or beer distributor might. That means that dynamic routing, which has taken hold in a lot of retail delivery contexts by virtue of its ability to shorten drive times and boost route efficiency, tends not to work for B2B deliveries.
But here's the problem: Static routes don't really work either. Sure, you might be able to keep most of your existing customers happy by sending the same drivers on the same routes to the same customers week in and week out, but relying too heavily on static routes makes it incredibly difficult to make adjustments or to adapt to changing circumstances. When everything is going to plan, the delivery process seems smooth enough—but as soon as a client makes an off-day delivery request, the whole thing can fall apart. Either you're unable to make the request work and your customer is disappointed, or your whole day falls into disarray and you risk late deliveries to other customers.
The simplest solution here is that B2B businesses need a hybrid approach to route optimization. This might look like a "skeleton" static route that has your largest customer in their preferred time slots, with the rest of your orders for a given day being routed dynamically around them. In this way, you get the best of both worlds: your deliveries to your most important recurring accounts are stable and predictable, but your routes as a whole are flexible enough to adapt when new needs or conditions arise. In this way, you can stay flexible and agile without risking late deliveries.
How to Empower Your Delivery Drivers
One of the most powerful tools you can leverage to create smarter B2B deliveries is a comprehensive driver mobile app. The right tool can provide direct, real-time communication between dispatchers and drivers, turn-by-turn delivery instruction, electronic signature and proof of delivery capture, and more.
Ideally, your technology would also be able to integrate fully with telematics and compliance solutions. This might include:
Hard-wired GPS devices
Automated reporting for ELD/HOS requirements
More granular real-time tracking
Automated fuel tax reporting
When you make that happen, the result is better visibility and better deliveries. Having this information easily available all in place for planners means that they can more effectively schedule drivers based on availability—and even based on driver affinity, if there are clients who like seeing the same driver at the same time every week. By the same token, reporting automation saves back-office effort, which your staff can use to focus on tasks that more directly impact customer satisfaction.
Benefits of Improved B2B Delivery
B2B delivery optimization can enable you to fulfill customer requirements, smooth out operations, and bridge the gap that often exists between planning and exertion. This results in a number of benefits:
Happy and loyal customers
Fewer missed sales opportunity
Reduced inventory costs
Effective communication and less stress
Continuous process improvement
Closer coordination between sales, merchandising, and delivery
Better planning execution
At the end of the day, B2B delivery is not rocket science. When you can cut through the complexity, you can gain better visibility and get more out of your capacity—all while keeping your customers' needs met. As long as you leverage the right technology and utilize the right tools, you'll be able to keep up with the competition, sustain your brand, and continue to build a loyal customer base.