Dispatching in food logistics is complicated—especially given the tumult caused by the COVID-19 pandemic and its impact on food and beverage-related businesses. If you don't have the tools to handle the increased volatility of the modern food supply chain, you may be setting yourself up for trouble.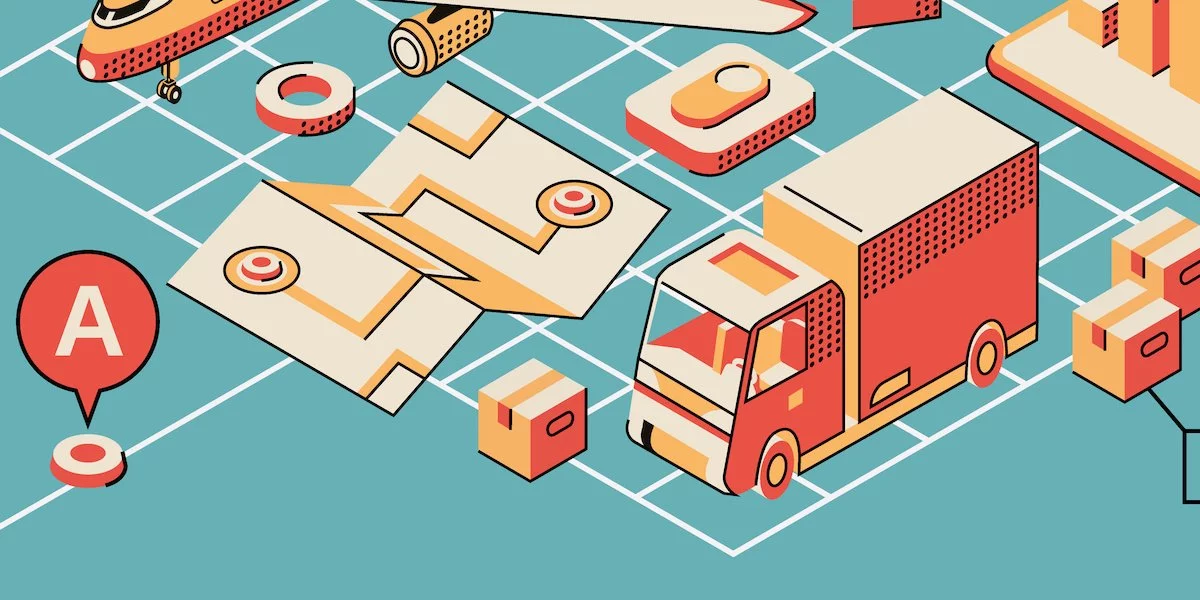 Fortunately for food shippers, there are now plenty of last mile solutions that make it possible to streamline processes and improve workflows. In that way, last mile technologies are giving much-needed relief needed to the industry.
Here's how food and beverage companies can improve their food logistics dispatch with the help of the right last mile solution.
5 Ways to Improve Your Food Logistics Dispatch
1. Automate Dispatch
Most aspects of food distribution have already been automated. Unfortunately, some food businesses still rely on manual mileage tracking and the use of spreadsheets for tracking work orders. Aside from being time-consuming, manual processes are also prone to human error.
Automating dispatching can save your company time and cut down errors. If you can find a last mile dispatch solution that automatically assigns the right drivers and assets to the right tasks, you can cut down manual efforts and reduce the potential for mistakes and miscues.

2. Schedule Both Regular and New Stops Smoothly
Food and beverage distribution presents plenty of unique challenges, from perishability to specific handling requirements. But all of those challenges have to be dealt with on top of more general B2B last mile challenges. For instance, you need to find a way to efficiently deliver to the same customers on a recurring basis, without your routes becoming so rigid that they can't accommodate changes or new orders. With this challenge, your best bet is to find a system that can offer a hybrid of static routing (for recurring orders) and dynamic routing (for changes and additions).
3. Centralize Your Systems
There was a time when organizations had to use disparate systems to ensure that fleet managers and other key employees could stay on top of driver hours, load boards, and mileage maps. Previously, food companies had to use manual calculations, spreadsheets, and multiple different systems that might not integrate nicely. Those days are gone now—the right last mile delivery solution can incorporate all the capabilities and functionality you need into a single system, thus providing every department real-time visibility on delivery operations. Simply put, this kind of real-time view of operations empowers employees to make proactive decisions and eliminates costly mistakes.
4. Make Contract Administration Easy
With an advanced last mile delivery solution, companies can also eliminate a number of manual back-office paperwork and processes. For instance, you might be able to automate payments to drivers, manage assets more efficiently, and cut out a large amount of manual error across processes. This is another area where visibility can be a major factor: during the day of delivery itself, it's possible to ensure that every team member involved, from dispatchers to drivers, has clear documentation of customers' requests and expectations.
5. Ensure Compliance to Safety Standards
Food carriers and shippers are required by law to create and maintain certain records on the shipment of food. E.g. records of carrier agreements with food companies regarding responsibilities and procedures during shipping, or individual driver training records. Additionally, food shippers and carriers are required to ensure effective measures are in place to avoid contamination and cross-contamination, properly segregate food products from non-food products if they are on the same shipment, and ensure proper temperature control, among others. When you lack visibility in what's happening in your trucks across the last mile, it can be difficult to ensure that you're meeting those standards effectively.
How DispatchTrack's Solutions Can Help Businesses Optimize Food Logistics Dispatch
The right solution can help businesses improve the dispatch process in food distribution. DispatchTrack's food delivery dispatch software uses artificial intelligence (AI) to automatically optimize routing and dispatching so every order arrives on time. Here's how our solution optimizes food logistics dispatch and delivery:

Intelligent Routing Engine
DispatchTrack's solution allows businesses to schedule their regular stops for their standing orders. It allows dispatchers to assign customers to time windows (e.g. based on open hours) and tiers so drivers will arrive at the customers' preferred delivery time slot. Plus, the solution also allows for changes in the standard orders when customers request additional products. This "hybrid" routing functionality makes DispatchTrack a solution that allows food sellers and shippers to roll with the punches and stay dynamic.
DispatchTrack's route optimization solution also factors in load, driver, region, and assets in assigning ETAs. The result is ETAs that are incredibly accurate—and that improve over time—meaning that you're much less likely to try and deliver a keg of beer to a restaurant during their lunch rush.
Telematics Integration
It's not enough for shippers to know the exact location of their trucks at any given time—it's also necessary to know the temperature of each internal compartment of the truck. DispatchTrack easily integrates with telematics solutions like Geotab to ensure that this data is incorporated into your larger delivery management flows.
The temperature information and records are integrated into the display dashboard so fleet managers and other back-end employees will know the drivers' exact location and if the reefer compartments of their trucks are at the right temperature for the load. This feature helps ensure that each customers' order is complete and will arrive safe and on time.
Chain of Custody and Proof of Delivery
DisptachTrack's solution has an extremely robust proof-of-delivery tool where drivers can take photos, notes, and videos and capture signatures following delivery. This capability is useful in tracing where product lots were dropped off and making sure that the deliveries went according to plan. This speeds up driver settlement and gives your client accounts clear visibility into their deliveries. By the same token, notes and videos can also help dispatchers spot and stay on top of any exceptions that might crop up on the day of delivery.
Food and beverage companies face incredible challenges right. Luckily, an advanced solution like DispatchTrack can go a long way in improving food logistics performance.