Scheduling shifts, generating routes, and managing last-minute changes are just some of the challenges distributors face every day. It takes dynamic workflows to keep up with the multitude of moving parts the food and beverage distribution industry encounters daily.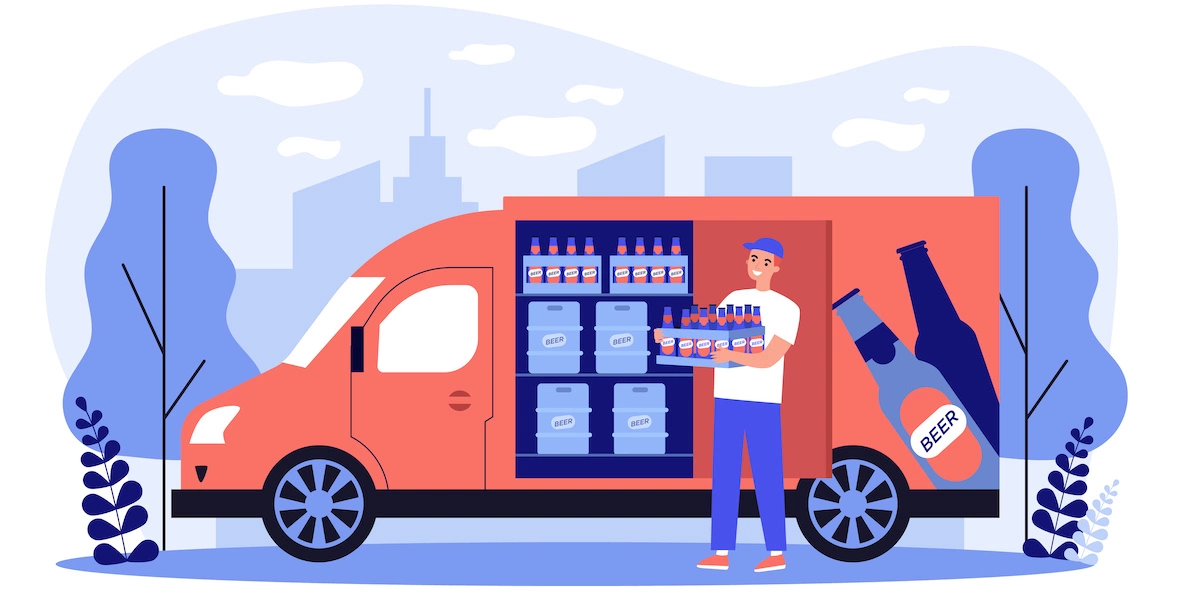 The shipping of food and beverages presents more challenges to businesses than ever. Cost pressures are rising, customer expectations are becoming more exacting, and inefficient deliveries are simply no longer an option. Expiration dates, quality assurance, regulatory requirements, and spoilage add further complications to last mile deliveries.
When it comes to these challenging processes, dispatchers and route planners have a crucial role behind the scenes. Bringing together and working with drivers, customers, and other stakeholders to scale and manage your fleet more effectively is just the tip of the iceberg. Delivering loads on time, ensuring food stays fresh during transportation, and meeting customer expectations are just some of the responsibilities dispatchers face in this industry—which is why there's never been a more important time to equip them with the right food delivery dispatch software.
The Responsibilities of Food Delivery Dispatchers
The typical food and beverage dispatcher's job description mixes support, customer service, and operations duties. In some companies, dispatchers are also involved in back-end operations such as compliance and billing.
As dispatchers are constantly in contact with your drivers and customers, effective communication mechanisms are essential. A great deal of time is spent coordinating with truck drivers to minimize delivery delays and prevent food spoilage. Additionally, dispatchers provide clients with information about drivers' locations and arrival times.
The ability to provide good customer service here is essential. An effective dispatcher strengthens customer relationships, promotes safe driving behaviors, and ensures on-time deliveries.
The dispatcher also analyzes massive amounts of fleet data every day. When it comes to optimizing delivery routes and accommodating incoming customer requests, dispatchers have to take into account a variety of factors. Luckily, using the right food delivery dispatch software can help them make better decisions every day.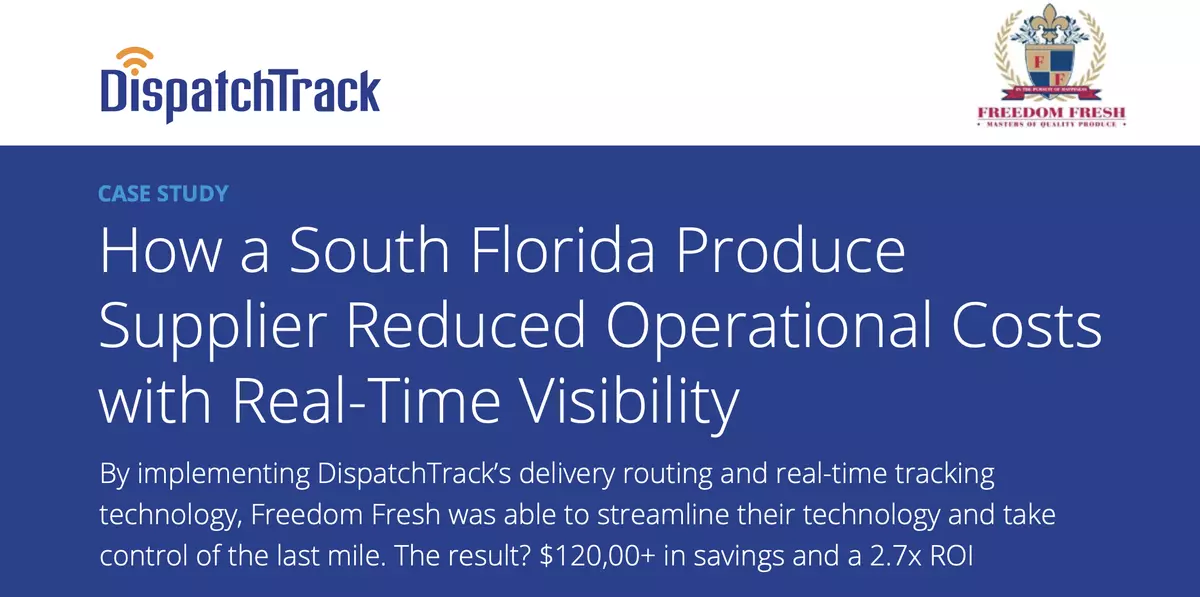 How Food Delivery Dispatch Software Helps
Robust delivery dispatch software with real-time GPS data can be extremely beneficial to dispatchers. The information they need can be accessed without switching between multiple screens, and the software can support them in coordinating deliveries more effectively—both from a customer service perspective and with regards to your bottom line.
Route optimization
Is it typical for some of your routes to run late? Do your customers often complain about damaged or spoiled food cargo? Are late deliveries affecting your business significantly? Inefficient routes can quickly turn into problems resulting in food losses, unhappy customers, wasted fuel, excessive wear and tear on vehicles, and stressed drivers. By contrast, when deliveries are on time, you keep your customers satisfied and your team motivated.
That's where AI-powered route optimization comes in. When you have the right software solution, you automatically generate efficient routes that speak to your customers needs and your specific parameters. By taking a hybrid approach to routing, you can actually create optimal, recurring "skeleton routes" and then dynamically route additional stops as more orders come in. The result is that dispatchers can keep customers happy via on-time delivery while ensuring lower cost-to-serve and greater efficiency.
A robust delivery dispatch provides unparalleled visibility into each route. A dispatcher can determine which routes perform well and which do not by comparing the performance of planned and actual routes.
In this way, inefficient routes will be identified and adjusted accordingly. With access to a vast amount of real-time data, the dispatcher can effectively update routes and make decisions on the fly.
Taking into account weather delays
As reported by the U.S. Department of Transportation, the trucking industry incurs an annual cost of $8 to $9 billion because of weather-related delays. According to their study, weather conditions account for 23 percent of all trucking delays. Extreme weather conditions may cause costly accidents and hold up delivery schedules.
On top of your other responsibilities as a fleet manager, planning ahead and making timely adjustments based on weather can be extremely difficult. But the right trucking software empowers you to see disruptions coming and address them in flexible ways. You can alert drivers of unexpected weather conditions that result in changes to their plans—and with the right technology you can even reschedule an entire route for a different day with the click of a button.
Empowering drivers
Your fleet is only as strong as its drivers. Distributors rely on their drivers to deliver valuable products safely, document deliveries so they can send invoices to their customers. Finding CDL drivers isn't always easy, especially in the U.S., where the shortage of drivers persists. According to the American Trucking Associations, there could be a shortage of more than 160,000 truck drivers by 2028.
On the road, problems can occur around the clock. Dispatchers need to prioritize driver safety and be capable of resolving route issues quickly. Remotely gathering this information can be challenging without the right tools. But with advanced software, dispatchers are better equipped to identify and coach drivers about unsafe driving habits, as well as recognize those with an outstanding safety record.
Dispatchers can also save time by utilizing paperless documentation, relieving both drivers and dispatchers of the burden of paper-based, manual work.
Providing excellent customer service
Relationships with clients have never been more vital, especially during crises like the COVID-19 pandemic. It's never been more crucial to inform clients of delays, answer their inquiries, and manage their expectations. By communicating constantly, your fleet can adapt to the increasing demands of your customers.
Advanced delivery dispatch software allows dispatchers to share expected times of arrival (ETAs) with customers at every step of the way. With live vehicle location information, your customers are less likely to ask where their order is. Customers will also be better prepared to receive your drivers, decreasing waiting time. You and your team make better use of everyone's time, and your fleet creates seamless deliveries for your customers.
For perishable goods such as food, temperature monitoring is another option. A temperature monitor allows perishable products to be delivered in good condition. Dispatchers are notified automatically when temperature changes are unsafe, thus preventing food and cargo spoilage. You can then provide customers with greater transparency and avoid rejected loads.
With the right tools, food and beverage distributors can optimize routing and dispatching, ensure driver safety, and provide exceptional customer service. A robust food delivery dispatch software offers accurate ETAs, real-time tracking, and total transparency, which in turn reduces stress and promotes customer trust. Real-time visibility and routing mean dispatchers don't have to waste hours reaching out to drivers, and every stakeholder is satisfied with the results.