Technology plays a crucial role in food distribution logistics. Let us remember that food products, unlike many other goods, require special handling. The food and industry beverage, after all, is one of the most heavily regulated industries throughout the world. And the strict rules aren't limited on the food production side— those shipping food are accountable as well. Perhaps that's why 40 percent of food and beverage firms name regulatory demands as their biggest supply chain problem.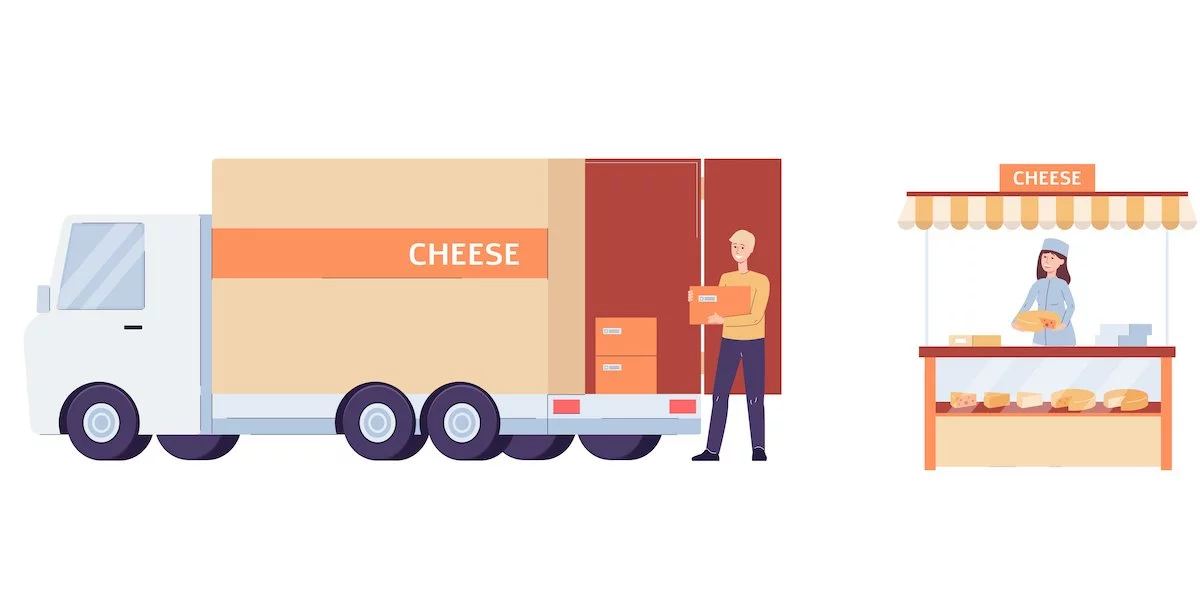 On top of the difficulty that comes with regulatory challenges, there's also the problem of food losses: incorrect handling and shipping delays result in food waste, which can be incredibly costly.
The Importance of Visibility in Food Distribution Logistics
Because of the challenges we discussed above, there's a greater demand than ever before for real-time visibility into shipment status and location as part of food companies' effort to proactively manage their freight. Real-time visibility is about being able to make the necessary adjustments when there are challenges that could disrupt or delay food transportation. Real-time visibility reduces a food company's exposure to potentially high losses due to missing or late loads and deliveries. It also helps businesses increase their competitiveness while keeping their customers happy.
Visibility is of high importance to food and beverage companies. Knowing where the shipments are and the exact date and time they were delivered goes a long way in ensuring the products' high quality and safety, just as the ability to track shipments in real-time helps planners and dispatchers to stave off disruptions that could result in lost revenue.

The ability to monitor and track perishable goods helps companies comply with strict regulations, too. Keep in mind that the Food Safety Modernization Act (FMSA) requires that companies know where their load is at any given time and record each of their goods' movements. The strict rules and regulations required by FMSA have had a major impact on the transportation of food and beverage products as logistics providers and carriers are made more accountable for their actions and failures.
How Supply Chain Technology Helps
Companies involved in the transportation of food and beverage are leveraging supply chain technology to track and manage their shippers so they can comply with the stringent FSMA regulations. Aside from ensuring compliance, supply chain solutions also help everyone involved including brokers, carriers, and third-party logistics (3PL) providers ensure that food and beverage companies can protect their brand reputations and continue winning new clients.
However, despite the use of technological solutions, food companies and their carriers are still facing the challenges of higher transportation costs. Food and beverage firms have named the rising and fluctuating transportation costs as one of the biggest challenges they always have to deal with. Simply put, complying with the food safety rules of having detailed and easily retrievable data in each perishable product being transported comes at a high cost.

Why Advanced Visibility Technology Is Key
Forward-thinking food and beverage companies have actively searched for and are now using advanced solutions to deal with high, volatile transportation costs. It's not enough for them to ensure visibility so they can comply with strict regulations—these companies are using visibility technologies to ensure higher productivity and improve their operational efficiency so they can meet new regulations while keeping last mile costs low.
For example, many companies have already invested in temperature tracking and monitoring systems on refrigerated delivery vans, containers, and trailers. These solutions are useful in ensuring that transported food is compliant with their required temperature setting as well as protecting logistics service providers and carriers from cargo claims. Temperature tracking and monitoring systems alert users when temperature thresholds are breached, allowing the transport team to respond proactively to ensure food safety and load integrity.
Technology solutions focused on visibility also help food and beverage shipping companies to remain compliant with FSMA rules and other regulations by monitoring and consolidating data from refrigerated truck temperatures. The solutions ensure that data are recorded and stored properly so they are easily retrievable in cases of food recalls.
Visibility solutions these days don't just track and trace loads either. They are more advanced and allow every stakeholder to view customized real-time alerts as well as in-transit updates based on GPS readings. Real-time updates according to GPS-based locations let transport managers address unexpected issues swiftly.
Naturally, these supply chain hurdles aren't all specific to food. Like any other business that struggles with last mile delivery, food logistics companies need to prioritize visibility in order to ensure that they have the most up-to-date information and can act on that information accordingly. Data goes stale quickly in delivery, and without real-time alerts and notifications you may be doomed to working with stale data over the course of the entire delivery lifecycle.
Beyond Data Visibility: Challenges in the Food Logistics Last Mile
Indeed, advanced visibility technologies help every stakeholder come up with data-driven decisions to achieve higher productivity and improved efficiency. But data in and of itself isn't necessarily the answer
Customizing dashboards allow transport operators and managers to see the data they need when they need it and according to their preferences—but what if the data always shows a last mile disaster? Up-to-the-minute information on disruptions can only be acted upon when disruptions are the exception, not the rule. To get to that point, you may need something like route optimization technology to ensure that your baseline ETAs are precise and accurate enough to do business in the modern marketplace. Here, you might look for software that offers you capabilities for combining static and dynamic route planning into a hybrid model designed to help maximize capacity around recurring B2B orders.
More Than Just Compliance
Of course, investing in advanced visibility technologies isn't just about ensuring compliance with regulatory standards. Again, freight visibility capabilities can also help food and beverage companies gain more clients as visibility helps provide better service. Traceability is one problematic area for food sellers—but food delivery companies can provide their clients the exact movement of their goods by investing in advanced visibility platforms. As a result, your customers won't have to worry about tracing where and how particular goods got to their shelves, since you're able to keep track of your products' movements.
At the end of the day, compliance is just the baseline. Modern customers—even in B2B spaces—expect elevated deliveries experiences that go above and beyond expectations. The only way to make that happen? Invest in the right tools.