Connectivity is everything these days. And we're not just talking about zoom, social media networks, and instant messaging. We're here to talk about how industries benefit by creating connectivity between their assets, people, and technology. In particular, this article will tackle how connectivity—specifically in the form of telematics—can help in food distribution logistics.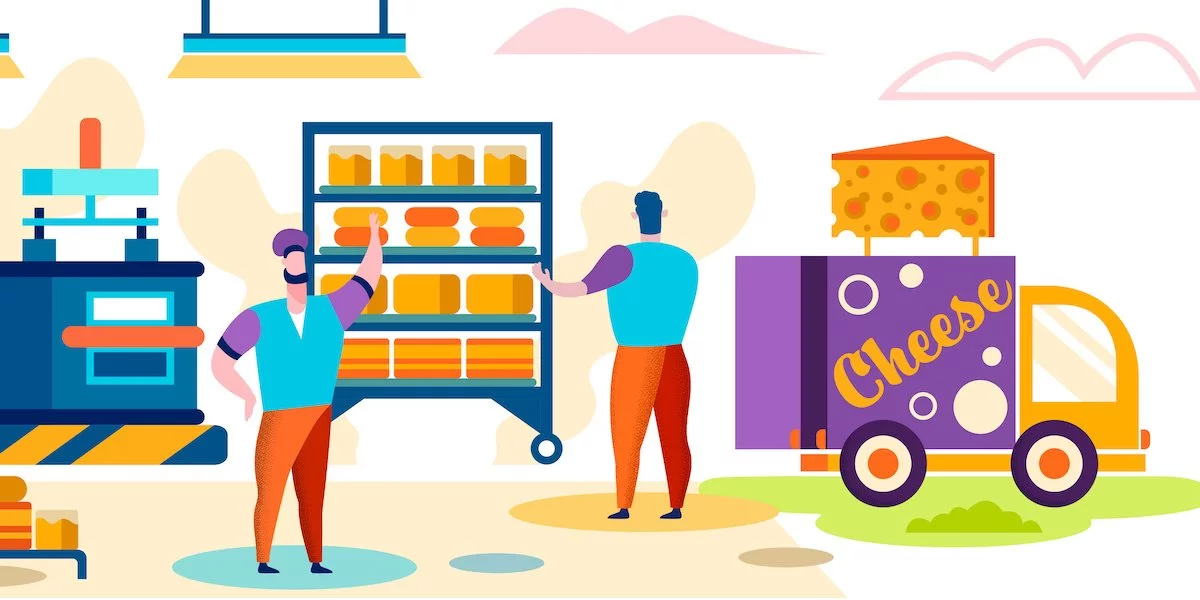 Telematics devices, which can include electronic logging devices (ELDs), video cameras, temperature sensors, and more are connected to a truck or a delivery vehicle's engine control, and can connect, store, and transfer data wirelessly to an application or mobile computer. The transmitted data then informs dispatchers or fleet managers of actionable items so they can update routes or modify assignments or processes according to real-time analytics.
Telematics is particularly useful for food distributors, since time is of the essence when it comes to transporting food since any delay in shipping can result in food and revenue losses. Here's how telematics integration benefits food distributors.
Better Regulatory Compliance Through Telematics
There's a big difference when it comes to shipping goods compared to other retail products. For one thing, food requires special handling, and lapses in the handling of food during transportation often lead to food losses—which may account for why around 33 percent of food is lost or wasted. Most food spoilage is due to damage sustained by fresh produce during transportation, which keeps them from being bought by shoppers.
As you can imagine, food and beverage are more heavily regulated than other industries. Food, more so than other products, is susceptible to product recalls. In fact, the Food and Drug Administration or FDA has been cracking down on food safety failures and has issued a large number of warning letters to food companies in recent years.
Telematics helps food companies through temperature monitors and sensors that can record and transmit data on the temperature inside the trailer. Keeping food at its required temperature while in transit reduces spoilage.
Telematics also help ensure transparency in the shipping of food products, which is useful in cases of food recalls. The data it has recorded allows companies to identify which shipments were dropped off at which stores.
Aside from food industry-specific regulations, telematics also helps businesses comply with the ELD mandate. This rule ensures that drivers don't go beyond their allowable hours on the road. Telematics technology digitally communicates data on vehicles and drivers' locations for easy verification of hours-of-service and vehicle inspection reporting.

Better Asset Tracking
Fleet managers and dispatchers often have to manage their drivers and vehicles remotely. But it's hard to keep track of each driver and asset on the road without the right tools. Telematics helps by tracking drivers and trucks in real-time. This technology also monitors miles per gallon, speeds, miles by state, fuel taxes, and a whole lot of other data as well.
A vital asset in the food and beverage industry is the trailer, especially if it belongs to a cold chain. The chain must remain unbroken to ensure high food quality during transport. Telematics keeps track of trailers, monitoring temperature, speed, load, reefer operational status, and fuel levels. Trailer telematics also allows users to monitor cargo area temperature remotely. Likewise, users are prompted via alarms if there are deviations from allowable temperature ranges. The end result is a reduction in wasted food and increased visibility into asset utilization.
Improved Management and Maintenance of Fleets
Proactively scheduling vehicle maintenance (sometimes referred to as preventive maintenance) is one sure way of ensuring consistent and continuous vehicle health. Preventive maintenance reduces vehicle breakdowns so assets don't stay off the roster for long.
Without telematics, fleet managers might inspect every vehicle on a quarterly basis. In contrast, telematics saves the fleet manager time as he or she can schedule preventive maintenance according to mileage and other factors, which is a more precise representation of the vehicle's required service. Doing it this way saves the company time and money.
If your telematics technology integrates with your other supply chain tools, you may even be able to automate some of the effort around preventive maintenance scheduling, e.g. with alerts triggered when the vehicle reaches either hourly or mileage thresholds.
Better Driver and Vehicles Safety
Aside from protecting food from getting damaged, food shippers must also ensure their vehicles' and drivers' safety. Telematics offers a way of reducing risks to driver and vehicle safety. It also helps in improving driver education and training—and in reducing liability. In cases of accidents, this technology also becomes useful in exonerating innocent drivers.
Most telematic devices incorporate accelerometers, allowing dispatchers and fleet managers to keep track of their drivers' unsafe driving behaviors such as rapid acceleration, deceleration, hard turning, and braking. Having this information allows fleet managers to tailor their training programs to suit each driver.
Likewise, by integrating video data and telematic sensors, fleet managers can gain insights that are useful in crafting training modules and materials. Video telematics also can generate statistics and reports, which drivers and fleet managers can use to identify risky behaviors that can be addressed during training. The statistics are also useful when fleet operators and managers have to set benchmarks and establish safety goals.

Reduced Unauthorized Use of Assets
A feature-rich telematics fleet management system can optimize routes, track vehicles in real-time and identify unauthorized use of the company's assets. Telematics solutions can have features like geofencing, which can prompt managers when drivers are outside the expected geographic area for their routes. Some reports show that on average, for every 30 delivery vehicles in rotation, a fleet will see 40 miles of unauthorized use every week.
Ensuring that drivers don't go off routes is crucial when transporting food. Every delay in shipping can cause food to deteriorate or spoil.
Of course, decreasing the time that food spends in transit isn't just a matter of monitoring driver behavior. Route optimization is also crucial in food logistics. Ensuring that each driver can take the most efficient routes will shorten the travel time of products, and by extension their shelf time. Half of the food's shelf time, after all, is usually spent inside delivery vehicles.
In this way, it's easy to see that telematics doesn't exist in a vacuum. The tracking technology that your telematics solution might provide can be extremely valuable—but it's even more valuable if it integrates easily with your other last mile delivery solutions. If you can integrate telematics into your route optimization and even gain real-time visibility into last mile deliveries, you can begin to streamline every touchpoint across the delivery chain.