Delivery operations have become more complicated given the higher order volumes, increasing consumer demands, and other challenges brought on by the COVID-19 pandemic. Online retail sales across categories continue to rise, and businesses that want to capitalize on the high e-commerce shopping demand need to find ways to make their operation more efficient.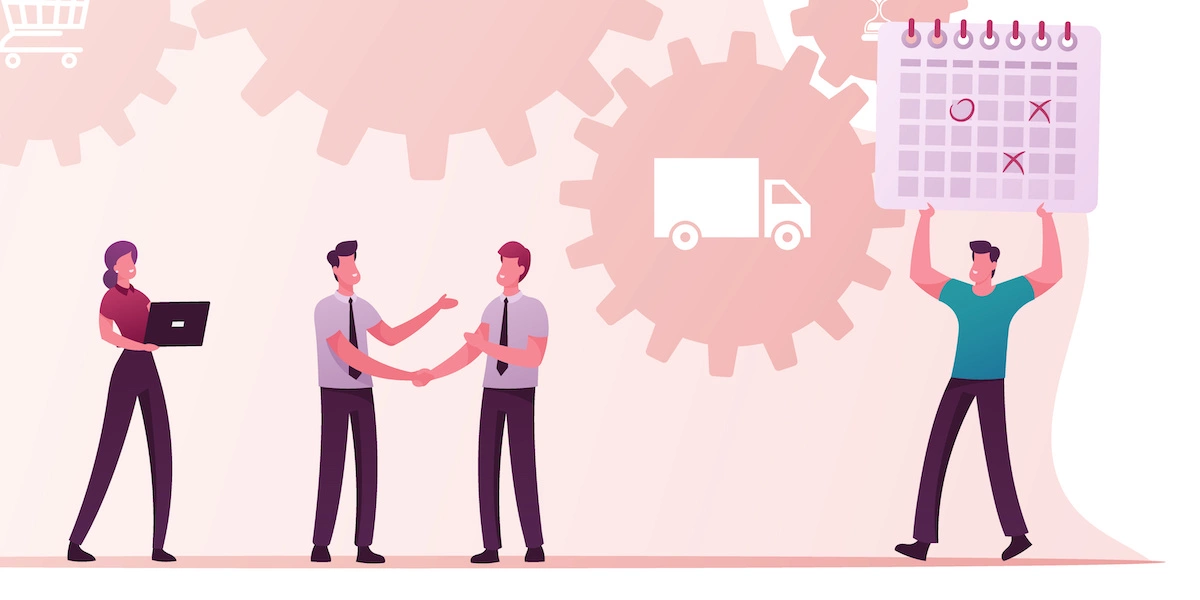 Without an obvious path towards greater efficiency, many businesses find themselves purchasing additional delivery vehicles and hiring additional drivers to meet the higher delivery order volumes. This move isn't always wise. In many cases, businesses only need to make their dispatching more efficient instead of investing in more resources. This is where the right dispatch solution comes in.
Dispatch schedule software allows fleets to improve resource allocation and management, speed up deliveries, boost performance, cut down fuel cost, and achieve higher customer satisfaction scores. In this post, we will tackle how, exactly, it does so.
The Importance of Dispatch Software
Dispatch schedule software, as its name suggests, is a tool companies and dispatchers can use to select the optimal truck or driver for particular orders, schedule and sequence those orders, and ultimately dispatch the resulting routes to drivers. This category can cover everything from simple applications to connecting the whole supply chain including integrations with retail systems, external systems, and other logistics software.
Again, fleet dispatch software is a must-have these days given the demands of consumers for speedy, reliable, and transparent delivery services. The emergence of mobile devices like smartphones and tablets has made order tracking easier and more popular., which is why the right logistics software is key to improving customer service and meeting shoppers' expectations.

And the benefits of dispatch software go beyond increasing customer satisfaction—it can also help you to save on costs. Not only does it cut out manual effort that has historically taken up a lot of valuable time, it also streamlines the communication process between dispatchers, drivers, and customers. Making dispatching more efficient via the use of software enables companies to save both time and money while meeting consumers' needs for different delivery options.
In an ideal world, this kind of solution can even power quicker delivery options without incurring a big increase in expenses.
What to Look for in Dispatch Schedule Software
Efficient route planning, assignment scheduling, and vehicle dispatch planning are possible with the right technological solutions—as long as you find software that offers the right features.
Here are the must-have features that can help ensure that your dispatch software will enable you to meet customers' demand for great delivery services while achieving cost-effectiveness.
Automated customer communication
To truly tackle rising last mile costs, businesses of varying shapes and sizes have to reduce the number of customer calls to their customer service teams. Not only does a decrease in where's-my-order and other calls immediately translate to reduced call center costs, it also signals happier customers. The best way of achieving this goal? You can start by providing customers with real-time time information about delivery schedules. .
Many kinds of delivery including white glove deliveries require the consignee or customer to be present for the delivery. As such, you need to choose software that can actually keep customers informed about ETAs, delivery windows, potential delivery exceptions, etc. Ideally, your customers would be able to track orders themselves at a high level of detail, including truck location and stop number.
Route optimization
An advanced dispatching software must include a route optimization feature. Route optimization algorithms consider multiple constraints in finding the fastest and most cost-effective routes for large numbers of orders—all much more efficiently than a human planner could manage. Here, it's important to find a tool that can create routes with ETAs that your drivers can actually meet—it's no good dispatching drivers the most efficient routes if they're constantly running into disruptions because they're perpetually late.
Automated dispatch
Conditions can change rapidly on the day of delivery, which is why dispatch schedule software that can support automated real-time dispatching is a crucial tool. The right delivery route software should allow dispatchers to automatically dispatch orders to drivers and update those drivers via push notifications whenever changes are being made.
Integration in real-time
Dispatch software, much like other logistics tools, cannot exist in a vacuum. That's why you have to choose a dispatching solution that can be integrated with other supply chain and dispatch delivery management systems with relative ease. The alternative is to risk data silos and shadow IT cropping up and making your delivery operations less transparent.
Customization
Different businesses have different needs and key performance indicators (KPIs). But they all need a dispatching solution that caters to their requirements and goals. You need a solution that helps you make decisions according to your specific business case.
Real-time coordination and communication
An intelligent dispatching solution should work as part of an integrated ecosystem, allowing every team to work in sync. The right software will pave the way for every fleet member to know where and when they should be at any given time. Drivers need to be informed of the pick-up location, and the delivery drop-off point, and other requirements, while customers should be able to access delivery information by tracking their orders on their own.
For that reason, it's helpful to opt for a dispatch scheduling software that comes with a driver mobile app and in-app communication and GPS tracking. This allows every stakeholder to coordinate and communicate easily, all while offering customers more personalized delivery experiences.
Your dispatch software should have a dashboard displaying crucial information such as order statuses, completed deliveries, and more. Ideally, your dashboard should offer different views so dispatchers can drill down to the details they need with relative ease and without having to hop from one software solution to another.
Real-time data and alerts
Consumers now demand that companies provide them with automatic alerts, as well as the ability to track their packages on their own. Likewise, dispatchers need real-time visibility on driver statuses, orders, and more.
That's why it pays to have a dispatch solution that is synced with other systems and capable of providing back-end employees and customers alike with accurate, real-time delivery-related data and alerts.
Efficient dispatching plays a crucial role in today's competitive marketplace. Dispatch scheduling software can help digitize, connect, automate, and optimize the entire delivery process—making it easier for you to handle increasing order volumes, meet higher customer demands, and improve your cost efficiency around last mile deliveries.