Consumers tend to gravitate towards companies that provide them with great delivery experiences—and a big part of that is providing accurate ETAs. Sure, shoppers look at plenty of factors like quality and cost, but they're always going to be more likely to buy when they're confident that the delivery will show it when it's scheduled to show up.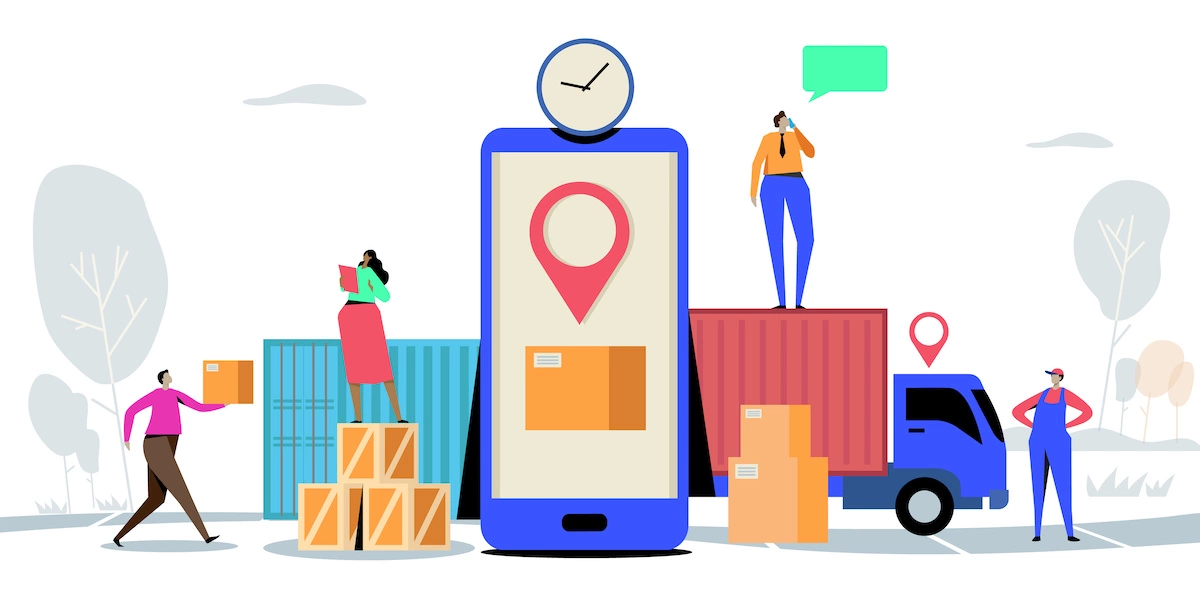 This might not seem like the toughest hurdle to overcome, but in point of fact it's historically been a huge pitfall for logistics businesses, with factors like traffic, driver skill, and service/installation time complicating what seems like it should be a simple task of estimating when the driver will arrive. Even today, providing customers with an accurate ETA remains quite challenging for many businesses.
The Importance of Providing Accurate ETAs
Accurate ETAs may be challenging to set—but they come with many advantages for any company. Here's how accurate ETAs can benefit businesses.
Building Trust and Assuring Customers
Simply put, providing customers with precise, accurate ETAs gives them confidence. This is particularly essential in the e-commerce market, as there are many businesses that don't consistently meet their promises to shoppers. When you provide great, on-time delivery services, you encourage shoppers to patronize your business in the future.
This is directly linked to trust. Businesses that are providing customers with accurate delivery times are also conveying their accountability and trustworthiness for each order. It shows that the company is working hard to satisfy their shoppers' needs.
Eliminating Unnecessary Costs
One late delivery can cause delays in all scheduled deliveries within the day. Likewise, a single delay can push drivers to engage in unsafe driving behaviors such as speeding to try to meet the ETAs of other delivery assignments. This can result in high repair, legal, and medical costs.
Of course, drivers who miss the ETA are likely to miss the customer as well. Especially when it comes to scheduled delivery (e.g. for a large appliance that needs to be installed), customers need to know the delivery windows so they can make themselves available at those times. This then means that the delivery will have to be scheduled for another day, which translates to higher fuel spending and employee hours for one package. In short, the entire last mile goes a lot smoother when you have schedules that your drivers can actually stick to.
Improving Profitability
Consumers are no longer content with limited delivery options and vague delivery times. Research shows that 45 percent of shoppers abandon their carts when they see inconvenient delivery options and vague delivery time frames; at the same time, shoppers are much less likely to patronize your business again if they don't have a good experience with delivery. This means that businesses that fail to provide ETAs and more delivery options are losing shoppers to competitors. This is, of course, in addition to all of the cost factors that we discussed in the section above.

Increasing Customer Satisfaction and Retention
The points discussed above highlight the crucial role of accurate ETAs in increasing customer satisfaction. Consumers demand more from businesses than ever—they want to know when their orders will be delivered so they can fix their schedule and ensure their availability to receive the package, and they don't want to wait all day for the truck to show up.
Thus, business needs to generate accurate arrival times that are at most a few hours long. It's one of the most effective strategies in creating great online shopping experiences. This will probably require an investment in the right route planning software, but it has the potential to pay off in a big way. Higher customer satisfaction scores mean more happy customers and repeat business for the company.
How Delivery Route Software Helps Generate Accurate ETAs
Generating accurate ETAs may be challenging, but it is possible with the right tools. Delivery route software with advanced routing algorithms enables companies to have reliable arrival times and improve their successful delivery rates. Here is how the right software can help:
Route optimization
Manual route planning mostly results in inaccurate ETAs—human planners simply can't account for all the factors that impact delivery windows. Route optimization software, on the other hand, automates route planning and provides the most cost-effective and quickest routes in just a few clicks.
Sure, route optimization helps companies make faster deliveries as it helps drivers avoid heavy traffic, unsafe roads, poor weather conditions, and more. But the right software also takes into consideration variables that affect delivery times when finding the most optimal routes, allowing companies to increase fleet efficiency and improve both driver performance and customer satisfaction.
Open communication
Of course, the thing about ETAs is that they're always subject to change. And when expectations start changing, it becomes imperative that you have a way to keep customers in the loop to avoid not-at-homes. That's why your last mile logistics software has to empower your drivers to receive delivery task assignments in real-time and easily communicate with their dispatchers or fleet managers. This way, dispatchers can provide customers with proactive updates when there are any issues that affect the likelihood of on-time delivery.
Real-time tracking
An advanced fleet routing software should also have real-time tracking features, allowing fleet managers and dispatchers to monitor in real-time where the drivers are and what they're doing. This helps ensure that drivers stick to the route plans so they get to their delivery drop-off points faster, while also giving you the data you need to make adjustments on the day of delivery.
Ideally real-time tracking is not limited to employees. Instead, you can allow customers to view the driver's location and see if there are any changes to the ETAs. Allowing the customer to track their order instantly boosts confidence and elevates the delivery experience.
Consumers these days place the utmost importance on convenience. This means that they would prefer to spend their hard-earned money on businesses that offer them not only great products but delivery services that are reliable and accurate. In this way, delivery route software is essential in providing customers with what they want: fast, flexible deliveries with accurate ETAs.