Thanks to the rise of delivery on demand, consumers have come to expect a whole new era of delivery centered around speed, price, and convenience. The innovations of companies like Uber and Amazon have changed the way deliveries are made—and customer expectations around on-demand delivery have evolved significantly. On-demand delivery has become a huge market, but how can businesses ensure the possible best customer experience?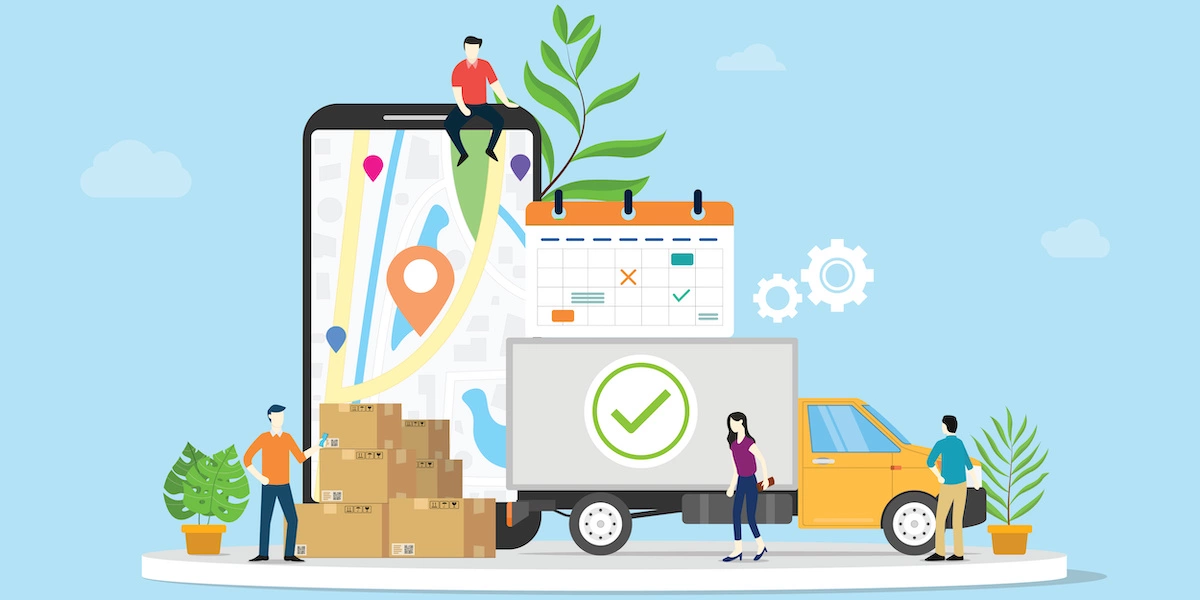 Across the country—and around the world—on-demand delivery has become the norm in many sectors, with more than half of urban consumers anticipating local delivery in under an hour, with a large percentage of younger consumers anticipating that as well. As a result, 99% of retailers anticipate providing same-day delivery within three years and many hope to achieve 30-minute delivery times as well.
To make that happen, businesses are going to need a smarter approach to delivery on demand.
A Deeper Look at Delivery on Demand Services
Simply put, on-demand deliveries are here to stay. According to McKinsey, 75 percent of hard goods, apparel ,and specialty retailers plan to expand their network capabilities so that they can offer two-day or quicker delivery options, and 42 percent believe they will achieve one-day click-to-market lead times by 2022.
But offering delivery on demand is no easy feat. They are complex to manage, and without the right approach they can become huge cost centers and sources of customer dissatisfaction. One study showed that almost one in four companies have difficulty meeting delivery deadlines simply due to travel distance. This problem suggests that many companies lack the visibility over their existing transport networks to make this kind of rapid delivery turnaround an immediate reality.
In order to achieve efficient on demand delivery, you need to connect all your systems, processes, and resources across delivery touchpoints and functions—in order to create efficient, streamlined, and holistic processes centered around delivery speed and customer satisfaction. It's the only way to meet order deadlines and remain competitive in the on demand delivery market.

Creating Efficient On Demand Delivery Services
On demand deliveries certainly aren't easy—but they can be managed with the right tools and processes in place. To cut delivery costs and improve customer experiences in today's on-demand delivery market, businesses can start by implementing these best practices:
1. Use automation to save time
Money isn't the only valuable commodity we have in today's on-demand world. Time is just as valuable. That's why, to make on-demand delivery work, automation must be implemented at every level—from enterprise systems like dispatching and fleet management to customer communication, driver management, and route planning.
Automation in dispatch and routing allows businesses to make the right decisions based on factors like cost, delivery volumes, etc. All of these decisions need to be made in real-time, so dispatch automation software and real-time integration of all of your systems, including external providers, are necessary. When speed is the most important factor, the speed of your back-office processes is a huge concern, so anywhere you can cut manual effort out of the process can be a huge win.
2. Offer customers convenient delivery scheduling options
The fulfillment options that online companies offer should be convenient and accurate, including where and when the product will be delivered or picked up. To determine these times accurately, you need to know your inventory location, as well as the availability of your fleet. For curbside pickup, you'll need to know the availability of parking space at specific times.
Here, you can provide instant and accurate delivery options by automating your capacity management. It's important to make sure that you have convenient delivery options such as same-day delivery and short delivery windows, as well as convenient order fulfillment options like click and collect, curbside, same-day delivery, set up within a cohesive framework that offers real-time visibility across touchpoints and different fulfillment options.
3. Prioritize technology integration
Delivering on demand means meeting customer demands at any time, no matter what day it is or what time of year it is. Companies need to be able to respond quickly to customer needs and dispatch drivers as needed. The right technology integrations can help with this. By connecting your delivery management, telematics, warehouse management, and point of sale systems in a way that ensures constant data-sharing, you can gain the data visibility you need to respond quickly to requests.
This is especially true when you're working with third party logistics providers for actually carrying out your deliveries. To improve planned and on-demand deliveries, build brand awareness, and maintain high levels of customer satisfaction when using third party fleets, you need their technology to slot seamlessly in with your own.
4. Leverage real-time visibility
The ability to access high-level data on delivery fleets out in the field, as well as detailed information about each driver, enables companies to streamline their delivery operations and save time.
Digital bar code scanning, electronic proof of delivery, and real-time driver tracking can help businesses manage their deliveries more effectively as they unfold. By pinpointing the exact location and timing of deliveries, you can manage customers proactively and work with them to address any disruptions or exceptions that might arise.
5. Communicate with customers in real time
Businesses are putting their customers first, and for good reason, as customer expectations are higher than ever before.
These days, delivery apps need to provide customers with visibility into their delivery status and location. Make sure you find a solution that sends customers notifications when their orders are routed, once their orders leave the distribution hub or store, and as soon as the truck arrives.
The moment a driver is running late, or if something unexpected occurs, the customer should be notified of the new arrival time. In this way, customers can avoid anxiety, and drivers and other teams won't have to do any additional work. Customers, fleet managers, dispatchers, and executives alike should have access to this order tracking and real-time visibility.
Delivery on demand is a matter of enhancing your last mile delivery operations for streamlined efficiency, keeping up with customer expectations, and improving efficiency so that more orders can be delivered with fewer resources. For this to happen, processes, human resources, and technology all need to be aligned. It's time to think bigger and look for solutions that will give you the visibility and control you need to provide excellent on demand delivery experiences.