Shorter Windows, Better Routes: The 2-Minute Guide to Route Optimization
Learn All About Route Optimization in Just Two Minutes!
Does route optimization need to be cloud-based to be scalable? Are all cloud-based route optimizers created equal? Our two-minute guide answers these questions and more. We'll also cover:
How to tell if it's time to upgrade your routing

Which KPIs are most valuable in tracking routing performance

The larger ROI implications of optimized routes with 98% accurate delivery windows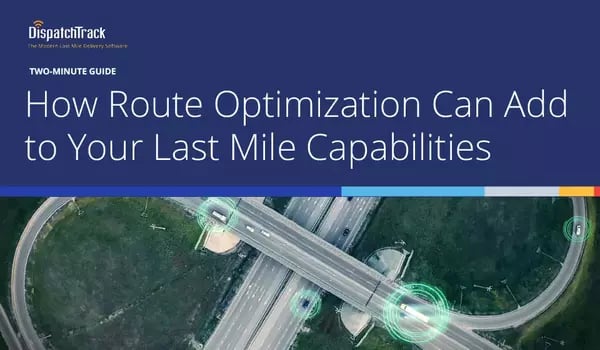 Elevate Your Last Mile Logistics Operations
Talk to an advisor about how DispatchTrack can help increase efficiency and transparency.
Route optimizer maximizes assets and gives accurate ETAs

Instant proof of delivery documented with notes, photos, and GPS timestamps

Continuous communication with customers via text, email, and phone keeps them in the loop

Mobile app connects you with drivers in real time

Automated billing & settlement ensures accuracy and improves billing efficiency

Single pane-of-glass dashboard shows status of every truck at a glance