In recent years, fulfillment has changed as more and more customers shop online. In that time, the click and collect fulfillment model has gained in popularity. Why? Because it gives customers more control over how and when they get their orders, all while enabling retailers to eliminate delivery costs. This service also allows consumers to save on shipping costs, while also giving them additional convenience and speed in the order fulfillment process. During the worst of the coronavirus pandemic, this also gave consumers a safer alternative to in-store shopping.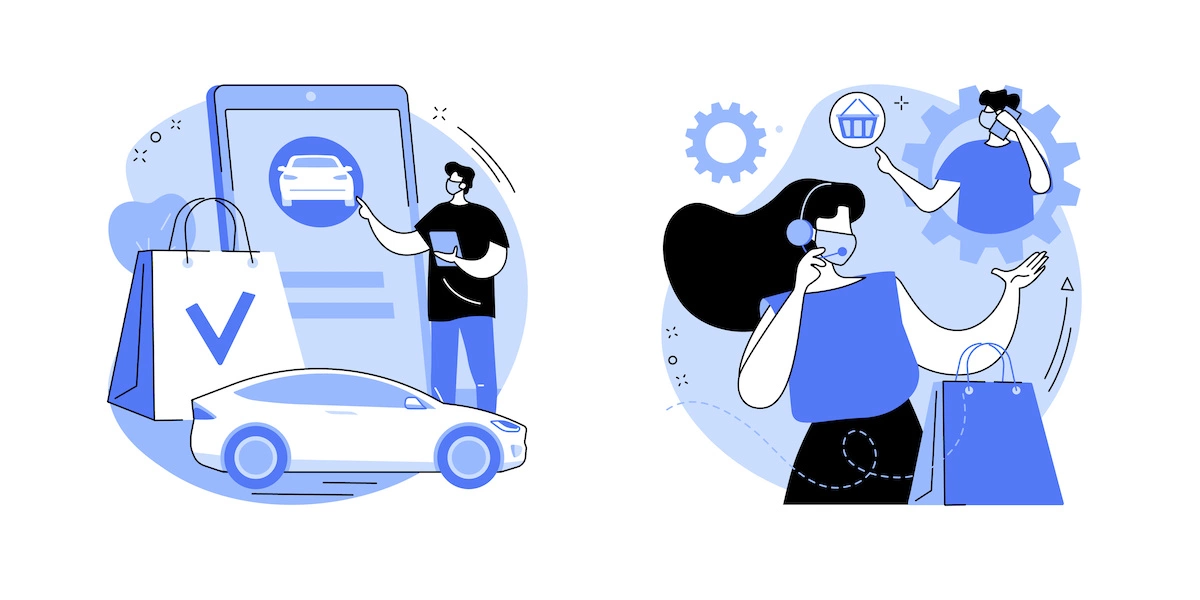 In this article, we'll explore what click & collect is, why it has become increasingly popular, and how retailers can take steps to make click & collect an effective business tool.
Understanding Click and Collect
Click and collect services allow customers to order items online and pick them up at their local store. Also referred to as buy online, pickup in-store (BOPIS), this process makes it possible for customers to pick up their order from a nearby retail store with ease. It's a fulfillment method that can enable speedier turnaround times for getting orders to the end consumer—at the same time.
Click and collect is one type of omnichannel flow. Pickups are usually in a local retailer's store, although they may also take place at purpose-built lockers or even at a shop owned by a different retailer.
Speed, low cost, and convenience are the benefits to customers of this fulfillment method. At the eight the COVID-19 pandemic—when everyone was going above and beyond to keep one another safe—the click & collect method lets shoppers avoid the crowds while still having access to the convenience of local retailers.
Click and collect isn't a new phenomenon. However, it skyrocketed in popularity in 2020 and became one of the year's most popular trends. A retail study in 2017 showed that nearly a third of shoppers picked up their order from a store after making an online purchase during the 2016 holiday shopping season. In May of 2020, in-store pickup increased by more than 554 percent from the same period in 2019.
Of course, this jump in popularity doesn't come without its challenges. For retailers that aren't used to this kind of fulfillment model, high order volumes can result in traffic jams at your store and overworked store associates. Without an efficient way of managing store capacity and empowering associates to work efficiently, you risk alienating customers with long wait times for pickups.

The Ideal Click & Collect Workflow
The ideal click and collect workflow will focus on two things. First is boosting the efficiency of the flow to ease the burden on retail workers and support employees. The second is to create an exceptional customer experience. Here's what the ideal click and collect workflow looks like.
The customer selects his or her preferred fulfillment option during checkout and is given different real-time options on where to pick up their orders—all according to the retailer's inventory availability and business priorities. Store employees ideally receive the orders automatically via the same system.
At the same time, the shopper is given his or her order confirmation, with prompts to follow to choose a pick-up time. Customers then are notified when their orders are ready for pickup.
Customers inform employees when they will arrive, such that items can be prepared in advance, ensuring store operations are in sync with client arrival.
Employees should be able to see orders from a centralized dashboard. Customer-facing and employee applications should both include order up-to-date order data
Click & collect customers might be digitally directed to a pickup location when they arrive at the store (e.g. a numbered parking space), at which point they can check in and notify associates that they're ready to have their order brought out. Having separate in-store and online order collection locations can decrease wait times for both online and in-store customers in the checkout line.
Employees should be able to confirm pickup as well as capture proof of delivery electronically and ensure contactless pickup as needed.
Customers should be allowed to rate the pickup experience in a pickup confirmation message. In this way, retailers can then see which aspects of their business need improvement, and how they are doing in terms of customer service.
Click & Collect Made Easy with the Right Software
The click and collect method enables enterprises to increase sales and strengthen brand loyalty, but only if they offer seamless experiences to customers.
Businesses must make sure that click and collect works as efficiently as possible—something that is more than achievable with the right solution.
The right logistics software solution helps make curbside pickups efficient in the following ways.
Scheduling order pick-up efficiently: During checkout, shoppers are offered a variety of pick-up options depending on store capacity. If the capacity limit for a particular period has been reached, the next available time slot is automatically selected by the system.
Syncing processes: Businesses need to make sure their processes for picking, preparing, staging, and loading orders are in sync in order to minimize curbside clogs. Process synchronization also optimizes the time of employees. The system must send automated notifications to employees when a specific order is ready to be picked, and when the customer arrives.
Continuous monitoring: Keeping track of and monitoring orders as they arrive and are fulfilled allows you to monitor your business effectively and spot potential disruptions in advance. Additionally, you can identify and resolve your overarching pain points more easily with all the data you collect.
Click and collect is a fulfillment model that's beneficial for both retailers and consumers. When devising growth strategies, retailers should consider this trend as an opportunity to leverage their existing supply chains, gain market share, and thrive in an increasingly competitive retail environment.
Today, this service has already been widely adopted—which means that it's now a question of how you can differentiate your service from that of your competitors. With competition for market share heating up, enterprises with an online retail offering must pay more attention to improving and streamlining their in-store pickup process for convenience, speed, and accuracy.
Online shopping will be around for years to come—even after the COVID-19 pandemic ends. Therefore, businesses that provide click and collect need to figure out how to do it seamlessly and on a large scale. Fortunately, with the right last mile logistics software, you can manage pickup logistics efficiently, providing exceptional experiences to your customers in the process.