Customer behavior has evolved drastically in the last few years. They now demand more from businesses, expecting great customer delivery service whenever possible. Unfortunately, last mile deliveries don't always get executed as planned. Delivery exceptions do happen, and it's up to last mile shippers to find a way to manage them effectively.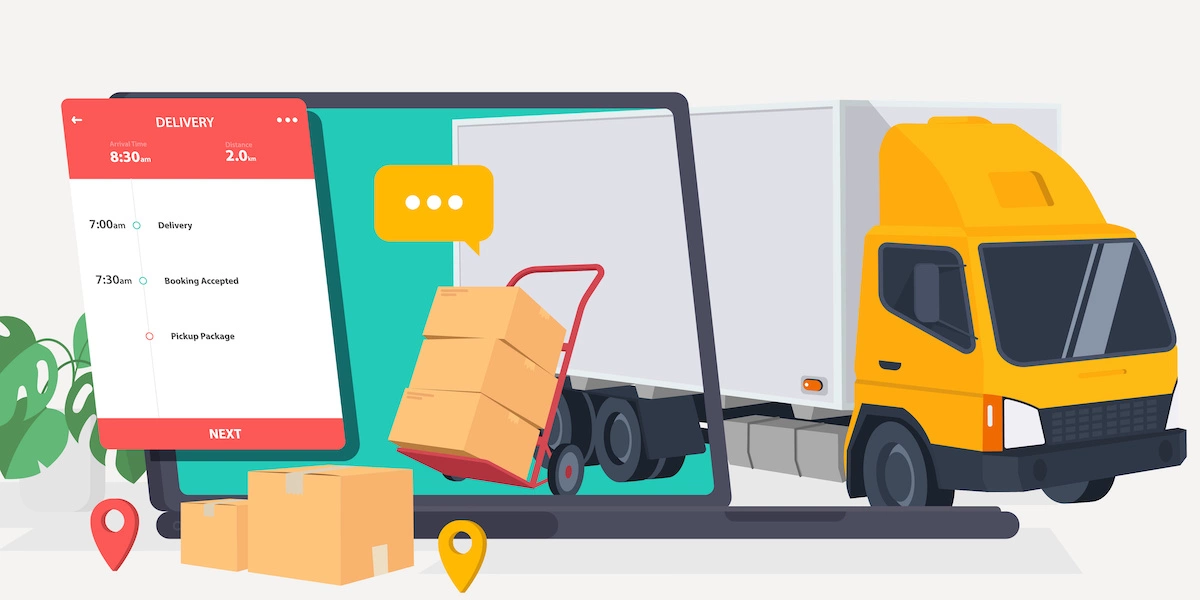 As with so many things, the pandemic has only helped to bring this challenge to a head. There's been a significant increase in e-commerce orders given the COVID-19 pandemic—but increasing volumes just make visibility and flexibility that much harder in most delivery contexts. In many instances, companies have logistics routing software that's outdated and can't handle the pressures of dealing with the unexpected.
In this post, we will take a closer look at why delivery exceptions occur, how these exceptions can impact your business and its customers, and how to better manage exceptions with the help of delivery mapping software.
A Closer Look at Delivery Exceptions
Delivery exceptions, simply put, include anything unexpected or unplanned that happens to an order. This might include a delivery team being unable to complete an assignment because of the lack of communication with an order recipient. Exceptions can also be caused by other factors such as road blockages, incorrect shipping addresses, etc.
Failed deliveries: Sometimes, the drivers simply cannot complete the delivery at the promised date and time. This might be due to lack of communication (i.e. the customer isn't home to receive the order) or because the delivery was running behind schedule.
Lost orders: Packages sometimes get lost because of issues with visibility, missing documentation, or other reasons. This might result in a partial delivery of someone's order—meaning that your business needs enough visibility to be able to follow up with the customer in a timely manner to get the rest of the order fulfilled.
Traffic and weather incidents: No matter how sophisticated your delivery route management software is, there's always the possibility that external conditions will make it impossible to carry out the day's deliveries. Unfortunately, these unforeseen events trigger a chain reaction for the rest of the driver's schedule. In a perfect world, you'd be able to respond to something like a catastrophic snowstorm by rescheduling entire routes for a new day with the click of a button.
Businesses and their logistics partners may go the extra mile in minimizing delivery exceptions—but they can't ever really be removed from the equation entirely. As such, it's essential to have robust solutions and tools to handle these delivery exceptions efficiently—all while keeping satisfaction scores up and increasing on-time delivery rates.

How Delivery Exceptions Impact Customer Satisfaction
As far as customers are concerned, the price and delivery time frames promised to them need to be reliable. After all, shoppers are unlikely to buy if they don't know the price of the product and the date of its delivery.
It's understandable that customers are annoyed when their orders don't arrive or if they fail to receive updates regarding the delays. But there's a big difference between someone who's annoyed to learn about a two-hour delay and someone who is furious because their order never arrived at all and the customer support team can't tell them why the order is late or when to expect it.
Simply put, effective delivery management is all about being proactive, rather than reactive. When you're able to call the customer about a problem before they've even noticed it, you can retain their business even when things don't go precisely according to plan. You need an approach built on openness, transparency, and flexibility. Otherwise, you can find yourself dealing with some unpleasant challenges.
Increased costs: Every extra delivery run after a failed delivery—to say nothing of time spent by office-based teams and employees managing delivery exceptions—adds to your overhead. Just the time spent by your customer support team handling incoming where's-my-order calls can really add up over time.
Poor customer experience: Customers whose orders arrive late with no explanation are unlikely to patronize the same brand again. In this way, poorly handled delivery exceptions can cause bad ratings from customers and higher customer churn rates.
How Delivery Mapping Software Helps
The key to minimizing and managing delivery exceptions is to invest in the right delivery mapping software. This kind of route optimization tool would help you create delivery routes that were both efficient and feasible—meaning that your drivers would be on-time a much greater percentage of the time. But in a perfect world you'd be looking at a comprehensive last mile solution that helped you both minimize and manage exceptions on the day of delivery.
For instance, the right delivery mapping software should offer visibility in real-time into drivers on the road, including delivery statuses and ETAs. This enables dispatchers and fleet managers to view the health of the operation and what is happening as they unfold in real-time.
This empowers office-based teams to spot incomplete or failed deliveries, delays, and other situations. Drivers get to benefit from this tool as well since they can upload photographs, and notes to record incomplete, refused, and successful deliveries.
The right advanced delivery software should also offer a delivery dashboard providing all data regarding deliveries on one screen. This way, fleet managers and dispatchers can see situations as they unfold and take proactive actions to solve them.
The dashboard should provide a map where users only need to click to view the current location of each delivery. When situations change, the software then begins gathering, analyzing, and optimizing in the background. This way, office-based teams can anticipate potential problems and advise delivery teams on the road to make the necessary adjustments according to the current circumstances.
Crucially, all this functionality needs to be paired with robust customer communication tools. This way, you can communicate about delivery ETAs and potential exceptions proactively via text and email, reducing the need for costly phone time.
Too many enterprises are facing monumental challenges given the increasing volumes of deliveries. Having robust delivery planning software enables businesses not only to automate dispatching and routing processes but also to manage exceptions proactively. An advanced solution offering an intuitive dashboard with real-time data allows businesses to remain in full control of the delivery operations to keep customers happy and manage costs even in the face of the unexpected.