Much like those of the average consumer, business-to-business (B2B) buyers' expectations have also changed. They now expect more business-to-consumer (B2C) style experiences, putting serious pressure on the typical B2B supply chain. To wit, one report showed that one of the most critical aspects of supply chain optimization in B2B was providing improved tracking and quicker deliveries. This speaks volumes on how much logistics giants like Amazon along with other factors have influenced how business is being conducted.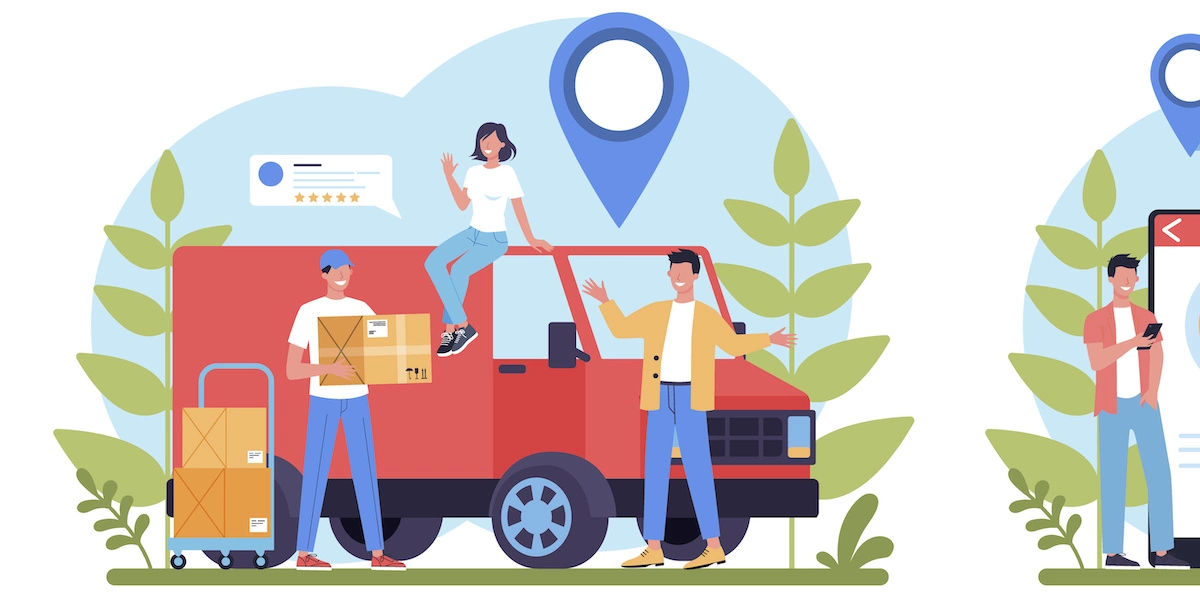 Naturally, B2B supply chain businesses—including food and beverage distributors—have many tools to help them manage supply chain challenges. This includes warehouse management systems, artificial intelligence (AI) algorithms predicting demand more reliably, and plenty of others. That said, now matter how fancy your technology, your logistics processes can still break down in the last mile.
The Challenges in B2B Last Mile Delivery
One of the main challenges for wholesale food and beverage distributors and other similar businesses is meeting delivery time windows. Bars, grocery stores, and restaurants operate at set hours, which means these enterprises have very specific requirements on receiving deliveries. For example, a restaurant may want to avoid having delivery trucks consuming limited parking space during lunchtime.
Food and beverage products may need special handling such as temperature-controlled transportation. Plus, goods can perish due to poor storage conditions during transport, messy handling, and late deliveries.
At the same time, food and beverage distributors are also facing increasing transportation costs. It's no secret that escalating transportation costs can dramatically impact your profitability, especially given the fact that the last mile is one of the most expensive aspects of the supply chain.

How to Overcome B2B Last Mile Challenges
What should a B2B company do to overcome the above-mentioned challenges while meeting customer demand for a B2C-style delivery experience?
Here are some key features that B2B delivery operations must have:
Hybrid Route Optimization
Route optimization enables businesses to automatically find and calculate the most optimal routes to ensure cost-effective and on-time deliveries. It's a feature that helps fleets overcome constraints such as driver availability, weather, road and traffic conditions, and availability of personnel for loading and unloading. Route optimization improves on-time delivery rates significantly, which is a crucial metric in the world of B2B.
However, it's not enough to have a solution with dynamic route optimization features. Equally important is having a system that can combine both static and dynamic routing. The former involves a sequence of stops or a fixed schedule: static routing is referred to as such due to its inability to respond to changes in order volumes or mixes. On the other hand, dynamic routing enables dispatchers and fleet managers to make unique route plans every single day according to the particulars of that day's customers and orders. It finds the quickest route for every combination of stops.
B2B companies should refrain from simply finding the fastest routes. For B2B firms, route plans that only consider the distance traveled by drivers but put the most important customers at the end of the route plans are not the optimal routes. As such, you need to be able to set certain anchor stops along your routes for your marquee customers, while dynamically optimizing other stops and orders around those anchor stops.
Real-Time Tracking
Tracking delivery vehicles in real-time enables B2B companies to have better control over their fleets while providing transparency to customers. Real-time tracking offers customers updates on delivery progress, accurate expected time of arrivals (ETAs), and live tracking abilities. It also minimizes costs as it makes the process of managing delivery exceptions much smoother and less chaotic.
Flexible Deliveries
The cost of order cancellations can be quite significant in the B2B market, even compared to B2C.
The risks involved in order changes, last-minute order cancellations, or changes in store locations can be daunting, but you can work to overcome them by using the right last mile delivery solution. If you can accommodate customer order changes and adjust your plans on the fly, you can keep your customers happy without having your cost per delivery skyrocket.
Automatic Resource Allocation
Many B2B companies still rely on manual processes and conventional strategies when executing deliveries. These methods, however, are rigid, prone to errors, and time-consuming. Fleets must use a modern last mile delivery solution that automates job allocations according to delivery costs, urgency, and customer proximity.
Telematics Integration
The ability to monitor driver behavior and asset data in real-time over the course of your delivery is perhaps more important in B2B use cases like food distribution than anywhere else on the modern supply chain. In addition to monitoring the cold chain and ensuring that your food is staying within the right temperature range, you also need to keep tabs on fuel tax expenses on a state by state basis and harsh driver behaviors like cornering and hard braking. More than that, you need to be able to see that information without leaving your centralized last mile control tower. This means that if your telematics and your dispatch delivery management system aren't integrated, you can't reap the rewards of either. If, on the other hand, you're able to combine the capabilities of these two feature-sets, you can more effectively adapt to what's actually happening on the day of delivery.
Proof of Delivery
A solution that comes with robust proof of delivery functionality is crucial in the B2B marketplace. Drivers must be able to take photos, notes, and videos as well as capture signatures all from their mobile devices. Not only does this speed up billing and settlement, it can also resolve client questions and disputes.
Deep Insights
Real-time reports and analytics provide B2Bs with important data points that empower executives and managers to make well-informed business decisions. A solution that allows you to evaluate relevant metrics such as cost per case, cost per stop, planned stops vs. actual, and more can really help when it comes to optimizing current workflows and processes.
Just like in B2C deliveries, failing to optimize core processes can make B2B last mile deliveries more costly. The key is to find and embrace a last-mile solution to lower delivery costs, improve logistics operations, and boost customer experience.