Supply chain and logistics challenges are major sources of headaches for beverage distribution companies. Beverage companies face constant challenges in delivering their products, and as B2B buyers increasingly expect more B2C-like experiences, that's only becoming more true.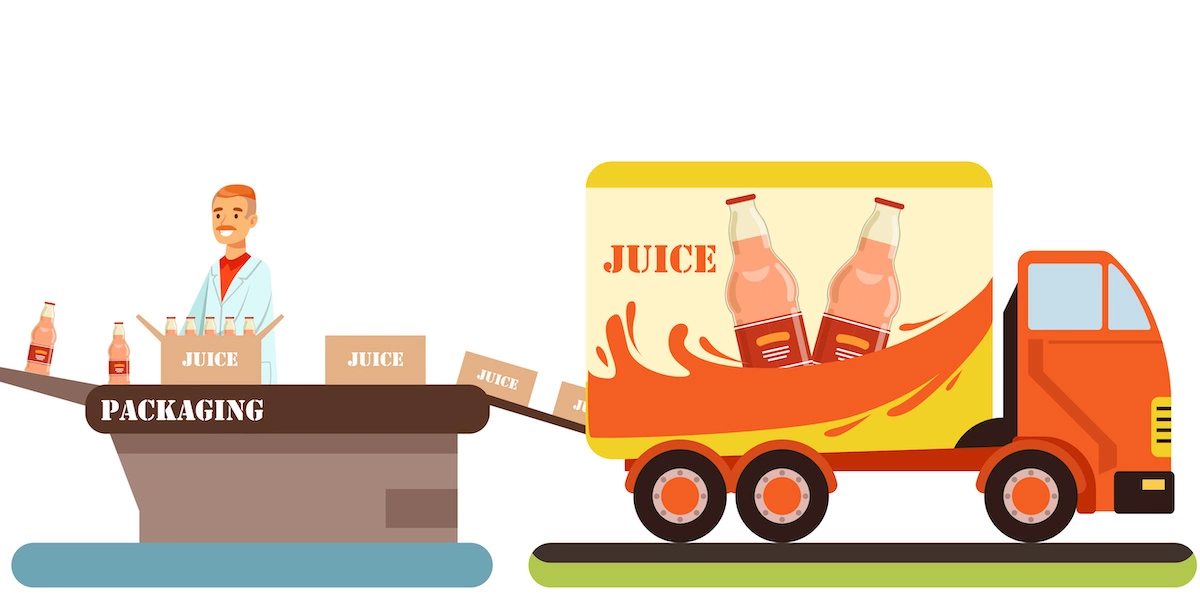 Disruptions may be inevitable, but they can be managed effectively with the right planning tools and processes. The first step is to identify the main challenges in the supply chain and transportation for beverage delivery—from there, you can start to figure out what the right beverage delivery software should actually offer.
The Top Challenges in Beverage Delivery
Here are some of the top challenges in optimizing distribution for beverages:
Visibility and Traceability
The ability to trace and track the condition and location of products is one of the primary undertakings in food and beverage supply chains. More so since the transport of food and beverage sometimes requires more careful handling than other product categories like construction supplies or canned produce.
Visibility on the products during transport minimizes losses from spoilage due to improper or negligent handling of the goods. It also makes reverse logistics processes easier, and can even smooth out exception management in B2B last mile delivery.
Quality Control and Maintenance
Many cases of food and beverage damages are due to late deliveries, warehousing issues, or improper storage conditions during transport. Strict monitoring of fleets, orders, and SKUs is essential in eliminating these forms of wastage. Companies must ensure well-organized, smooth, efficient, and fast delivery of their goods. Of course, this is easier said than done when you have to develop complex routes that account for your clients' various time window requirements, driver preferences, tiers of importance, and more.
Communication Among Supply Chain Stakeholders
Efficient and effective collaboration and communication in beverage wholesaling is difficult to achieve—particularly without the right wholesale software. This is mainly because the supply chain is by nature fragmented. Establishing a linear string of communication among the various parties involved is no walk in the park. And even after you've established the right communication channels, it can be difficult to manage that communication in a cost-effective way—particularly when it comes to anything that requires a phone call.

How Beverage Delivery Software Helps
Supply chain and logistics processes have the potential to be more efficient and resilient these days, thanks to technological advancements. The right beverage distributor software can help beverage companies to navigate increasing supply chain complexities, including those brought on by the COVID-19 pandemic.
What might that look like in practice? Well, your beverage delivery software might offer geo-fencing, automatic scheduling, real-time tracking, and analytics, and more. Here's a deeper look at some of the ways the right software can make a difference for beverage distribution.
Order Management
Right off the bat—it's hard for any company to handle a large volume of orders without logistics software. Beverage firms need to seek out a delivery software that comes with features to track and monitor orders from end-to-end, all the way to the delivery drop-off point. This way, fleet managers and dispatchers won't have to coordinate tasks such as order receiving, processing, scheduling, storage, and delivery manually.
Simplifying the order and delivery management process from end-to-end can be achieved with delivery software that offers automatic scheduling and self scheduling, real-time tracking, and a robust driver mobile application.
Management of Inventory and Logistics
In logistics management, optimizing and monitoring inventory expenses is one of the most burdensome responsibilities. Companies that have logistics software can tag their inventories via barcodes or other methods so they can efficiently monitor damaged, missing, or returned items via tablets or mobile phones—capabilities that are invaluable when there are a lot of moving parts to track.
Real-Time Visibility
Real-time visibility across the supply chain can help pave the way for more flexible, agile, and adaptable deliveries. Customers these days place a high value on real-time tracking of orders and real-time updates provided by companies—and this includes B2B customers like grocery stores and bars.
Aside from satisfying the demands of customers, real-time visibility also offers accurate data for fleet managers and dispatchers, which can be beneficial in handling last-minute order changes, cancellations, exceptions, and other unexpected occurrences. Last-minute changes are inevitable, and it pays for enterprises to have complete visibility across the supply chain in order to manage these changes in a way that's actually cost-efficient.
Hybrid Route Optimization
Meeting delivery windows in the last mile is one of the biggest challenges facing beverage distributors. Bars, grocery stores, and restaurants have varied opening hours and normally have specific requirements when receiving deliveries. Plus, most of a typical beverage company's customers are recurring clients, which makes customer relationship management a top priority. It becomes necessary then to consider the most important customers during route planning, as well as time window requests and driver preferences.
To meet this challenge head on, you need to choose delivery software that offers hybrid route optimization that offers the best of both static and dynamic route optimization.
Static route planning offers stability—route plans are calculated based on your specific business goals, and it saves route planners from having to reimagine delivery route planning from scratch every day. On the other hand, dynamic route planning offers enterprises more agility and flexibility by maximizing assets' capacity according to daily order delivery volumes. Dynamic route optimization is essential in cutting down inefficiency and waste to manage costs effectively. By combining the two, you get stability for managing your most important accounts without giving up the high capacity utilization that only comes from routing deliveries dynamically.
Easy Integration
Handling all the elements of logistics can be quite overwhelming, especially given the fragmented nature of the supply chain. That's why beverage delivery software should offer a way to monitor real-time information, track data, and ensure an efficient dispatch of orders, drivers, and fleets. Software that integrates easily with other supply chain technology gives you the ability to improve access to information and boost communication among all parties involved.
Given the more challenging business environment brought by the pandemic, most beverage distributors are looking for ways to make their logistics processes more efficient. This includes making the necessary investments in technological solutions that allow them to optimize their resources and offer real-time visibility. With the right beverage delivery software, you can leverage a single solution to manage all the complexities of the supply chain—all while improving your bottom line.