We talk a lot about last mile delivery, but it's not the be-all and end-all of order fulfillment in the modern world. For instance, many consumers now prefer curbside pick-up after ordering online.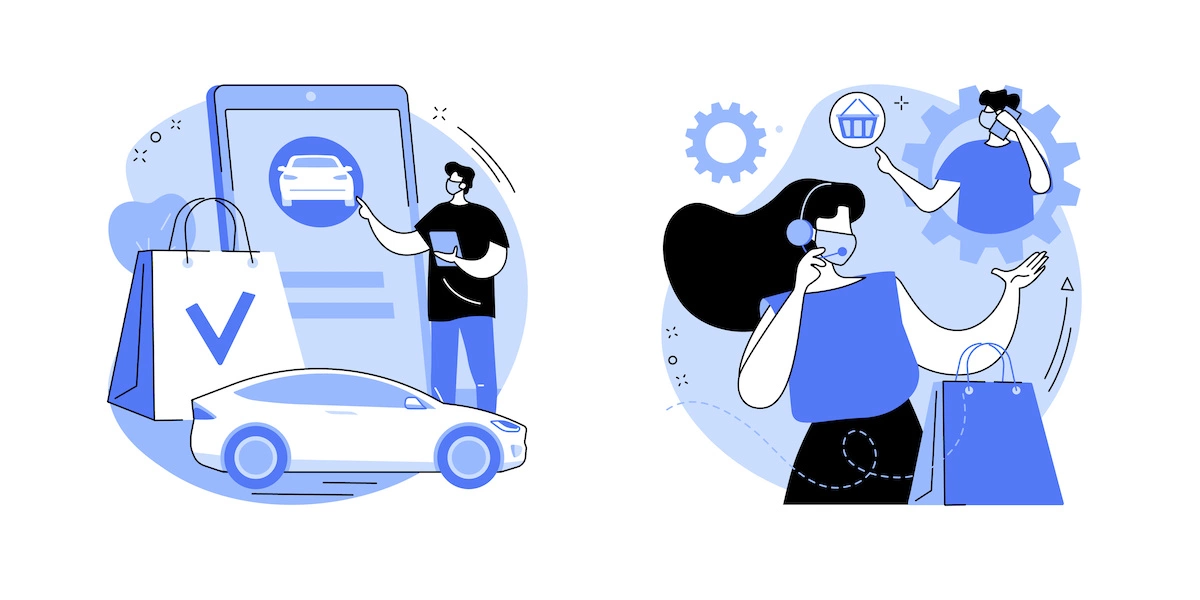 As such, being able to offer some type of customer pickup option is preferable to just offering home deliveries. This order fulfillment model satisfies the customer's demand for convenience, and it costs relatively little compared to delivery. However, as many companies are discovering, scaling curbside pickup is no walk in the park.
To successfully implement and scale curbside pickup click and collect options, you need to understand the challenges of this model and learn how to find the right tools to overcome those challenges.
The Basics of Customer Pickup
When a customer makes a purchase online, they may be given the option of heading to a store location or warehouse to pick up the order. This may be convenient for any number of reasons, including the potential for the customer to get their order a little bit more quickly or avoid shipping costs.
Here's a general overview of how the process works.
Customers place an order and choose curbside pick-up as the mode of delivery
The order then is sent to the store's POS
The location of the inventory is identified, and the goods are picked and prepared
The customer then picks up the order, either from a designated pickup area or via a store/warehouse associate bringing the items to their car.
Curbside pickup was one of the fastest-growing order fulfillment methods in 2020. It's not surprising to learn that many businesses are making changes to their physical stores to make more space for this kind of fulfillment.
Curbside pickup and other similar models like click and collect provide customers with convenience, as well as the chance to interact with a familiar brand. For many businesses, curbside pickup allows them to satisfy consumer demands for more flexible order fulfillment methods without spending on additional delivery capacity.

Curbside Pickup Challenges
Much like with other fulfillment models, offering curbside pickup has its challenges—especially for businesses that fail to consider the technological needs that go along with creating a seamless pickup process.
Below are some of the challenges of implementing curbside pickup:
Capacity Planning
If you can't schedule pickups efficiently (i.e. taking store and warehouse capacity into account), you're setting yourself up for disruptions. Some customers will arrive at pickup locations before their orders have been picked, putting your store associates in a difficult position, while other orders that have been picked but not retrieved by customers take up valuable warehouse space. If you're not actively managing the workloads of associates, they're going to become harried and overworked. This results in confusion, slowdowns, and added manual scheduling efforts—all of which stand to increase as BOPIS (buy online, pickup in store) and other pickup options become more popular.
To get around this, businesses need a way to set capacity limits for their pickup locations (i.e. a certain number of orders per hour) and schedule customer pickups around them. This might not sound too complicated—and it doesn't have to be, if you can find the right tools.
Increasing Customer Demands
In the scenario we discussed above, there was also significant danger of a traffic jam in your store or warehouse parking lot. When you don't know how many people are coming to the pickup site at one time, you can't prepare effectively—which slows down the entire fulfillment process
Businesses cannot afford to provide customers with poor curbside pickup service. Making customers wait in line for 20 minutes just to have their orders loaded will disappoint even the most loyal patron. Delays in order loading of one customer can also cause congestion affecting multiple customers waiting to pick up their packages.
Lack of Visibility
Employees who prepare orders before the customer even arrives will have to wait a long time and clog the pickup areas. In contrast, if employees prepare the orders too late, then customers will have to wait a while and use up limited parking spaces.
Additionally, not knowing the exact arrival time of the customers will result in curbside congestion. You can't afford to have all the parking spaces in a pickup area blocked. And you don't want associates to have to call customers, or vice-versa. This means you need to find a way to gain visibility into orders, scheduled pickup times, customer status, and more—all at a glance.
How Last Mile Logistics Software Can Help
Curbside pickup can help businesses achieve higher sales and stronger brand loyalty—but only if enterprises can provide a seamless curbside pickup experience to customers. Businesses must ensure that every step of the curbside pickup process is efficient, which, fortunately, is possible.
Here's how an efficient curbside pickup flow might work with the help of logistics software solutions:
Schedule pickup orders: The retailer provides shoppers with various pick-up options according to the store's capacity upon order checkout. Once capacity limits are hit for a particular period, the system automatically finds the next available time slot.
Synchronize processes: Businesses must ensure that the picking, preparation, staging, and loading of orders are in sync to prevent curbside clogging. Synchronizing processes also optimize employees' time. To make this happen, you need a system that can send automated alerts to associates when it's time to pick a particular order, and when the customer has arrived, all based on the capacity-aware scheduling.
Optimize check-in: When the customer arrives, it's valuable to allow them to notify the store of their exact location in the parking lot and their vehicle's model, such that the store or warehouse personnel can personally bring the goods to the customer when the orders are ready. It's a convenient process that reduces traffic buildup in curbside pickup points, while also offering a convenient contact-free option.
Continuously monitor: Tracking and monitoring orders as they're coming in and being fulfilled enables you to stay on top of things. Plus, with all the data you capture, you can more easily identify and work to resolve your pain points.
Online shopping is here to stay even after the COVID-19 pandemic ends. This means that businesses offering BOPIS, click and collect, or other models need to find a way to do so seamlessly and at scale. Luckily, efficient pickup logistics is possible with the right last mile logistics software.