Speedy order fulfillment and distribution are no longer just part of shoppers' wish lists. Consumers these days expect fast and reliable shipping every time they shop online. Even in B2B sales, customers are increasingly expecting the kinds of experiences they get from B2C channels. Retailers and logistics companies need to provide consumers with multiple shipping options and affordable last mile delivery rates to combat the ever-looming threat of giants like Amazon Prime and Walmart.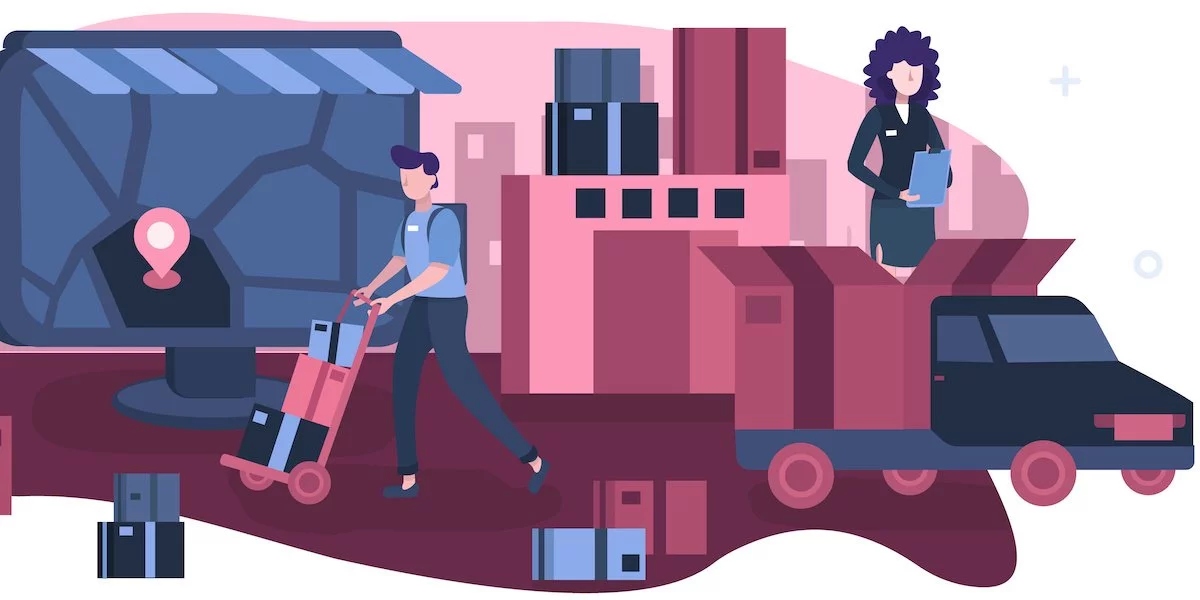 In order to make any of this possible, you need strong final mile delivery capabilities. But what does that actually mean in practice?
What Does Final Mile Delivery Mean?
The final mile delivery, also known as last mile delivery, is the last step of the product's journey. It is the point at which the good is finally delivered to the end customer—i.e. the consignee. The final mile is key to achieving high customer satisfaction but is often the most time-consuming and costly stage of the entire shipping process.
There are five key steps in the final mile logistics process:
Step 1: Orders placed by customers are entered into a centralized system.
Step 2: Goods ordered are shipped to the transportation hub before delivery to the final recipients.
Step 3: Orders are assigned to delivery drivers based on the most efficient truck routes given the required locations.
Step 4: Warehouse staff scan orders before they are loaded into delivery vehicles.
Step 5: The order is successfully delivered to the customer and proof of delivery is captured.
What Is the Final Mile Problem?
Okay, it's just five steps. Sounds easy, right? Not so fast...
Businesses of all shapes and sizes actually face big challenges in their final mile processes. All the potential delivery routing options, differing driver skill levels and service/installation times, changing road conditions, varying truck capacities, etc. create a level of complexity that makes the last mile inherently inefficient. In short, maximizing capacity and on-time delivery at the same time is a Herculean task.
This makes the last mile the most time-consuming and expensive part of the entire shipping process. But enterprises can't afford to disappoint their customers, who will likely find an alternative source to fill their needs—which means that most businesses find themselves sucking up the costs and the inefficiencies in order to try and keep customers happy.
Just how expensive is the final leg of the shipping process? Final mile deliveries make up around 53 percent of the total shipping costs, and businesses usually foot 25 percent of the cost. Final mile shipping can cost even more in supply chains that are plagued with inefficiencies.
How Can You Lower Final Mile Delivery Costs?
Given the above, it's easy to imagine why optimizing final mile shipping often results in high cost savings for retailers and e-commerce businesses.
Improving last mile delivery operations so companies can offer on-time, speedy delivery is crucial in offering customers a great delivery experience. Having a fleet or delivery management solution is one way of optimizing the final mile, as the tool can do the heavy lifting for the enterprise, allowing humans to pay more attention to other aspects of the business.
Below are some of the ways the right technology solution can help you optimize your final mile logistics:
Advanced route planning
Each driver in your fleet is provided with routes to follow. Ideally, routes provided to drivers would be straightforward, with delivery addresses near each other in a convenient loop.
In reality, however, drop-off points vary. Some delivery points are located several miles from each other as usually is the case for deliveries in rural areas. The fleets will then be spending plenty of time and gas for only a handful of deliveries.
On the other hand, delivery addresses in urban areas may be located near each other, but the short distance is offset by the high traffic congestion, one-way streets, etc.
Thus, an advanced route planner helps businesses optimize their final mile deliveries, as the software automatically factors in different variables affecting delivery times such as vehicle capacity, location, traffic situation, and weather conditions when finding the most efficient routes.
Crucially, the right route planning software will scale easily, so that you can create optimized routes in minutes or second. Not only does this decrease manual labor, it also increases the number of deliveries you can fulfill in a given day with the same number of trucks and drivers.
Data analysis
A fleet management solution should provide data that can help executives and fleet managers alike determine the weaknesses and bottlenecks in their operations. The solution should enable your business to keep track of key performance indicators (KPIs) such as on-time rates, success rates, customer feedback scores, service time, distance traveled, and so on. In this way, you can target the top areas for improvement and work to find solutions.
Electronic proof of delivery
Many retailers and delivery organizations capture proof of delivery through manual means, such as asking the customer to sign a piece of paper, which unfortunately can easily be lost or torn.
Businesses by now should be finding alternative means of capturing proof of delivery—especially since the threat of coronavirus requires social distancing and limiting of physical interaction. A solution that can record proof of delivery contact-free and electronically (e.g. via the consignee singing on their phone) is a must.
Ensuring the availability of proof of delivery is important especially in cases when there are false claims of missing or damaged deliveries.
Two-way communication
Often, the lack of communication between delivery drivers and customers is the root cause of failed or missed deliveries. Providing a way for customers to receive updates from the delivery driver directly can minimize failed deliveries, as the customers can provide additional instructions or coordinate with drivers in case they can't receive the package in person.
Offering consumers a way to communicate with drivers also reduces their need to call the customer support team. By the same token, automating communications (e.g. via a driver mobile app) between dispatchers and drivers can reduce phone time and increase agility on the day of delivery.
The final mile is a crucial element of the entire logistics process—it's the one that most directly affects consumer satisfaction. It may be an expensive part of the shipping process, but businesses can find ways to optimize final mile delivery. In this way, you can satisfy your customers' need for fast and reliable shipping without—without breaking the bank.