Recently, e-commerce has experienced explosive growth that has reshaped the global marketplace. In 2020, consumers spent more than $800 billion on e-commerce, 40+ percent up from the prior year. In 2021, those trends were similar, and they show no signs of stopping in 2022. This means that last mile delivery is suddenly the most important part of the supply chain for many businesses.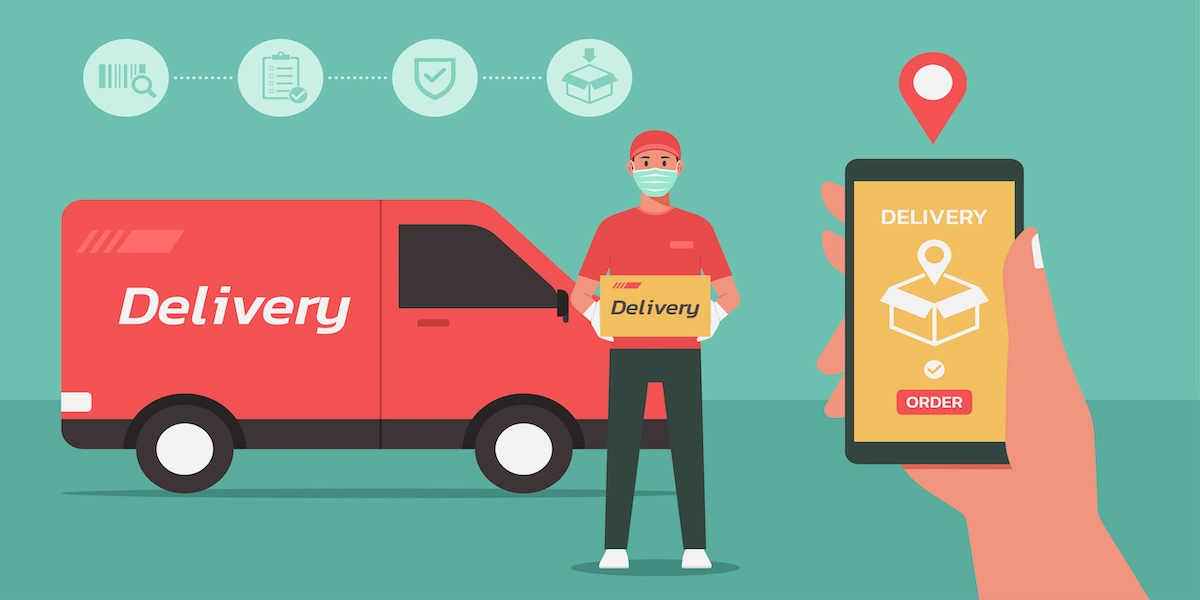 We're seeing a shift in consumer demands and expectations with the growth of the digital marketplace. Consumers today prefer quick delivery options that are also cost-effective. Optimizing last-mile delivery in shipping logistics is key to building customer loyalty. But last mile delivery services have their own constraints and challenges.
To improve customer satisfaction and increase brand loyalty, last mile service should focus on speed and customer experience. A study found that 56 percent of consumers won't shop from the same retailer again if they aren't satisfied with its delivery service. Of course, the last mile is one of the most time-consuming and costly parts of the supply chain. According to research, roughly 53 percent of the total shipping costs are attributed to the last mile—which means that actually providing the services that people demand in a scalable way is a huge challenge.
One report showed that more than 60 percent of logistics firms say that last-mile deliveries are the most inefficient part of the supply chain. Listed below are the biggest challenges in last mile delivery operations, and how fleet software systems can help you overcome them to turn the last mile into something you can brag about.
Challenges Fleet Software Systems Can Solve
1. Poor Route Planning
For starters, the process of route planning is complicated and time-consuming. Multiple factors need to be taken into account in finding the best routes, and poor route planning that can't account for these factors leads to late deliveries, customer dissatisfaction, and higher operating costs. Effective route optimization can alleviate these problems. Advanced fleet software solutions offering route optimization features can reduce costs caused by late deliveries, as well as providing accurate estimated times of arrival (ETAs) throughout the delivery process.
This is an important step towards crafting a delivery experience that will really wow your customers.

2. Lack of Visibility
Customer loyalty can only be ensured by offering customers transparency into the delivery process. After all, modern customers want to know where their order is and when it will arrive.
In an era where technology dominates every aspect of daily life, static tracking codes are no longer enough. Shoppers want real-time visibility on every step of the last-mile delivery process.
Luckily, fleet software systems can offer increased transparency into last mile deliveries by providing the real-time status for each order, so customers can track their orders until they reach their doorstep. Here, your customers should be able to see a live ETA and their stop number without ever picking up the phone. Not only does this help elevate the experience and reduce customer anxiety, it also saves you from having to manually call customers with order status updates throughout the process.
3. Delayed Deliveries
One of the most challenging issues faced by companies that ship and deliver goods is delayed deliveries. For businesses, the failure to adhere to predetermined delivery times can be costly. Brand reputations suffer, customer churn increases, and bottom-line declines because of redelivery attempts and other inefficiencies.
To handle this challenge, you need a reliable last mile delivery solution that enables you to deliver on time. Transparency and seamless communication across all levels are the keys to transforming smart route plans into efficient last mile execution. Simply put, when your routes are actually feasible and customers know when to expect deliveries, the entire last mile runs a lot more smoothly.
4. High Delivery Costs
Last-mile delivery tends to be costly for both the company and the consumer. It's often costly for businesses to develop the infrastructure necessary to ensure timely deliveries, and actually carrying out those deliveries requires a ton of fuel usage and labor. Likewise, costs double when the first delivery attempt is unsuccessful and another delivery for the same package has to be scheduled again.
Plus, customers are more likely to abandon their carts when shipping costs are high. Research shows that when companies charge extra for shipping, 55% of customers are likely to abandon the order. The upshot is that modern businesses can't really afford to pass high shipping costs on to consumers. Luckily, a lot of the fleet software program features we've been alluding to in this piece can help you manage costs, e.g. by delivering more orders each day and decreasing failed deliveries.
5. Unpredictable Variables
Unpredictable circumstances can cause last-mile delivery disruptions when goods are in transit. Bad weather, traffic congestion, last minute customer requests, or vehicle issues are factors beyond the fleet manager's control. If you want to be prepared, you should develop contingency plans and ensure that your teams and customers are in constant communication. A plan of action should always be available so that when a problem arises, you can respond quickly with the appropriate solution.
6. Low Efficiency
Providing high customer satisfaction is often one of the main driving factors for folks who want to increase the efficiency of their last-mile delivery operations. Highly efficient operations are key to increasing and improving fulfillment capacity. When your processes are inefficient, you'll have longer delivery times and dissatisfied customers, especially if you deal with large order volumes.
The solution is to implement fleet software systems to automate the processes—from the warehouse to the doorstep of the customer. The you're able to remove manual effort when it comes to processes like scheduling, dispatching, tracking, and communication, etc., the more efficient you can be across the entire last mile.
7. Compliance with Environmental Regulations
In recent years, extreme weather events have heightened awareness about global climate change. As a result, new clean air standards have been adopted worldwide. Environmental legislation is becoming more stringent, which means fleet managers are faced with a variety of requirements they need to comply with.
Here, the right fleet management software helps by finding the most efficient routes so that fleets can cut down their carbon emissions for each stop. At the same time, the kinds of efficiency boosts that we discussed above should also enable you to be more sustainable.
8. Legacy Fleet Software Systems
According to one report, almost half of global logistics and transportation firms still rely on outdated technology to deliver last-mile services. These legacy technology solutions provide little assistance in reducing delivery delays and cutting down shipping costs. They also tend not to integrate super easily with other enterprise solutions, and they don't scale without significant upfront costs. Simply put, modern logistics SaaS software solutions don't have these problems.
By implementing efficient last mile delivery solutions, retailers, distributors, and other businesses gain the ability to keep up with changing consumer demands—enabling them to stand out from their competitors. Businesses that want to succeed need to address the challenges of last-mile delivery operations strategically, with an eye towards transparency and agility throughout your fleet management program. To accomplish this, you'll need the right technology.