There is no doubt that people throughout the world have gotten used to the convenience of online shopping. When it only takes a few clicks to ensure that a hand-picked birthday gift or a new piece of furniture will show up at your doorstep in a matter of days, it can feel like magic. In contrast, disruptions in the supply chain due to local events like natural disasters or global events like pandemics do happen, and all of a sudden the magic appears to have been a fantasy.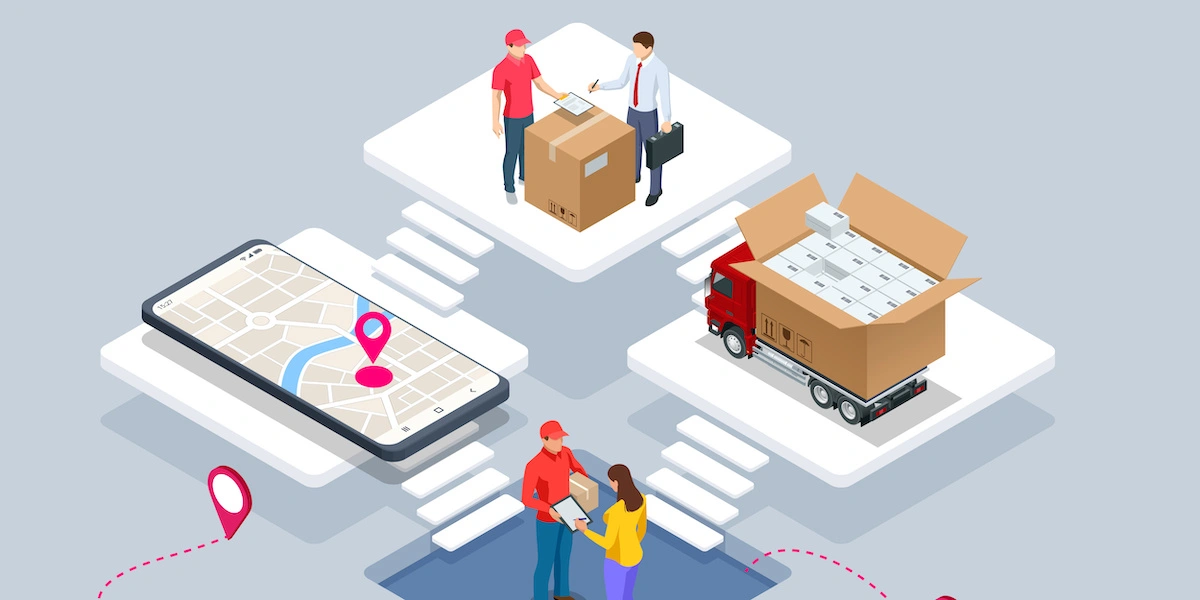 Disruptions to supply chains create uncertainty for consumers and businesses of all sizes. As a result, we become aware of our supply chain dependencies, which we otherwise fail to notice when everything runs smoothly. In some cases, crises are felt around the globe, particularly when global supply chains require so many suppliers around the world in order to function. But many disruptions tend to be small and localized, affecting a limited number of industries and enterprises.
On the one hand, there's something like COVID: an Institute for Supply Management study found that almost 75 percent of businesses surveyed reported disruptions in supply chains due to the outbreak of COVID-19. On the other hand, the world is full of simple traffic, weather, and planning snafus that have the same result from the customer's perspective: the order doesn't get delivered at the right time.
As transportation planning becomes increasingly complex, operational vulnerabilities and associated risks also increase to a similar extent. That's why it's so important that logistics operations must become more flexible and resilient—particularly when it comes to the last mile. We can't necessarily predict the future of large scale supply chain disruptions, but with effective last mile delivery and logistics solutions and careful planning it is possible to reduce disruptions in the final leg of the fulfillment process.
Understanding Supply Chain and Delivery Disruptions
Disruptions to the supply chain are not all the same. Supply chain disruptions can take many forms. It is important to consider two things when assessing a disruption. The first question is, "How likely is it?" and the second might be, "How serious is it?" Each industry and supply chain will have different answers.
You might experience a disruption in your supply chain and logistics due to natural disasters and pandemics—as we've all seen in the past few years. But you can also experience disruptions owing to simple delays and missteps in transportation.

It's not unusual for transportation delays to occur even under the best of circumstances, but delays in getting the right goods loaded into the right truck and dispatched to the right delivery site are usually predictable and preventable, at least to a certain extent. These processes are complex, but they're also repeatable, and it's possible to learn from the aggregated results of many, many previous delivery runs. In this way, you begin to solidify the planning foundations that will enable you to pull off complex last mile operations with greater accuracy.
The Importance of Last Mile Delivery and Logistics Solutions
When it comes to avoiding delivery disruptions, it's hard to overstate the importance of the right technology. When you have last mile delivery and logistics solutions designed to enhance visibility and enable AI-powered planning, you can more effectively predict and overcome potential hiccups in the delivery process.
Enhanced visibility of transport and order fulfillment enables you to make a change to any one area that can be reflected across the entire business process. Here, connected technology has the power to ensure that everything is linked and there is a seamless interaction between activities. This convergence of technology helps you incorporate planning, execution, and reporting and ultimately ensures that critical data can be accessed in one place.
By the same token, advances in connectivity between field-based teams (i.e. drivers) and back-office teams has led in recent years to the development of integrated solutions enabling improved planned-versus-actual monitoring, better-managed deliveries, and more data-driven decisions. By dismantling the operational silos that often exist among route planners, drivers, dispatchers, back-end and warehouse teams, operational efficiency can be improved.
By continually taking into account learnings and feeding them back into ongoing operations, the right logistics technology makes it easier for delivery operations to meet future challenges. In times of crisis, events often unfold rapidly, so having an escalation process and systems that are highly responsive is imperative. For instance, when you can predict how long your drivers are likely to spend on site for different delivery or service types, you can work that into your routing and planning in order to improve the accuracy with which you estimate ETAs. Now, rather than arriving later and later to the stops scheduled for the end of the day, you can accurately match up your plans with your actual delivery capacity. The result is happier customers and happier drivers.
By investing and implementing the use of the right last mile delivery and logistics solutions, you can empower your logistics operation to plan, do, review and then act. In this way, you can add continuous improvement processes to their operations. With a logistics application offering tools and data needed to determine areas for improvement, you can analyze operational performance, evaluate the effect of potential changes, and finally implement changes that lead to positive results.
To make complex decisions, accurate and timely business and operational intelligence is crucial. By asking the right questions and conducting an analysis underpinned by business models and what-if scenarios, you can devise a plan for minimizing risk, maintaining profitability, and ensuring business continuity despite disruptions.
As businesses across verticals continue to grapple with the long-term impacts of the pandemic, companies that invest in a last mile delivery and logistics software system capable of modeling different scenarios and analyzing data will be in a better position to adapt to challenging circumstances. With complete knowledge about the effects of the changes they are considering or have been forced to adopt, informed decisions can be made with complete confidence that these changes will be sustainable for the long term. Simply put, when you have the right logistics technology, you can turn last mile deliveries from a source of uncertainty to a competitive advantage for your business.