A lot has to go right to deliver at the right time for your customers. Any last mile delivery involves a host of moving parts and interconnected processes, and each one has to mesh seamlessly with the next if you're going to successfully keep your delivery promises. Data and decision-making silos are the enemy of high customer satisfaction.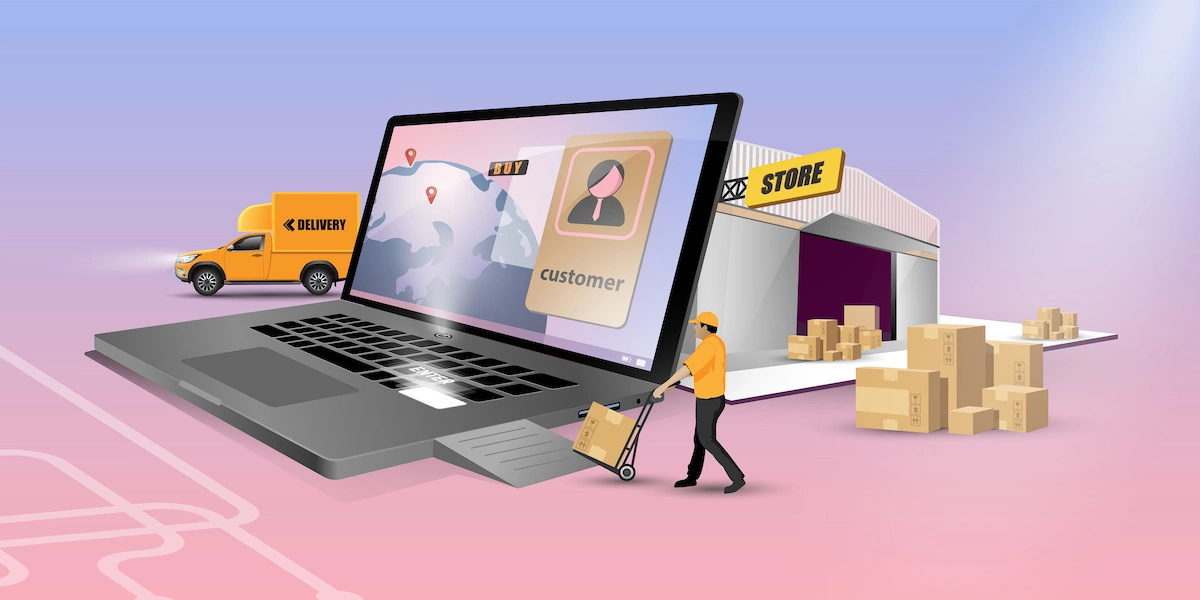 What this means in practice is that the fanciest AI-powered technology is only as powerful as its ability to integrate with other supply chain software solutions that already exist within the modern enterprise technology stack. Deliveries don't exist in a vacuum, and it's impossible to be truly agile and connected if one team or function can't see what's happening at the next touchpoint.
That's why one of the most important strategies for delivering at the right time—not just on-time, but at the right time for your customers—is effectively leveraging connected systems.
How Connected Systems Power Right-Time Delivery
Let's back up a step to talk about what we mean by "right-time" delivery. How is it different from on-time delivery, and why should delivery organizations prioritize it? Here's the short version:
Right-time delivery means that you don't just avoid delivering late—you deliver at precisely the right time for your customer. Not too late, not too early, no surprises. Where on-time delivery captures the importance of generating accurate ETAs and sticking to them, right-time deliveries have customer satisfaction baked right into them. They signify that you kept your customers engaged throughout the process, let them know when to expect the delivery, proactively accommodated them whenever there were changes or exceptions, and delighted them with a successful delivery at the perfect moment.
When your systems aren't connected, it's difficult or impossible to make right-time deliveries happen. Why? Because disconnected systems and processes lead to silos between functions that ought to be working in tandem. This means that decision-makers spend time hunting for data in disparate systems when they should be working to resolve exceptions or implement planning changes. In the worst case scenario, planners don't even know that there's an issue they have to look into—which creates a huge gap between planning and execution.

What Does Your Delivery Management Need to Connect To?
At the end of the day, delivery management is all about the end customer. You want to use every tool at your disposal to deliver each order at the right time for your customers and provide an experience that will keep customers happy and coming back for more orders. Of course, the customer experience starts long before your last mile delivery management program kicks in. That's why creating an integrated experience that will delight your customers throughout the entire purchase and fulfillment process depends on seamless integration between your point of sale (PoS) system and your last mile technology.
If you're using a PoS like NetSuite or Storis, it's important to look for a delivery management solution that integrates bi-directionally with those solutions right out of the box. Why? Because this puts you in a position to have nearly real-time visibility into new orders coming into your ecosystem—while simultaneously transmitting data from out in the field back into your point of sale. This way completed deliveries can immediately be updated as such across your systems.
The same is true when it comes to ERP systems and telematics platforms.
If you have orders coming into your ERP system before they're routed in a dispatch delivery management system each day, close data integration can be key to effectively managing your orders and delighting your customers. In B2B distribution, for instance, there comes a point in the day where your sales team has to stop promising deliveries for the next day; the longer it takes to key customer order information and operational details from your ERP into your delivery management platform, the earlier that cutoff has to be.
At the same time, your ERP may include some kind of route accounting functionality. When data can be fed back and forth between your route accounting system and your actual routing software, you can get a handle on your resource usage and your delivery costs that much more quickly, giving you the power to make data-driven delivery decisions much more quickly, and implement them more quickly as a result.
When it comes to telematics and

fleet management

systems, closer integrations can give you significantly more day-to-day operational visibility. If you have enough connectivity to see precise driver locations and check on driver hours, fuel tax reporting, and more without leaving your delivery management platform, you can leverage your drivers more effectively while monitoring ongoing deliveries in a more granular way. Again, this makes it that much easier to confidently make promises to your customers and deliver on those promises even when the unexpected crops up.
There's no exhaustive list of every possible integration your delivery management software could leverage—you might be using a TMS, a WMS, or any other system that impacts deliveries. But the point is this: connected systems empower teams and functions to work together more effectively. When your data is connected, your whole organization sings from the same song sheet, making right-time deliveries easier and more consistent in a myriad of different ways.
Operational Benefits of Having The Right Data at the Right Time
At this point, we're guessing you can already envision a lot of the benefits that connected systems bring to your delivery management process. At a high level, connectivity means that the right people have the right information at the right time. This can offer a number of benefits that go a long way towards making your operations more efficient and effective:
Faster exception handling
Data-driven decisions
Increased planning agility
More efficient back-office processes
Saved time and effort
Increased collaboration between touchpoints
Reduced data and decision-making silos
This goes all the way down to the customer level: when systems and processes are connected seamlessly, it's possible to provide real-time delivery tracking and visibility to customers throughout the order fulfillment process. This means that they're notified in advance about when to expect their delivery, they can track the progress of the truck in real-time on the day of delivery, and they can communicate with dispatchers if they're worried they won't be at the delivery site to sign for the order or they suddenly need to reschedule.
When the unexpected does arise, response times can be measured in minutes or hours, rather than situations taking days to resolve. This way, you can still deliver at the right time, even if it's not the time that you and the customer originally expected. Not only does this improve your brand perception, it decreases the odds of a failed delivery—meaning that it reduces costs as well.
In this sense, connectivity paves the way for increased agility and smarter decision making. When you can get quick answers to questions not just about what's happening in your delivery operations, but about why your company does things the way it does them, you can create smarter plans over time and execute on them more effectively. This brings your cost per delivery down while putting you in a position to provide better service to more customers. In other words, it's the key to turning delivery management into "right-time" delivery management.