You need to overcome a variety of daunting challenges in your day-to-day activities to successfully manage logistics operations, especially last mile delivery services.Dispatching is a key element of success for any company that handles deliveries, but manual processes have historically made it a cumbersome and time-consuming process. That's why a large component of exceptional customer service requires robust vehicle dispatching software to ensure that the right drivers are assigned to the right job at the right time.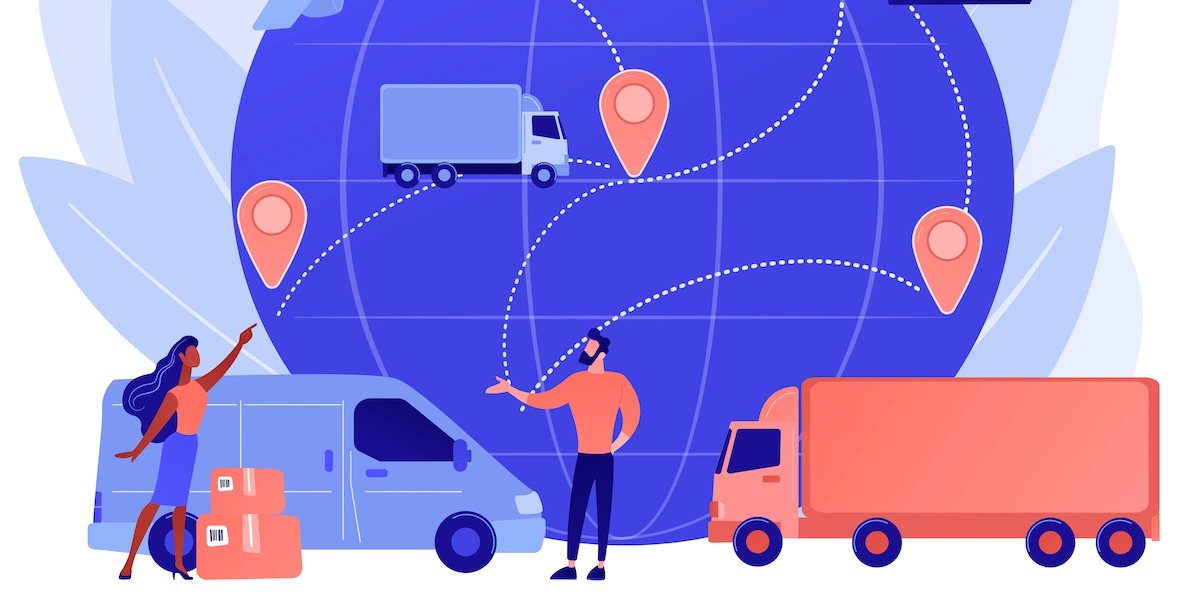 Scheduling jobs with a reliable and accurate dispatch solution enables you to run operations more smoothly, and it provides dispatchers and customers with real-time information. The question is, how do you translate the features of a robust software system into actual ROI?
The Basics of Vehicle Dispatch Software
Dispatchers and fleet managers use dispatch software to ensure that their drivers run efficient routes and offer excellent service to their customers.
A modern, intelligent routing and dispatch system combines advanced technology with multiple components in identifying and dispatching the best route and driver for each delivery to ensure efficiency and cost-effectiveness from end to end.
There are multiple things you can do with routing and dispatch software, including the following:
Scheduling your drivers to maximize their efficiency
Enabling job preparation in advance
Ensuring office-to-field connectivity
Maintaining mobility and efficiency
Increasing customer satisfaction
Keeping track of metrics and revenue
The Benefits of a Vehicle Dispatch System
Your fleet managers, dispatchers, drivers, and customers will benefit from the incorporation of a vehicle dispatch system into your fleet. Here are some of the right solution's advantages:
Faster disruption response times
When you use a dispatch delivery management system, you can get real-time information about the driver's location so that your dispatchers and fleet managers can quickly re-align tasks to deliver products on time without any delay. Additionally, the customers will be informed quickly if the deliveries will be late or delayed.
Information delivered in real-time to customers
Dispatch automation software can provide shippers and retailers with real-time information that will allow them to better serve their customers and win their trust. Providing real-time information and efficient communication via email or SMS messages ensures customers will return to the brand again and again.

Higher productivity
Automated scheduling features mean that the right vehicle dispatch systems enable you to save considerable amounts of time and effort, which can otherwise be used for higher-value tasks and initiatives. Plus, this helps fleet managers save time on scheduling, time that can be applied to strategic business decisions, resulting in enhanced productivity and better decision-making.
More efficient fleet management
With a system that provides fleet managers with detailed insight into their drivers' end-to-end, it's easier for fleet managers and dispatchers to spot route issues quickly and ultimately dispatch the most efficient possible routes to drivers, resulting in shorter delivery times.
Intuitive UI
Easy-to-navigate and easy-to-access interfaces are key characteristics of advanced dispatching software. It's hard to overstate how valuable this can be to your operations. When your software is so complex that only a few people within the company can actually use it, you run the risk of slower and more inefficient planning. This results in longer lead times to serve customers and more manual planning effort overall. When you have software that's actually usable, you can avoid these things more easily.
Adaptability to fleet growth
Today, the delivery industry is highly volatile and requires enterprises to be highly flexible and always prepared with a backup plan. Dispatch and routing software can empower companies to expand strategically, while at the same time helping fleet managers attend to other priorities and adapt ever-changing work requirements.
Simply put, the best delivery dispatch software enables you to quickly develop and execute new plans as your business realities change. As your operations grow, the software allows you to maintain the same level of driver efficiency and customer service that you're used to.
Increased customer satisfaction
A high level of customer service allows fleets not only to retain their current roster of customers but to gain new ones as well. Fleets need to ensure that drivers arrive at delivery locations on time if they want to improve customer satisfaction.
With delivery dispatching software, dispatchers can effortlessly plan the best routes for drivers, and they can leverage AI and machine learning to assign highly accurate ETAs for each stop. This ensures drivers arrive at their destinations on time.
Features to Look for in a Vehicle Dispatch System
A robust vehicle dispatching software should have the following key features:
Route optimization
The right dispatch software allows you to plan routes automatically so you can optimize your stops in the most efficient and cost-effective sequence. Route optimization cuts down travel time and fuel costs—but not all route optimization functionality is created equal.
Your software should handle functions such as receiving orders, assigning the best-suited driver for the delivery job, and monitoring the number of vehicles and drivers available in real-time. But it also needs to be able to create routes within a matter of seconds with 98% accurate ETAs.
You need a vehicle dispatch system that has color-coded drag-and-drop scheduling capabilities so your fleet managers and dispatchers can easily view which trucks and drivers are assigned and scheduled for each delivery task. Using a mobile app, your drivers should also be able to view their schedules and automatically send real-time updates on their job status.
Real-time fleet tracking
You can keep track of your entire fleet with a good dispatch system that monitors the status and the location of your drivers with mapping and GPS tracking features plus automated delivery status updates. This is another area where it's difficult to overstate the potential impact: when you can see the locations and statuses of every truck and driver at a quick glance at your primary dashboard, you can gain a real-time understanding of what's actually happening throughout your delivery operations.
This means that you can be confident about what's already going to plan—and then focus on whatever else isn't. In other words, you can take a much more targeted approach to managing disruptions and exceptions, and you actually find those disruptions and exceptions in a lot less time.
Smart billing and invoicing
Billing and invoicing are often key concerns for companies that manage large fleets. An efficient vehicle dispatching solution resolves the issue with smart billing and invoicing features that streamline back-office process.
Smart billing and invoicing functionality helps you automate multiple time-consuming billing processes and streamline the management of transportation and other costs involved in product delivery by leveraging the data already being collected by the system. No software solution exists in a vacuum, so it's important for your dispatch software to be connected with other systems in a robust, efficient way.
At the end of the day, the right vehicle dispatch system is a must-have tool for improving delivery and field service management because it reduces the amount of manual labor required to serve your customers, which then results in better productivity and higher revenue.