Managing delivery drivers and fleets can be both cumbersome and time-consuming—especially if you're still relying on manual processes or legacy technology. When you have to laboriously plan the best routes for drivers, assign delivery jobs to each driver, monitor drivers' whereabouts, and keep tabs on completed deliveries, you're bound to lose out on potential efficiencies.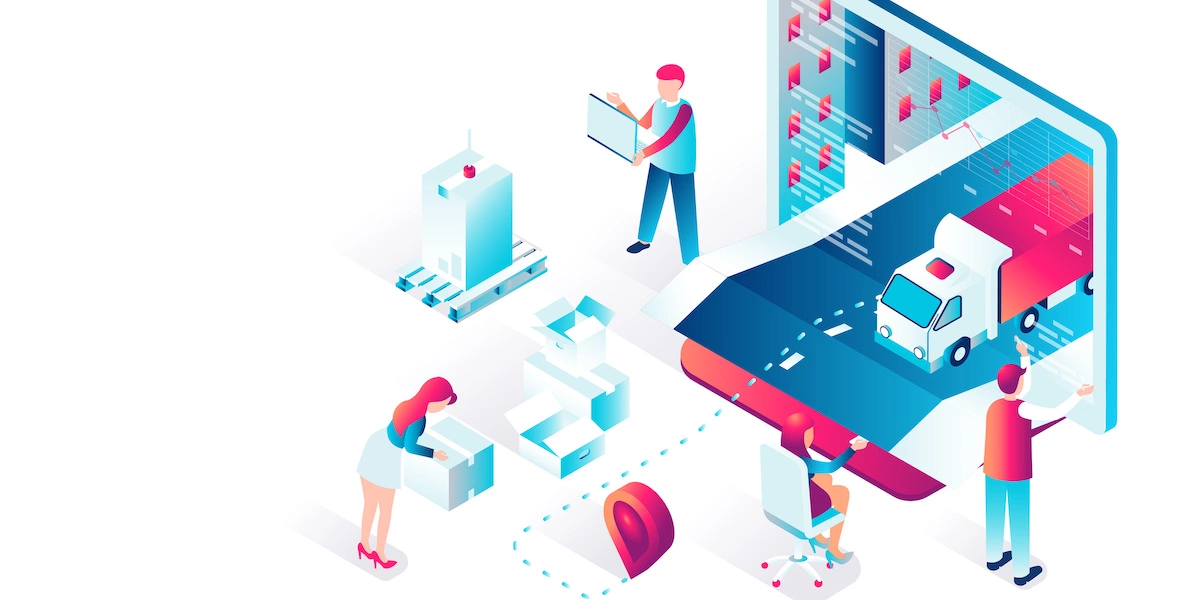 Luckily, modern logistics dispatch software can take a significant load off your shoulders. That said, choosing the right one is an important task, especially given that there are many options available on the market. On one hand, there are jam-packed dispatch logistics software solutions capable of optimizing the entire delivery chain including last mile deliveries. On the other, there are solutions that promise more than they can deliver and don't give you the integrated tools you need to improve last mile performance.
In this post, we will tackle the must-have features of logistics dispatch software to make sure your solution falls into the first category and not the second.
What Features Should Your Logistics Dispatch Software Have?
Route optimization
Manually plotting routes is tedious and requires either many detailed maps or an extensive knowledge of each delivery area. Plus, even after you spend many hours planning routes, there's still no guarantee that they are more cost-effective or faster than other route options.
Legacy routing solutions are better, but they often require a fair bit of manual effort as well if you want to turn the generated routes into something that you can actually use.
The right dispatch logistics software, conversely, removes the burden of calculating and massaging routes for hours on an end. The right software might use an AI-powered algorithm that can account for the different variables affecting delivery times and cost-effectiveness such as traffic patterns, service time, and driver speed/skill factors. It should help you find optimal routes in a matter of clicks, saving time and allowing drivers to deliver to more stops in a day.

Easy data integration
Optimizing your last mile deliveries starts even before you plan routes. This means you should be able to quickly get your order information into your logistics software. Manually entering order data into the software is error-prone and time-consuming. These errors can send drivers to wrong addresses, resulting in wasted driver and dispatcher time, a higher number of missed and failed deliveries, and ultimately higher fleet operating costs.
Must-have dispatch software lets you create real-time or near-real time data flows between your logistics systems and your enterprise point of sale software. This way, the logistics dispatch software can easily and quickly find the best routes for all your drivers while maintaining data visibility across functions.
Flexibility
Having the ability to change route plans on the fly is critical. Perhaps there will be changes in the driver's plans, the customer needs same-day delivery or a new address has to be added at the last minute. Some dispatching software will allow last-minute changes but others will require you to start route planning all over again.
Choose a logistics dispatch solution that allows you to make last-minute changes and adjustments as new situations emerge. If you can change the driving instructions whenever new stops must be added to a driver's route, you can be much more responsive to last minute customer requests and potentially even handle on-demand orders.
Automatic updates and notifications
Calling each customer to provide them updates on the delivery—to say nothing of dealing with high volumes of inbound customer calls—can be quite expensive. That's why your logistics dispatch software should reduce the number of customer calls made to the customer service team by providing customers with automatic updates and notifications at each stage of the last mile delivery process.
An advanced software solution offers automatic updates sent via SMS and/or emails, assuring customers that their packages are on their way and giving them accurate ETA information. This way, drivers, dispatchers, and even customer service team members are freed from taking calls just to provide status updates.
Providing customers with real-time updates and accurate ETAs also means time savings for drivers, since customers are better prepared to receive their orders. Updating customers also improves the customer delivery experience, which boosts repeat business.
Real-time tracking
Real-time tracking of fleets is another must-have feature for your fleet dispatch software. Real-time visibility allows dispatchers and fleet managers to know exactly what the drivers are up to and their location, eliminating the need to call drivers one by one to get order status updates.
The real-time tracking feature of advanced software highlights the drivers' process on a route map. It also provides customers the ability to track their packages on their own and offers them an accurate expected time of arrival (ETA).
Tracking drivers in real-time can also increase the fleet's overall safety. An advanced dispatching logistics software should provide telematics integration to allow fleet managers to see when drivers are engaging in unsafe driving practices such as harsh cornering, overspeeding, harsh braking, and more. This enables users to take proactive measures to improve driver safety across the board.
Electronic proof of delivery
Last but not least: your dispatch software should allow you to accurately capture delivery records for future reference. With electronic proof of delivery via notes, photos, videos, and digital signatures, you can realize revenue more quickly and gain clarity and visibility into what was actually delivered.
Time and geostamped proof of delivery also minimizes the risk of false claims about damaged packages or failed and missing deliveries—thereby allowing you to save on the costs of redeliveries or repairing damages in customers' homes.
Drivers should also be able to take photos when customers are not home to show that a delivery attempt was actually made.
Many businesses have already invested in logistics software systems and are now enjoying the benefits. But you should avoid picking a solution that doesn't offer real-time tracking, electronic proof of delivery, route optimization, and automatic updates and notifications. All these features will help you optimize your last mile delivery operations—and ultimately reduce operating costs while boosting customer satisfaction.