Vehicle tracking is nothing new—businesses have been relying on vehicle tracking to help them achieve their business goals for many years. Logistics companies, for instance, are often heavily reliant on truck trucking apps to see if their vehicles are on schedule and moving on the right rout, with fleet managers getting alerts in case where any unexpected events happen.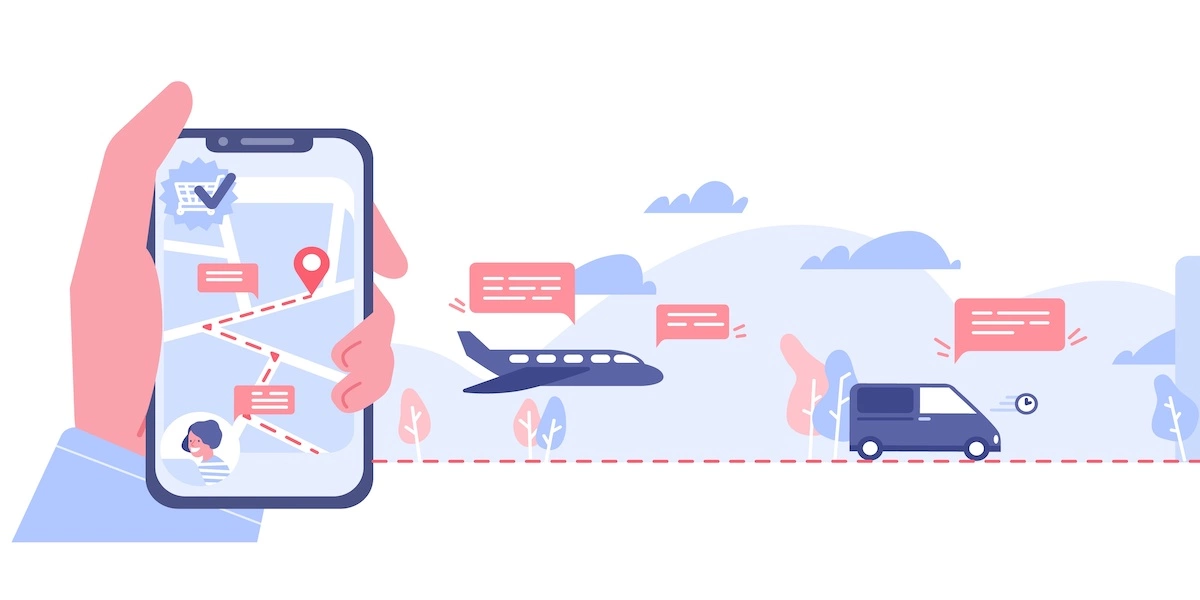 As the logistics world gets more competitive, the need for this level of transparency is here to stay. As such, the demand for smart trucking mobile apps won't be going away any time soon. To wit, Allied Market Research predicts that the market size of the global vehicle tracking system will reach roughly $15 billion by 2025.
The Benefits of a Truck Trucking App
Improved fleet management- Dispatchers' lack of visibility on their delivery vehicles makes fleet management harder as they don't know where and what their drivers are doing. A truck dispatch app helps dispatchers and fleet managers keep track of drivers' behavior and how vehicles are being used. It's a tool that enables dispatchers to spot if anything alarming is happening on the road or any other events that can cause delays in deliveries.
Reduced fuel costs
Rising fuel expenses are a problem for every company with fleet operations. Businesses can cut down the overall fuel cost with trucking software that optimizes the route for every drop-off. When you can be sure you're using the shortest path between different deliveries, you can lower fuel consumption for every delivery.
Improved vehicle health
All fleets have to deal with vehicle breakdowns. Unfortunately, overusing delivery vehicles costs businesses a lot, and failing to ensure adherence to vehicle preventive maintenance schedules can result in even more vehicle breakdowns. A truck tracking app can alert fleet managers if the vehicles are being overused and ensure that preventive maintenance schedules are being followed.
Reduced paperwork
Fleets that are still relying on old school planning and tracking methods (like managing fleet data using excel sheets) are inevitably going to waste precious time on manual data entry and fixing errors. Rather than input details manually on paper or excel sheets, can utilize a tracking solution to ensure that details about orders and deliveries are automatically updated across your systems. This reduces paperwork, labor hours, and mistakes in data entry.

Improved driver safety
Errors caused by manual processes can result in disruptions on the road on the day of delivery. Luckily, fleet tracking software can help fleet managers learn about things like harsh and unsafe driving practices in real-time so they can be corrected quickly. Any solution that also allows managers to evaluate driver performance can go a long way towards improving safety.
Lowers insurance costs
In addition to helping prolong the lives of assets, improving drivers' safety also reduces the number of road accidents. This is a huge deal in and of itself, but it also has the side benefit of lowering the insurance premiums you have to pay on your fleet. This might not seem like a big ticket item, but it can go a long way towards helping you achieve ROI on your technology spend.
Better reporting and analysis
Every delivery and vehicle generates plenty of data every day. Your truck tracking app should help you capitalize on that data. It should help you stay updated and check on key performance indicators (KPIs) like the number of deliveries already completed per driver for each shift, planned deliveries vs. actual, cost per delivery, driver scores, and much more. In this way, you can understand which stops are most profitable, which drivers need extra time added to their routes so that they can meet ETAs, and much more.
Your trucking software app should also streamline data flows, providing key stakeholders access to fleet-related data so they can analyze the fleet's performance as needed. Here, you want to be able to drill down on details of every delivery and every vehicle so bottlenecks and other issues can be identified and addressed properly.
The Essential Features of a Truck Tracking App
There are plenty of truck dispatch apps on the market. That can make it difficult for fleet operators and managers to choose the right one. Below are some of the most important features to look for in trucking software.
Real-time data visibility
Your trucking software must allow dispatchers and fleet managers to find any vehicle's location and status at any given time. Knowing delivery vehicles' location helps in meeting promised delivery times and managing exceptions when they arise. Not only should this information be available—it should also be easy to find and accessible within a single dashboard to ensure that you never have to dig around for critical information.

Alerts
Relatedly, fleet managers should be alerted every time a driver reaches the assigned drop-off, if a vehicle goes off-route, if there's a failed delivery, etc.. Additionally, the truck dispatch app might allow fleet managers and dispatchers to set up notifications for rash driving behavior, speeding, and excessive idling, to name a few (this might be facilitated through telematics integration). Notifications like these help dispatchers and fleet managers to see what drivers and vehicles are up to in real time.
Driving history
The solution should provide users with a record of all drivers and vehicles' history in one place. This allows executives to make well-informed decisions and evaluate overall fleet, individual drivers, and vehicles' performance.
Easy communication
Dispatchers and drivers need a way to communicate in real time without phone calls. This might include automated status updates when deliveries are started and completed, and it might include automatic updates to routes that are pushed straight from the dispatcher to the driver. For example, if the dispatcher or customer wants to give last-minute instructions to the driver, they should be able to easily message the driver via the driver's mobile application. In this way, you can cut down on phone time and improve efficiency.
In a digital age, leveraging technology solutions to streamline and automate fleet operations is no longer optional. The right truck tracking app can help you reduce costs, keep drivers safe, and improve overall operational efficiency. In the end, trucking software that has all the features we listed above can help your fleet gain a real competitive advantage.