The COVID-19 pandemic has dramatically changed how businesses operate. In the United States, around 75 percent of firms said that they experienced major disruptions with their supply chain given the stay-at-home orders and the large volume of consumers turning to e-commerce platforms for their needs. This shift to online shopping added more pressure on the last mile delivery market, and that pressure has never fully let up.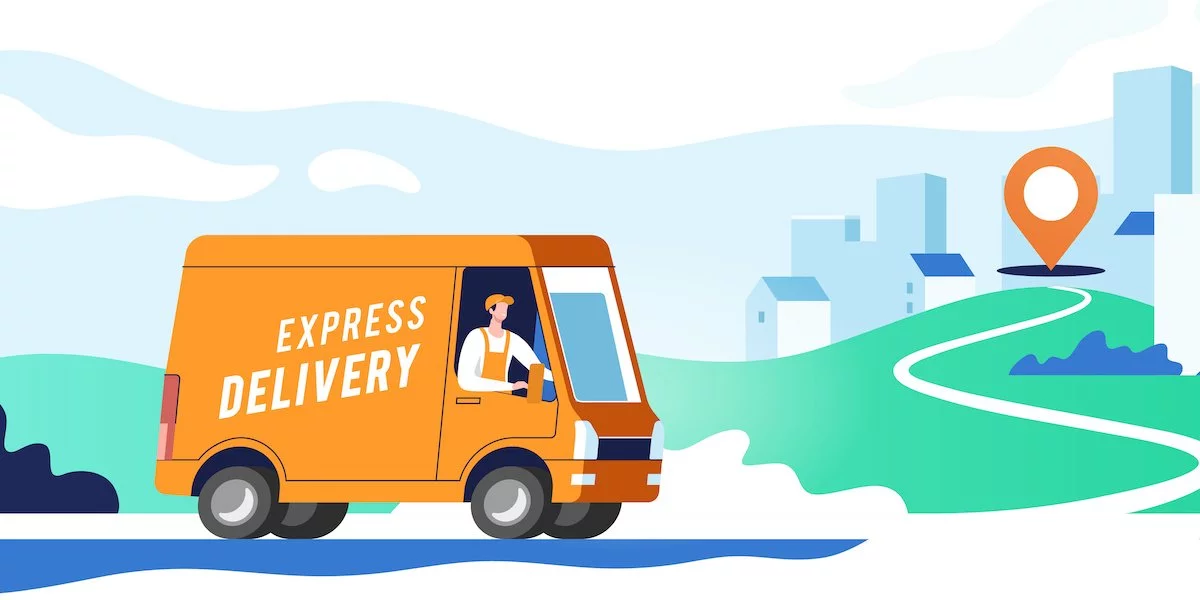 Experts say it will take a few more years before everyone can go back to their pre-pandemic lifestyle. For businesses, this means that more customers will continue shopping online. What does that mean for shippers? It means keeping tabs on the latest last mile delivery trends is more important now than ever for anyone who wants to get a handle on the complexities of delivering door-to-door in these extra challenging times.
9 Ways Last Mile Deliveries Are Changing in 2022
Contactless Delivery
COVID-19 is pushing more shoppers towards contactless delivery. A study by Salesforce shows that almost 40 percent of U.S. consumers choose the contactless delivery option to minimize the probability of getting infected with the virus. Delivery executives are now finding various ways of ensuring customer and employee safety while maintaining great customer service.
Businesses with last mile delivery options are gearing up for the greater use of digital solutions to automate manual delivery processes. For example, more companies are utilizing digital payments and Electronic Proof of Delivery (e-POD) to eliminate person-to-person contact. After all, businesses will need to continue using contactless delivery to protect both delivery personnel and customers for at least a while longer.
In-House Last Mile Deliveries
Many firms are now opting to manage their last mile deliveries in-house instead of using third-party logistics providers. Some businesses are currently working on their local delivery services using their own vehicles, and some are even using their own trucks for nearby delivery drop-offs. However, this business model isn't for everyone, and many companies still need outsourced delivery providers to meet the higher demand from online shopping.
Faster Order Fulfillment
Amazon has revolutionized the same-day and one-day delivery services, causing many shoppers to demand faster order fulfillment.
Some reports show that millennial shoppers are willing to shell out more money for guaranteed and same-day delivery. Thus, moving products more quickly by focusing on logistics has become more essential than ever. Fast order fulfillment, after all, puts more pressure on delivery planning.
More Urban Warehouses
The demand for fast-order fulfillment pushes e-commerce platforms to consider various ways of speeding up the logistics process, including opening hubs and warehouses near cities. It has become important to ensure that access to products is easier, which is why demand for urban warehouse space is on the rise.
There are several benefits to having more urban warehouses: For one, it reduces the transit times of goods. Plus, it also makes the access of businesses to laborers and delivery agents much easier.
Likewise, more retailers are banking on micro-fulfillment centers and sending out orders from stores as fewer shoppers frequent brick-and-mortar shops. One report from the Wall Street Journal noted that industry-leader Amazon is in talks with mall cornerstones like J.C. Penny and Sears to convert mall space into fulfillment centers.
On-Demand Delivery Platforms
More shippers are leveraging on-demand delivery platforms than ever before, such that they can connect easily with trucking firms, allowing them to deliver within a city within a defined delivery window without much hassle. These platforms are designed to help businesses increase their reach, gain more flexibility in their delivery operations, and minimize costs.

Crowdsourcing and the Gig Economy
There's a rise in venture capital investments for supply chain and logistics start-ups. Venture capitalists are more interested in technology and information firms that rely on crowdsourcing or gig economy workers. Large companies such as UberRuSH, Amazon Flex, and Postmates advertise their jobs on their respective apps, which in turn, are grabbed by independent drivers.
This business model may be less efficient than having a dynamic delivery management system, but it is of great help to companies that need to minimize fleet management costs.
Hybrid Fleet Systems
Traditionally, many businesses own their fleets and manage them to ensure full control of fleet operations. But this traditional business model doesn't offer much flexibility in fleet size, which poses a huge problem for fleet managers when demand changes.
In contrast, a hybrid model where a firm has a mix of its own fleet, third-party providers, contractors, and freelancers offers more flexibility. Using a hybrid model can bring in plenty of cost savings but can be quite difficult to manage.
Drones, Self-Driving Delivery Vehicles, and Bots
Some retailers are exploring the option of using robotic deliveries via robots, self-driving vehicles, and drones. Amazon, for one, has already invested millions of dollars in Aurora, an autonomous technology developer. Likewise, in the past few years, Alphabet has tested delivery drones to bring parts to ships located away from the shores.
It may take some time before drones, delivery bots, and self-driving vehicles become the norm, especially given the potential regulations that are likely to crop up around them. But it's a trend that's worth watching out for nonetheless.
Increased Visibility
Aside from fast order fulfillment, consumers these days also want to know where their orders are at any given time. Meeting this expectation requires having a live tracking technology, offering both fleet managers and customers full visibility on the order status.
The ability to track vehicles in real-time also helps fleet operators identify any potential problems and offer real-time correction to drivers as needed. Likewise, full visibility also helps consumers obtain accurate data on the delivery status.
Telematics is also more important than ever before. Telematics fleet management systems leverage wireless networks that can connect to remote applications, bringing end-to-end connectivity to each last mile delivery.
Businesses have had more challenges than ever the past two years as the pandemic changed everyone's lives. Many were forced to adopt technological solutions faster than they had planned to meet the changing customer demand. Companies will experience exciting times in the months and years ahead as technological solutions will revolutionize last mile deliveries to meet shoppers' demand for convenience, and companies that are able to select the right technology to improve connectivity across the last mile will increasingly gain a competitive advantage.