Fleet managers aim for efficiency regardless of the size of the fleets they're managing. But it can be a challenge to get your fleet to run smoothly and efficiently if you're still using manual processes that are error-prone and time-consuming.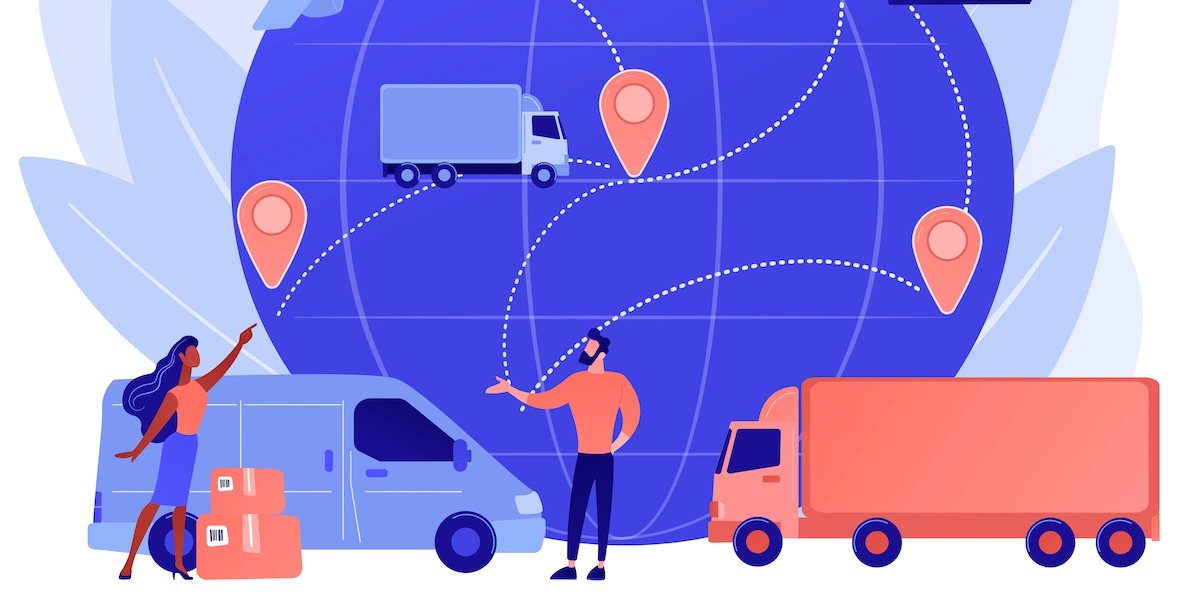 One survey conducted among companies in the United States and European Union showed that small and medium enterprises are highly frustrated by the time ineffectiveness, expense, and the never-ending errors caused by doing essential tasks the conventional way.
The same study revealed that almost 60 percent of survey respondents say that they spend too many hours simply reporting working times, and 66 percent said that more can be done to reduce fuel expenses. Some 55 percent said that they were spending unnecessarily on vehicle maintenance. The upshot of all this? There's a lot more to be done when it comes to optimizing fleet management efficiency.
How Fleet Tracking Apps Help Solve Delivery Challenges
The challenges we listed in the opening might seem daunting—but they can be overcome with the right technology. That's why finding the right fleet tracking app is so important to modern delivery operations.
Below are the top challenges that fleet managers need to address and how they can be overcome by the right fleet tracking app:
Lost Productivity Due to Paperwork
The hours spent completing paperwork can take a toll on fleet managers.
One study showed that nearly half of all fleet executives say that their employees are spending too many hours on administrative tasks such as quoting and invoicing, finding the best-suited driver for the delivery job, providing updates to customers, and managing expenses. This means that team members are losing hours on activities that could be automated. Fleet executives would obviously prefer to cut down on these hours so employees can focus more on high-value tasks.
The best way to cut down the hours spent on administrative duties is to automate work processes by using a fleet management solution. Paper-based or legacy systems slow down every team member. Plus, they're also prone to errors. If you can start automating dispatching, fleet routing, and scheduling, invoicing, updating customers, etc., you can save more time and allow employees to take on other tasks that add more value to your company.

Higher Vehicle Maintenance Expenses
Ensuring that fleet vehicles run smoothly is crucial to success—especially given that unexpected breakdowns can be quite costly. Unfortunately, many fleet managers find that their vehicle maintenance expenses are higher than necessary.
There are several ways fleet operators and managers can reduce vehicle maintenance costs: Proactive maintenance schedules are one sure way of cutting down on this expense. A fleet management app can provide managers with regular maintenance and service reminders according to mileage, and hours of use data. These automated reminders will help ensure that vehicles get the care they need to avoid vehicle breakdown and downtime.
Likewise, solutions these days also monitor driver behaviors (cornering, harsh braking, etc.) that can negatively impact the relevant assets. This gives fleet managers the opportunity to be proactive about addressing conditions that might impact fleet health.
Expensive Fuel Bills
Fuel cost is one of the largest expenses of any fleet. As such, it's every fleet managers' job to save on fuel consumption and costs as much as possible.
There are various strategies to cut down fuel bills. These would include tracking fuel consumption, monitoring drivers' behaviors, and checking incidents of fuel overuse, which are all possible with the help of the right fleet tracking software. For instance, if you can collect fuel consumption data via telematics integration, you can spot trends or inconsistencies that are causing fuel expenses to go up unnecessarily.
Tracking drivers in real-time also helps ensure that drivers are following the assigned route plans (which have hopefully already been optimized). Non-compliance to route plans can cause more fuel consumption. Likewise, monitoring drivers also allows managers to spot driving behaviors that are not only unsafe but also consume more fuel than necessary, e.g. idling.
Poor Communication
It's always hard for office-based team members to communicate with mobile employees. When drivers are out on the road, calling, emailing, or sending SMS messages are not always possible. And even when phone calls are feasible, they can still be quite time-consuming. Unfortunately, these communication challenges can result in unsuccessful delivery rates going up.
Luckily, having an end-to-end last mile solution can help you streamline communication among team members. This enables open and clear communication between office-based team members and drivers, including automated updates to on-site teams regarding expected times of arrival (ETAs) and order status.
Late Deliveries
Meeting promised delivery times is always a challenge—one that can have a huge impact on customer experience and brand strength. Luckily, fleet tracking software can help businesses to satisfy customers' demand for short delivery time frames and accurate ETAs. Without fleet vehicle tracking, businesses will have a hard time providing accurate ETAs to customers, which can cause severe damage to the brand's reputation.
When you're able to track the location of every asset in real time against your scheduled routes, you can update your ETAs over the course of the day to ensure that everything is within an acceptable window. If your tracking shows that a particular delivery is going to be late, you can proactively reach out to the customer to give them a heads up and find a new delivery time if necessary.
Providing customers with short delivery windows, accurate and reliable ETAs and real-time updates are necessary for the creation of great delivery customer service. And when you can call customers before there's a problem, you can make them feel taken care of and empowered—which is a recipe for repeat business.
Managing a fleet is no walk in the park—especially if you're stuck with conventional, paper-based workflows and processes. Luckily, automating processes and tracking fleets via a fleet tracking app can help fleet operators and managers overcome many operational challenges, paving the way for reduced costs and improved customer service.