Modern technological advancements enable businesses to optimize their fleet operations such that they are better equipped in a more competitive business environment. Automated processes, real-time data gathering, mobility solutions, and cloud technology empower businesses to make data-driven decisions quickly. At the same time, a solution that's too clunky to use, or that doesn't offer all the functionality it claims to, can be a serious hindrance to your operations. That's why your choice of solution provider is so pivotal.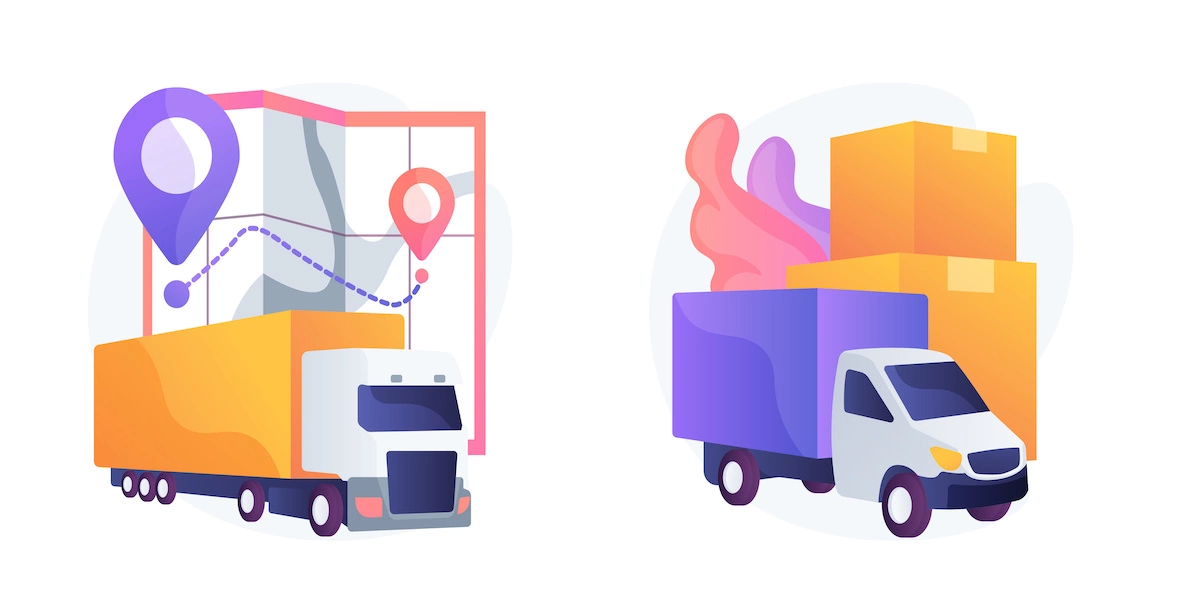 Fleet software that offers custom reporting, fuel consumption tracking, driver performance and behavior measurement, and artificial intelligence is a must-have these days. You need to choose a fleet management tracking solution that can support not only your business's current needs but also its long-term goals. You should also pick one that can easily be integrated with their current technologies and can adapt to future ones—and those are just some of the considerations you'll need to take into account when choosing a provider.
How Fleet Management Solutions Work
A fleet management solution should facilitate seamless exchanges of valuable data between back-office staff and drivers. This way, fleet managers and dispatchers can make quick decisions and adjust accordingly when new situations arise.
The right fleet management solution might have a telematics system that collects real-time data on driver speed, vehicle location, fuel usage, engine conditions, traffic conditions, idling patterns, drivers' risky behavior, and more. Fleet managers and dispatchers can then use data gathered by the telematics system to correct drivers' behavior, track their hours of service, simplify fuel tax reporting—all while boosting visibility into their delivery operations more broadly.
What to Consider When Choosing a Fleet Management Tracking Provider
As you've probably gathered from the above, the right fleet management solution can transform fleet operations holistically. That's why it's so important to choose a provider carefully. Below are some things to consider when choosing a fleet management tracking provider.
Align on Business Goals
Goal alignment is crucial whether you are a medium-sized business or a giant enterprise. Regardless of your size, you need to choose a fleet management solution provider that fully understands how your business works as well as your goals. Ask the provider how it can help you optimize your fleet operations and how it's been able to support similar businesses' growth in the past.
The provider you choose should be capable of understanding how your company is using its fleet. As you provide information on your fleet operations to the solution provider, they should be able to demonstrate an understanding of your challenges and present a clear path forward for optimization.
Based on the information your company gives, the provider might specifically be able to help you accurately measure and optimize your fleet's asset utilization. Measuring your company's utilization will help you determine if your current fleet is sufficient or if you need to right-size by adding more drivers and vehicles. Of course, this is just an example of how a technology provider might demonstrate that they understand your business and can align with you on goals.

Find the Right Features
Fleet management solutions don't rely on one technology. In fact, the right solution combines multiple technological tools to provide actionable and valuable data. The solution's features need to allow your company to make quick, data-driven decisions, receive real-time alerts, optimize routes, and ensure the health of your assets.
Again, it's important to keep in mind that not all fleet management solutions are created equally. Some have jam-packed features—others not so much.
For instance, not all solutions offer intuitive dashboards and routing tools—features that offer managers and dispatchers useful insights and capabilities. These tools are what facilitate the easy exchange of information between drivers and the control center, enabling back-office staff to identify delivery exceptions and potential disruption and then actually do something about them. If you wind up with a solution that lacks real last mile visibility, for instance, you won't be able to capitalize on the data you're collecting on the day of delivery. The result? Difficulty maintaining flexible, agile deliveries.
Ensure Easy Compliance
A fleet tracking app with telematics integration and a robust driver application is useful in maintaining drivers' electronic logs for ELD Mandate compliance, mileage and fuel consumption data collection for managing International Fuel Tax Agreement (IFTA) requirements, and more. Fleets that are empowered with this technology are better equipped to improve compliance without expending a ton of manual effort.
Seek Out Strong Customer Support
Customer support during and after the deployment is crucially important. As you vet solution providers, make sure that you pay attention to the kind of support they offer. Opt for one that is as invested as you are in the success of the deployment and is 100 percent committed to solving issues proactively.
Ask the provider whether it offers consulting and training so it will be easier to roll out the solution to employees. Keep in mind that a solution can help if you and your team know how to use the tools properly.
Go for a provider that offers excellent post-sales support for training, onboarding, product support, maintenance, and lifecycle care. Things like 24/7 customer support and dedicated integration teams are usually a good sign in this area.
Find Future Proof Technology
Check whether the provider has a solid track record on technology development and innovations and whether they are using the latest technology. You're obviously better off if your solution is future-proof and prepared for the next generation of tools. Choose a solutions provider offering a highly secure and reliable network, scalable SaaS capabilities, and a track record of staying technologically adaptable.
On top of that, consider whether the provider can integrate its fleet management system into your current technology and equipment. The right solution needs to be designed to fit your company's current infrastructure.
At the end of the day, fleet management tracking solutions can help you improve fleet operations, optimize productivity, and do much more. Just make sure that your solution provider offers end-to-end solutions, advanced features, future-proof tools, easy compliance, and exceptional support.