The following is Part 3 in a series of posts about DispatchTrack's point of view on the trends that will drive the logistics and logistics technology markets in 2022 and beyond. This week, we'll be discussing the role that AI can play in speeding up deliveries across the supply chain—and, by extension, in meeting heightened consumer demands. You can check out Part 1 and Part 2, or you may also be interested in DispatchTrack CEO and co-founder Satish Natarajan's Logistics Technology Wishlist for 2022.
Last week we talked about all the reasons that speed—not price—is becoming the top concern for last mile logistics operators. The ability to deliver as much as possible as quickly as possible is worth whatever price you need to pay at this point, and that trend isn't going away any time soon. But what is it that's actually empowering organizations to speed up their deliveries in the current climate? Shouldn't the persistent driver shortage—plus all the disruptions related to COVID—be making rapid deliveries at scale virtually impossible?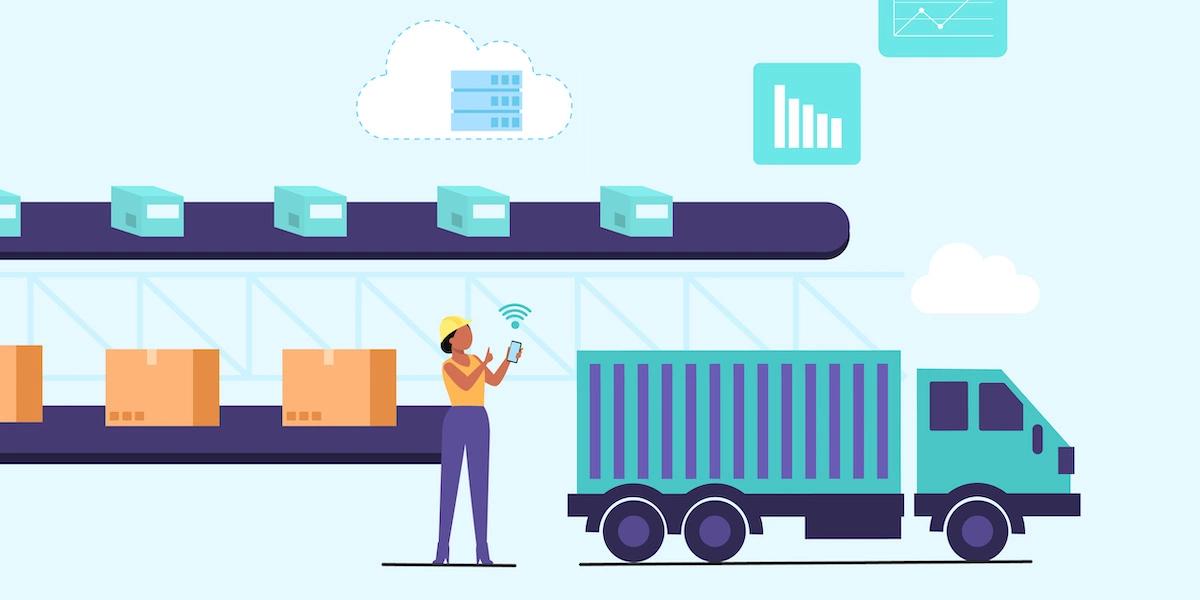 There's no denying that in many ways it's at least as challenging as it's ever been to deliver on time. At the same time, however, delivery organizations have more tools than ever at their disposal to improve performance. The most powerful of those tools? Increasingly, the answer is AI.
That's why we think that more and more companies are going to leverage the power of AI in their deliveries in the coming year.
Why Are Businesses Turning to AI for Logistics?
We're not the only ones who think that AI is going to be even more of a driving force in logistics in the coming years. Infoholic Research predicts 42.9% growth in CAGR for AI in logistics, with the market potentially reaching past $6 billion by 2023.
There are a number of answers to why that might be the case, but for our purposes, there's a pretty simple, high-level reason you can point to: it improves costs and performance at numerous touchpoints across logistics. McKinsey, for instance, recently found that AI could significantly shrink inventory levels, improve service by more than 60%, and ultimately cut costs by as much as 15%. In an industry where success is often determined by razor-thin margins, this kind of cost optimization can be a game changer.
At the same time, AI isn't all about cost optimization. Modern retailers, distributors, and 3PLs need to fulfill orders as quickly as possible. This is where the value of AI really shows itself. When your last mile operations are powered by advanced technology, you can route trucks more quickly and get much more out of your capacity. Compare this to legacy routing technology, which may empower you to find a fairly efficient path for your trucks to take between stops, but takes hours and hours to actually finalize a route.

How Do You Effectively Leverage the Power of AI?
At heart, artificial intelligence is all about cutting through complexity. Machine learning algorithms can analyze and understand more data points than a human planner could possibly grapple with in order to ultimately find the connections that make it possible to create efficiency and predict future outcomes. As you can imagine, one of the most powerful applications for this kind of technology comes in one of the most complex parts of the supply chain: last mile route optimization.
Creating efficient routes between stops can become difficult quickly—yes, a human planner can usually eyeball which stops belong on which trucks in the absence of complex parameters, but once you start introducing extra layers of complexity—time window requests for particular stops, driver affinity for particular accounts, skill level requirements for different service times, and many others—the ability to route by eye basically vanishes. When that happens, you need an advanced algorithm that finds the most efficient sequence of stops that actually satisfies your requirements.
To make this happen, you need to start by adopting the right route optimization platform. Look at your current routing setup and ask yourself a few questions?
Does it give me the flexibility I need to adjust parameters for different service types, skill levels, etc.?
Does it effectively learn from historical data on past deliveries?
Does it effectively learn from past traffic patterns in particular regions?
Is it fast enough?
Does it enable you to make changes and adjustments easily before finalizing routes?
Does it actually help you get the most out of your capacity?
Does it produce accurate ETAs for your deliveries?
If you find yourself answering "no" to any of these questions, that's usually an indication that it's time to upgrade to AI-powered route optimization. By doing so, you can leverage all of the delivery data that you collect on a daily basis into better routing performance over time. Combine smarter routing logic with faster overall calculations, and you're looking at a supply chain that's suddenly fast and agile enough to fulfill customer demands that much more quickly.
How AI-Powered Logistics Impacts Customer Experience
One thing we haven't discussed so far in this post is customer experience—but that's not because it isn't important! On the contrary, the need for speed in modern logistics is driven not just by increased demand, but by increased expectations from customers across industries.
We can blame the Amazon effect for these new expectations, but that doesn't change the fact that they're here to stay—and that savvy last mile operators have a unique opportunity to capitalize on them right at this moment.
So what, exactly, are consumers looking for in their deliveries, and how can AI get us there? At a very high level, there are few important boxes to tick:
Rapid delivery turnarounds
Transparency into deliveries from the moment they click "submit order"
Control over the timing of the delivery
On-time performance within a short (e.g. two-hour) window
Without AI, even the first bullet point is a tall order. By the same token, it's hard to give customers the ability to schedule their own delivery times when the extra parameters will hamper your ability to route. And accurate two hour delivery windows? Without AI, they're a pipe dream.
In this way, AI can have a direct impact on customer experience in last mile deliveries. AI gives you the tools you need to give your customers some control over their deliveries (e.g. by making it feasible for them to self-schedule deliveries). Crucially, it also gives you the tools to provide accurate delivery ETAs.
It's hard to overstate how important this can be. When customers are confident that the truck will show up when it's supposed to show up, they don't have to spend the whole day worrying. They don't have to take an entire day off work for a 30 minute service call. And they don't have to call you to ask about the status of their order (especially if they can track their delivery in real time). Compared to the old system, where a couch might be slated to show up between 9 and 3 and still manage to show up closer to 5, this is a radical transformation of the delivery experience.
The ability to deliver on-time isn't a luxury or a nice-to-have, it's the fundamental building block of a delivery experience that will keep customers coming back for future orders and talking you up to their friends and coworkers. It's how you turn delivery speed into something much more lasting and meaningful. And in 2022, AI is going to make that kind of experience more attainable than ever.