Last-mile delivery is being reshaped by shifting consumer expectations across industries. As a result of the pandemic, preexisting trends are accelerating the industry toward faster, more efficient, and more transparent delivery services everywhere, which puts pressure on retailers.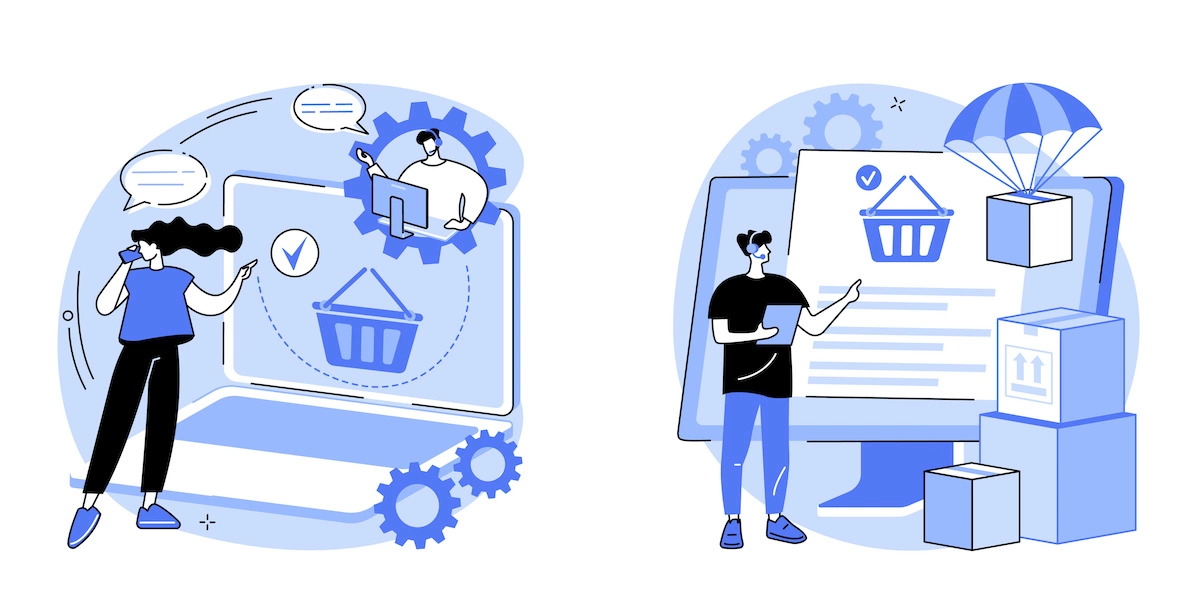 Since so much of our business is conducted at home, the delivery experience has become an increasingly important element of our overall customer experience. Consequently, a bad delivery leads to an overall poor experience for the customer.
The rise of things like on-demand food delivery has demonstrated to consumers how gaining visibility into the last mile can be achieved. Features such as two-way communication, real-time delivery tracking, and direct feedback that are integrated seamlessly into one app mean customers have grown to expect that they will be kept informed at all times.
Companies in other sectors who handle their own last-mile deliveries risk losing business if they can't meet these customer expectations. Whether you are using retail stores to deliver same-day, dropping off equipment rentals, or shipping large quantities or bulky products, your customers want to know where their orders are at all times.
Luckily, last mile customer delivery experience can be improved by both active and passive communication, with increased lifetime value and reduced operating costs as potential effects. The first step to getting there is making sure you have the right technology for the job.
The Importance of Delivery Notification Software
Delivery notification software gives retailers and other businesses the ability to notify customers when their deliveries are arriving. Sending a delivery notification to customers is increasingly necessary these days, especially for B2C companies—though it is becoming more prevalent with B2B deliveries as well.
Many businesses receive multiple deliveries every day, which is why it's more important than ever to notify receiving managers when to expect the delivery truck. There's a wide range of approaches to this kind of transparency. Some delivery notification solutions offer simple time windows, while other software has real-time maps, along with dynamically updated ETAs.

A robust solution offers essential notifications at every stage of delivery, including automated delivery updates as conditions change throughout the day. Your last mile delivery system should also ensure visibility within your own back office—for instance, your solution might alert dispatchers when drivers are arriving and departing from each delivery location during the day.
You can use delivery notification software to enhance your customers' last mile delivery experience in several ways:
At the point of purchase: Allow customers to choose their preferred delivery dates, time windows, contactless delivery options, and notification options.
Pre-delivery: Send delivery reminders to the customer via their preferred method (SMS, email, or phone). Here, you can also ask customers to confirm their delivery appointments and addresses
In the course of delivery: Enable customers to track the delivery vehicle in real-time, offer accurate ETA updates, and allow them to communicate with the driver.
Post-delivery: Provide the customers with a feedback opportunity, and resolve any issues raised promptly.
Keep in mind that communication is a two-way street. Delivery notification software should allow customers to send drivers important information (instructions for getting into the building, etc.) without contacting the customer support team or the dispatch center by phone.
Why Communication in the Last Mile Matters
The kind of functionality we're describing isn't something that you should think of as a luxury. Sure, robust delivery management software will require an investment—and that's exactly how you should think of it: as an investment. Staying engaged with customers and boosting transparency across the last mile gives you the chance to drive positive ROI in a whole host of different ways.
Here are a handful of the benefits your company will gain by improving its last-mile communication:
Lower number of customer calls
Offering customers access to your delivery tracking and sending them regular updates can reduce the number of customer calls asking about the status of their orders. In turn, this will lead to greater customer satisfaction since most consumers dislike having to wait for customer service teams to answer their inquiries.
Saved hours of employee time
Fewer requests for updates on orders will, in turn, enable your customer service representatives to devote more of their time to other important tasks, such as responding to and acting on any customer requests that are about more than just asking for an ETA. This means that when customer issues do arise, you'll actually have the capacity to deal with them quickly and efficiently, boosting customer satisfaction and potentially increasing delivery success rates.
Improved first-time delivery success rates
A study recently examined the costs associated with missed delivery windows. Combined, retailers, carriers, and consumers incur losses of more than $1 billion every year due to missed delivery windows. First-time delivery success rates are among the most difficult performance indicators to meet. However, providing your customers with accurate order updates can help them plan their schedules more effectively, which will result in a higher first-time delivery success rate.
Enhanced customer trust
Customers often have packed schedules, so late orders are not something they want to worry about. Giving your customers access to real-time information from your delivery fleet will boost their confidence and trust in your company.
Greater customer value
Your customers will feel more valued when your updates are frequent and timely. Ultimately, consumers can save themselves from waiting a whole day if they receive real-time updates on their orders. Customers can also plan their day more effectively to ensure that they are available to receive the order upon delivery. By communicating with customers in real-time, you demonstrate your respect and value for their time.
Lower operating costs
Reducing dispatch and customer service calls made by customers means lower back-end operating costs, and better communication means fewer delays for drivers. Not to mention, you can avoid the costs associated with redelivery attempts when you're able to keep customers in the loop so that they don't miss the delivery truck showing up.
Higher revenue
Research indicates that companies that offer transparent last-mile options are more likely to attract customers than those that don't. Why? For precisely the reasons we've been enumerating above: reduced costs, greater customer retention, and more efficient operations overall.
At the end of the day, delivery notification software is one of the most powerful tools you can get for ensuring that your management, dispatch team, and customers know what's going on throughout the delivery process. Not only can you leverage that added visibility into smarter delivery management, you can also use it to ensure greater customer satisfaction throughout the entire delivery process. Given how hard it is to ensure customer loyalty these days, it's hard to overstate how impactful this kind of technology can be.