For fleets with a large number of vehicles operating across multiple states or regions, dispatching your drivers efficiently is a vital part of streamlining operations and keeping your business in good shape. Dispatch software is the primary tool used by dispatchers and fleet managers to make sure drivers follow the right routes at the quickest possible speed to please customers—but how do you know if you're getting the most out of your dispatching technology?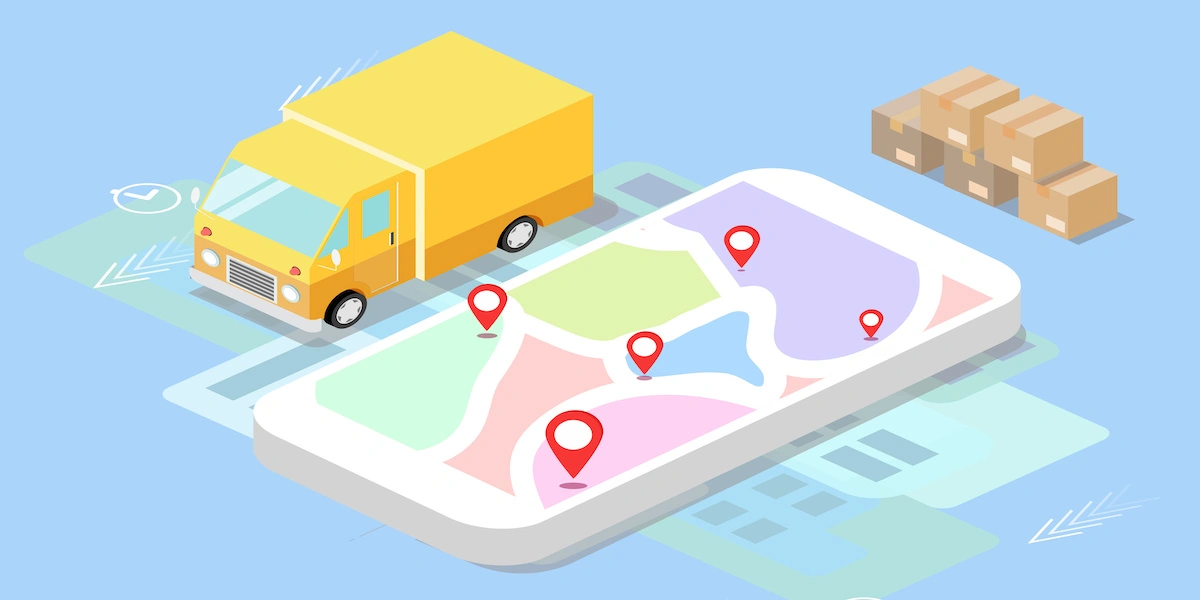 In this post, we'll talk about the basics of mobile dispatch software solutions, their advantages for fleets, and characteristics and features to look for when selecting dispatching solutions.
The Basics of Mobile Dispatch Software Solutions
Mobile dispatch software solutions refer to one or more tools used by fleet managers and dispatchers to assign drivers to various jobs. Using these tools, you can empower drivers to also stay on track with their routes and arrive at their designated delivery drop-off points on time. The best dispatch software should offer automated route planning and scheduling for drivers and let dispatchers create routes and deliveries as efficiently as possible.
These days, fleets are increasingly looking for dispatch software solutions that integrate with telematics solutions and provide location data via real-time dashboards. The majority of telematics devices only send vehicle GPS locations, but by combining it with robust delivery software you can also gain order status information and live ETAs for each stop on the route.

This enables you not just to see the location of each vehicle within your fleet—but to instantly visualize how your delivery plans are progressing. If a driver is already running late or stuck on their route, dispatchers will notice this and communicate with the driver to make sure the route is updated so that the driver arrives at the destination on time or the customer is notified of the delay.
Robust dispatch software solutions also provide drivers with a mobile app. This way, dispatchers can send routes to drivers and make adjustments as necessary, without needing to make phone calls. Routes are provided to drivers on their smartphones, and they can be given prompts to send out status updates, customer notifications, and photos for proof of delivery.
The Advantages of the Right Dispatch Software
An automated dispatching system can have a host of benefits for your drivers, fleet managers, dispatchers, and customers. These benefits include:
Streamlined fleet management: Dispatch software provides complete insights into every step of a driver's route, allowing fleet managers and dispatchers alike to spot problems on a route. Moreover, routes can be optimized to minimize delivery and arrival times to drop-offs or jobs.
Reduction of back office workload: Driver location and status information collected automatically by your software reduces the need for employees to call drivers to find out where they are and what's going on with their deliveries. This visibility is enhanced further if the mobile dispatching software offers real-time GPS data.
Increased customer satisfaction: Delivery organizations must provide exceptional customer service not only to retain current customers but also to attract new ones. Customer satisfaction is largely a factor of your ability to deliver at the right time, while providing transparency throughout the process. With a robust dispatch solution, dispatchers can plan drivers' routes efficiently and adjust routes as needed to avoid delays.
Adaptability and flexibility: On the road, things can change rapidly. Dispatch software simplifies the process of adjusting and updating plans to respond to changing conditions and keep drivers on schedule. Plus, the right software offers you the tools you need to more easily scale your

last mile delivery

operations. When your business expands, this allows you to continue providing the same quality of service to your customers.
What To Look For in Dispatch Management Software
The market offers a variety of dispatch management solutions, so it can be difficult to choose the best one for your fleet. If you are selecting a solution, consider the following key features and characteristics:
Real-time GPS tracking
Breadcrumb GPS tracking in dispatch management software rather than real-time GPS tracking limits dispatchers' ability to respond quickly to new work orders and service requests and changing conditions in general. Manually contacting drivers about route changes is a cumbersome task for your back office, which in turn reduces their productivity.
The best software solutions enable dispatchers to see the location of vehicles, and monitor the progress of routes as they're unfolding. Ultimately, this results in reduced manual back-end tasks and significantly increased visibility.
Visibility for customers and all delivery stakeholders
Delivering on time is crucial to ensuring customer satisfaction. Customers are, however, much more forgiving of their drivers running late when they are informed of the updated arrival time in a timely manner. But without real-time visibility into the drivers' progress, updating customers about their deliveries or services becomes nearly impossible.
Many advanced solutions provide real-time updates of ETAs to delivery stakeholders, including customers. This real-time insight reduces the need to manually call customers and update them, which streamlines back office operations. As a result of full visibility into routes your drivers take, your customers are more likely to take changes in ETAs in stride, which improves customer satisfaction. More than that, frequent order updates give customers greater confidence in their deliveries, meaning they're more likely to actually be at home when the truck arrives.
Streamlined driver management
Dispatchers used to spend many hours a week trying to reach drivers. A dispatch app for drivers eliminates the need to call manually, making it easy for dispatchers to send drivers route instructions directly to their smartphones. With the right app, drivers can see where they need to go, when they need to get there, and the most efficient route to take.
Plus, the app automatically updates any changes made to routes or jobs, so no manual work is required. App users can also log their Hours of Service (HOS), record fuel receipts and other documents, and perform vehicle inspections. More importantly, the right mobile app can enable drivers to quickly and easily capture proof of delivery via pictures, notes, and signatures—all within the app.
Easy integration
Choose a solution with an open API so you can easily sync all your tools, allowing you to combine all your data together and enabling you to have complete visibility into end-to-end fleet operations. Integrating all of your systems will make it easier for dispatchers to do their jobs. Plus, it makes scheduling, routing, and dispatching decisions much easier because you'll have complete data.
In the end, mobile dispatch software solutions are much-needed tools for helping dispatchers and fleet managers run efficient routes for optimal customer satisfaction. Just make sure you choose a robust solution offering the above-mentioned features and characteristics.