Being a consumer has never been better. Companies are using technology to create new, unparalleled levels of service for shoppers everywhere. This last holiday season alone, E-commerce sales rose almost 20% from the previous year.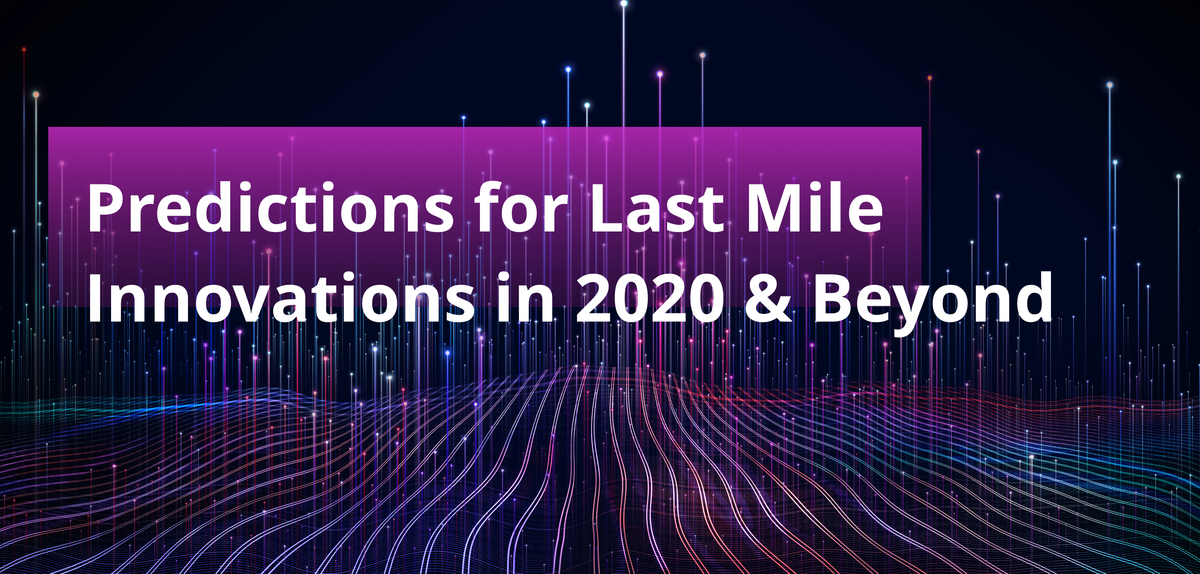 A motivator of this growth comes from the modern buyer's embrace of short cycle fulfillment, like next and same-day delivery. A fleet's flexibility to speed up delivery time to your door is a major key for winning the bigger game. This phase of the supply chain called the last mile is the focus of drivers, dispatchers, and fleet managers everywhere as 2020 gets underway.
Assumptions by consumers are that these trends will continue, their expectations are now set, and that keeps logistics companies motivated to stay in step with the latest last-mile delivery trends and new levels of service.
Here are our best last-mile predictions for the rest of 2020:
The gig economy is only going to grow stronger.

Part-timers, freelancers, and contractors have essentially transformed the workforce today. When it comes to shipping, this equals better versatility in getting deliveries done quicker, particularly in high congestion areas like dense urban zones with compressed traffic activity. If the past few years have brought disruptors like e-bikes, dockless scooters, and drones onto the scene, this year could be the turning point for gig workers as they master the resources to harness last-mile services to an even greater degree.
AI-powered autonomous delivery will progress, but not enough to disrupt the ecosystem (yet).

Leading data and automation scientists agree that while we're not yet ready for fully autonomous vehicles and delivery solutions when they are ready to deploy at scale, they will have a rapid, extensive impression on the last mile, and the entire supply chain. Experts foresee a myriad of technology advances—in both software and hardware—that will bring the reality of short-range, auto-piloted delivery to fruition sooner than we expect. Chief among these factors is the massive computational abilities through neural networks, AKA machine learning, which will help logistics operations more accurately navigate traffic patterns and leverage data more efficiently.
Improbable alliances and new discoveries will stem from a highly competitive environment.

As retailers and brands strive for buyer recognition, more and more organizations are searching for ways to excite and charm by way of technology. As far as the last mile is concerned, we expect a further extension of particular coalitions to bring even more empowerment to consumers through shipping. Regardless of what that means for discounts or customized experiences, operations, and fleets will be crucial for raising the standards of customer demands.
Q&A: Last Mile Innovations
Why is last mile delivery important?
Last-mile hubs and transportation hubs
warehouses facilitate the movement of goods in the supply chain to the final destination. Being closer to the consumer decreases supply-chain costs while minimizing the time to complete delivery. ... Fast delivery is important to 99 percent of U.S. consumers when making online purchases.
What companies are major players in the last mile?
FedEx, Amazon, UPS, USPS, Wayfair, Ikea, Costco, Safeway, DoorDash, Uber Eats, GrubHub, Lyft, Lime, Ford, Macy's, Whole Foods, DHS, etc.
How can I improve my last mile delivery?
5 Ways to Deliver Success on the Last-Mile
Let Customers Self-schedule their Delivery
Continuously Optimize Transport Schedule with New Orders
Uses Advanced Routing Optimization
Live ETAs Trackable in Real-time by the Customer
Automated Notifications on Delivery Day
BONUS #6: Use Proof of Delivery Tools in the Field for Real-time Feedback Loop from Drivers
Stay tuned for more information, reporting, and developments in the logistics industry. Subscribe to our news feed for all the latest opinions, news, and findings regarding last-mile logistics and beyond.
No matter what innovations you choose to incorporate into the inner workings of your logistics operation, know that any upgrade in your process, efficiency or profit, starts with leveraging state-of-the-art software and tools to greatly boost the impact of your investment and efforts.