The biggest question in everyone's mind these days is this: how will the COVID-19 pandemic continue to impact businesses in the coming years? Well, it would take crystal ball to see all of the lasting effects that the coronavirus will have on society—but it doesn't take any special talents to see the ways that the pandemic is already changing the last mile.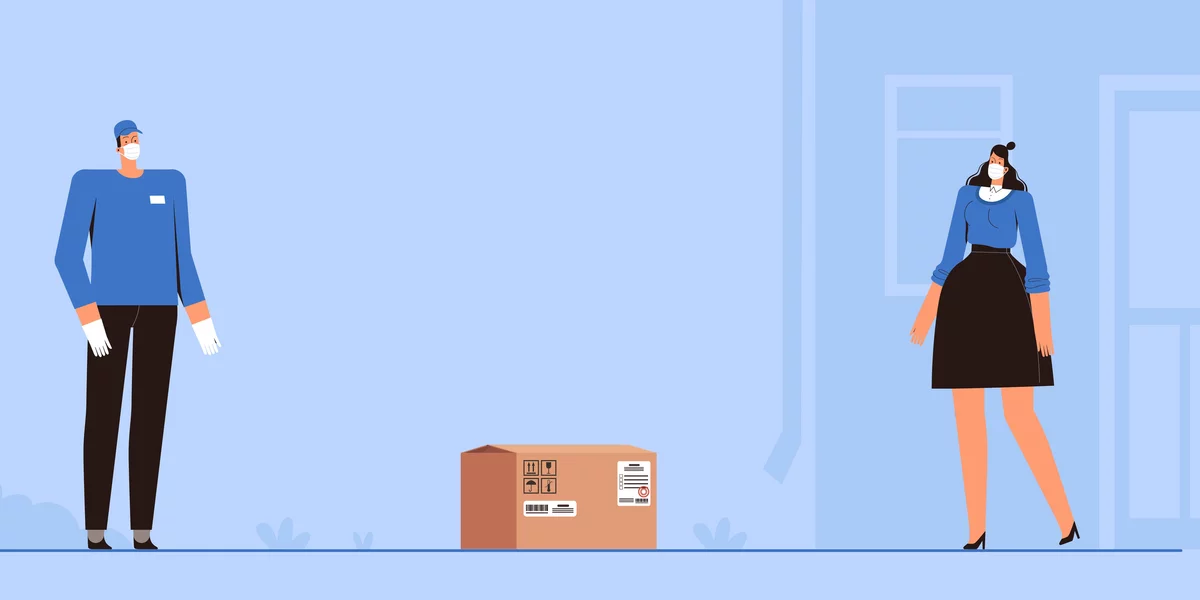 The logistics industry is already experiencing major shifts due to the coronavirus, and everyone anticipates that these changes will likely remain in place even after restrictions across the United States have been lifted. So, what logistics and shipping trends should industry players watch out for while navigating the new landscape?
More Online Deliveries Putting a Strain on Logistics and Shipping
E-commerce has experienced a dramatic increase because of the pandemic. In the United States, total online sales reached $73.2 billion in June of 2020, significantly higher (by 76.2 percent) than the sales figure posted in 2019. This record-breaking surge in online shopping is putting more pressure on businesses with logistics operations.
The new coronavirus strain is also forcing governments to implement lockdown measures once again. This means more people staying at home and relying more on online shopping rather than going to brick-and-mortar stores. And the demand for more e-commerce transactions isn't going away anytime soon either. Many retail businesses have decided to offer online delivery options to ensure their survival.
In fact, many retailers are signing up for partnerships with last mile logistics firms to convert their unused space in their physical stores to last mile delivery warehouses. These converted shops operate either as Buy Online Pick-up in Store (BOPIS) or Cloud retail outlets.
Some retail businesses offer the BOPIS option, targeting consumers who prefer the convenience of shopping online and faster deliveries. Other retailers are running Cloud retail shops where space is dedicated for storing orders for shipping rather than foot traffic.
Safety Is Always a Priority
Global medical experts have constantly been warning that the coronavirus threat will linger for years. For shippers and logistics providers, this threat means finding new ways of keeping employees and customers safe without sacrificing customer satisfaction.
Aside from frequent hand sanitizing and constant thermal monitoring, businesses also have to find ways to minimize physical contact with customers. A Salesforce survey revealed that contactless delivery is experiencing an uptick, with around 37 percent of U.S consumers are going for this option. And contactless deliveries aren't going away anytime.
Unfortunately, many contactless delivery processes are inefficient, and some are actually falling to keep both staff and customers safe. But there are contactless innovations that offer more protection for everyone. For instance, a solution like DispatchTrack provides the necessary visibility to actually keep customers and drivers alike on the same page about deliveries. For something like appliance delivery and installation, there isn't always going to be a truly contact-free option, but everyone involved can mitigate risk by signing for deliveries and documenting the process through the application and timing transactions precisely enough that everyone can avoid the unexpected.
Faster Last Mile Deliveries
Customers' preferences have been changing in the last few years, thanks to industry leaders like Amazon that offer a wide range of products and speedy deliveries. The Amazon Effect has changed the industry as consumers expect retailers to provide the same quick delivery timeframes that Amazon offers. Even B2B customers are more likely than ever to want the "Amazon experience" as buyers.
To put it bluntly, the pandemic hasn't changed the consumers' demand for on-demand deliveries. The surge in online shopping has not changed customers' preference for fast and cheap shipping options either. This puts many businesses in a bind—the last mile has always been a sticking point for many businesses, and it's not getting any easier to optimize this element of delivery.
Heavy Reliance on Route Optimization
The fast transition to online shopping has also accelerated the need for logistics companies to boost the efficiency of their operations. Higher order volumes and demand for fast deliveries can cause delayed and missed delivery windows, and this kind of disruption can easily cost your business customers.
Fortunately, operational inefficiencies in logistics can be addressed by using a dynamic routing software designed to help users schedule and plan efficient delivery routes in real-time. The software helps fleet managers provide their drivers with real-time updates and the best possible routes even as new orders come in.
The route optimization also allows companies to provide accurate Expected Time of Arrivals (ETAs) to customers and meet promised delivery schedules despite high order volumes while lower fuel costs and meeting consumer expectations.
Greater Appreciation Drivers
Drivers have played a vital role in ensuring on-time deliveries, and their value is being appreciated more during this pandemic. Plus, the absence of shoppers in brick-and-mortar stores means that the drivers are the only employees from the company who are left interacting more frequently with customers.
Companies are also focusing more on drivers' performance given the higher volume of orders. It has become detrimental for businesses to have drivers who are increasing wait times during deliveries or are taking unscheduled breaks frequently. Driver behavior affects efficiency, so it has become more important than ever for fleet operators to track drivers more closely.
Real-time tracking solutions offer businesses full visibility on the delivery employees' performance. It offers fleet managers a quick and remote way of tracking driving and work habits, and even adjust their assumptions for future runs as needed. In this way, dispatchers can gain the tools they need to ensure that their drivers are supported and set up for success.
More Emphasis on Customer Experience
There was a time when product and price were the differentiators for brands. Those days are gone now, and an excellent delivery experience is what makes companies stand out among the competition. The coronavirus and the ensuing shelter-at-home orders have limited supplies and jacked up prices, but it's likely that many consumers won't place as much value on prices and availability of products going forward. Instead, they'll seek out companies that offer more visibility on orders and quick deliveries.
Consumers want better control over their orders: they want to be able to see order and delivery status in real-time and experience personalized delivery experiences. Thus, companies with final mile tracking solutions that offer transparency on deliveries and allow customers to make last minute changes on their deliveries will gain a competitive advantage.
In the end, the COVID-19 pandemic is pushing last mile logistics firms to review and reinvent their business models. The major disruptions in the supply chain and lifestyles have resulted in higher adoption of digital technologies, and businesses must continue to innovate and adopt new logistics technology to keep up with the major changes and ensure survival in a tougher business environment.