Order Tracking and Visibility
Complete Visibility of Your Trucks and Teams in the Field
In this age of instant communication, when a customer wants to find out the status of an order, they want to know now. With our software, neither you nor your customers are ever in the dark.

When your office receives a call from the customer to check the location or ETA of their food shipment, with a few clicks, your team can give them a live, accurate update without delay.
Sometimes just knowing the driver's location isn't sufficient. Our software can provide your dispatcher with integrated information like full details about the order and notes that were entered by other customer service reps etc. This way, when the customer calls, they truly feel they're being taken care of because your delivery organization fully understands what's happening.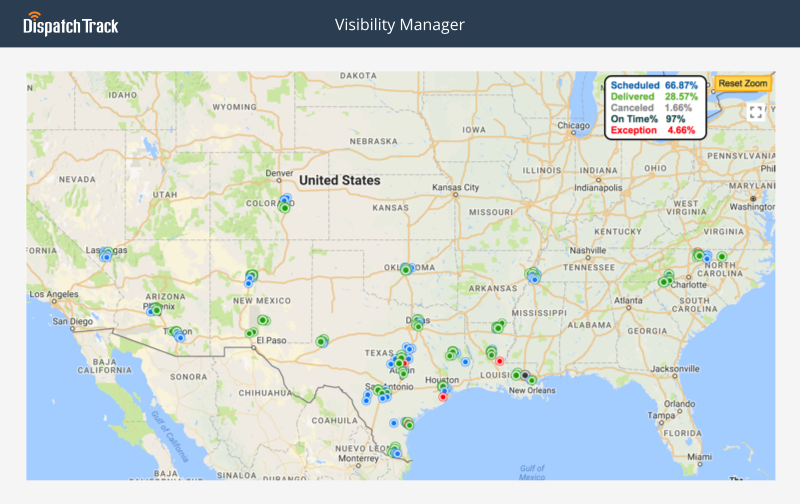 Many customers don't even have time to call and check up on their delivery. They much rather use their smartphones to look up the status and ETA of their order. DispatchTrack does them one better by proactively pushing a tracking link to them via email or text, so when they go to their device, the details they're looking for are ready and waiting.
Meeting these modern-day, on-demand expectations means your delivery organization must be equipped with advanced logistics software. You need a system that is fully connected, all the way from inventory management, dispatch, routing, to a sturdy mobile app for your drivers. Our solution delivers all that and more, so your office always has eyes on your most valuable cargo, your brand's prestige.

— David Baer
Vice President, Baer's Furniture

Route optimization to minimize Fuel and Labor Costs
As a wholesale distributor, you always need to worry about delivery costs. Given the recurring nature of the deliveries, sm …
Read More


Accurate ETA's and predictability.
The customer is planning their business based on receiving their merchandise at a certain time. A chef that is expecting a lar …
Read More


Customer Communication.
Predictability and transparency create trust. In wholesale distribution, this equates to a competitive advantage …
Read More


Protect From False Liabilities with Proof of Delivery.
Wholesale distribution involves orders with large line items, and they are perishable. Customers do reject items that they think…
Read More