The telematics definition tends to vary, but often this term refers to the blending of two sciences, namely telecommunications and informatics. These days, telematics is usually used to refer to telematics solutions leveraged by commercial fleet operators.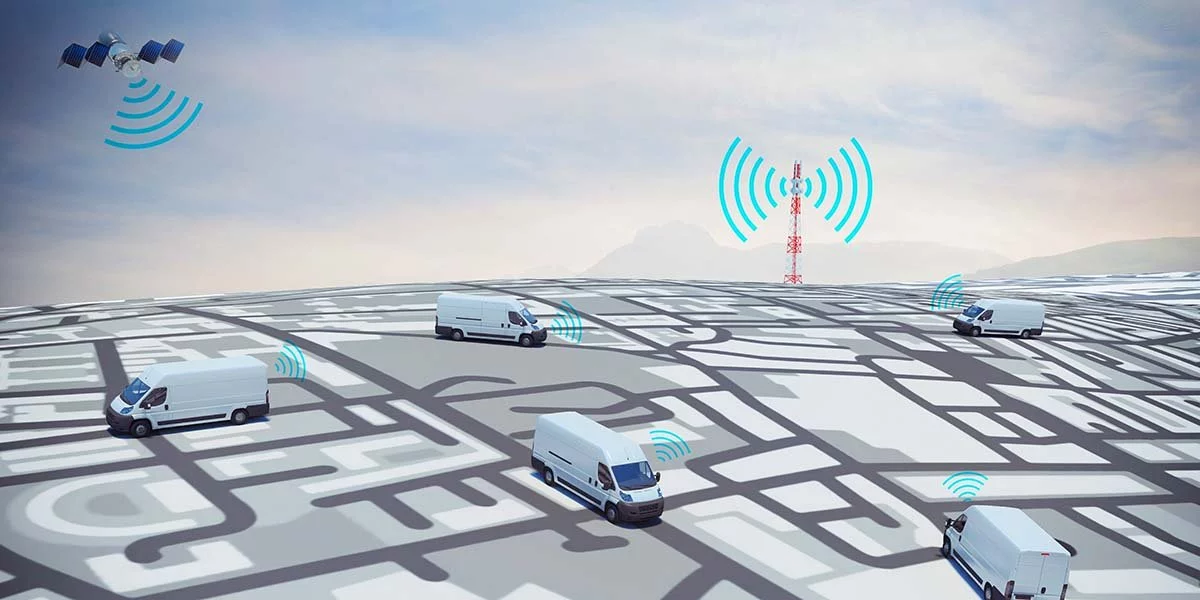 "Black box" and wireless telematics devices were designed to collect and transfer information on vehicle maintenance, vehicle usage, and servicing. Many companies also opt to use a branch of telematics, fleet management software, for coordinating vehicles and providing data on the productivity, health, and profitability of the whole fleet.
What Is Telematics? Understanding How It Works
At the very least, a telematics fleet management system should have a vehicle tracking device located inside the vehicle. This device should be able to send, receive, and store telemetry information. The device connects via the vehicle's CAN-BUS port with a SIM card or onboard diagnostics (ODBII), and a modem allows the transfer of data via a wireless network.
The tracking device is responsible for the collection of GPS data and a host of other vehicle-related information, which is then transmitted to the centralized server using 4G mobile data, a general packet radio service (GPRS), satellite communication, or cellular network. The server, in turn, analyzes the data and displays it on apps or secure websites.
There is a variety of information captured by telematics and this often includes harsh braking and acceleration, idling time, speed, location, vehicle faults, and fuel consumption, among others. End-users can analyze this data to spot trends and patterns across the entire fleet.
Most vehicle makers pre-install GPS tracking and telematics technologies in their manufactured vehicles. However, fleet operators with vehicles without such installation can opt for GPS devices that are running either on batteries or via the vehicle's internal electrical systems.
Making the Most out of Telematics Systems
Now that we've answered the question of "What is telematics?", beyond the telematics definition, why should telematics matter to your fleet? Telematics systems that are integrated with current applications and systems can be used by commercial fleet companies in different ways.
Tracking driver performance
Fleet managers can use telematics to monitor a driver's location, speed, seat belt use, and other harsh driving behaviors.
Vehicle and asset tracking
Vehicles and other assets such as trailers can be monitored in real-time with the combined use of GPRS networks, GPS satellites and receivers, and cloud computing. The GPS receiver is responsible for downloading and processing data from GPS satellites so other applications like GPS navigation systems can use the gathered information. The receiver also transfers the information to web servers that are accessed by office personnel.
The GPS trackers can also be installed in other assets so they are well accounted for. Businesses can also set up the telematics system to provide alerts when an asset is moved without proper authorization.
Asset maintenance
Using telematics for the entire fleet allows companies to schedule preventive maintenance and monitor hours-of-use records, engine hours, and service records.
Insurance risk evaluation
Fleet managers can use data generated by the telematics system to identify risk factors accurately and ask insurance companies to adjust premiums accordingly.
The Advantages of Telematics for Fleet Operators
Increase productivity
Thanks to real-time GPS data, fleet managers and drivers can reduce delays due to traffic and weather conditions. Dispatchers can also assign new deliveries to the nearest driver and provide them with the fastest route possible.
See better safety numbers
Tracking driver behavior allows fleet managers to call out unsafe driving practices like harsh braking or speeding. Monitoring vehicles and driver behavior helps managers pinpoint dangerous driving habits and correct them accordingly. Improving driver performance goes a long way in preventing road accidents and upholding safety standards.
Reduce fuel expenses
Telematics helps determine inefficiencies like fuel spillage and vehicle idling so fleet managers can address them quickly. Plus, the system also helps decrease unnecessary mileage by finding the most efficient routes for each driver.
Decrease vehicle maintenance costs
Staying on top of engine hours, hours-of-use, and service records of vehicles helps ensure timely repairs and preventive maintenance, which in turn decreases vehicle maintenance expenses.
Manage payroll more efficiently
The system monitors the precise moment the vehicle starts running, as well as the time it shuts down. Managers will then have automated and accurate data of how long a driver worked for each day, helping the company pay drivers accurately and fairly.
Cut-throat competition forces businesses to find ways to eliminate inefficiencies and reduce cost. For many fleet companies, this means taking advantage of available solutions such as telematics that will help boost productivity while ensuring compliance to regulations and keeping expenses low. In the future, industry players can expect wider adoption of telematics given the emergence of new applications, higher use of mobile devices, and easier integration with enterprise systems. Telematics is fast becoming a necessity across all fleet operations.