Around 10 percent of all retail sales were done online in the last ten years. That's an increase of roughly $364 billion in e-commerce purchases, a growth that's also seen as a revolutionary shift.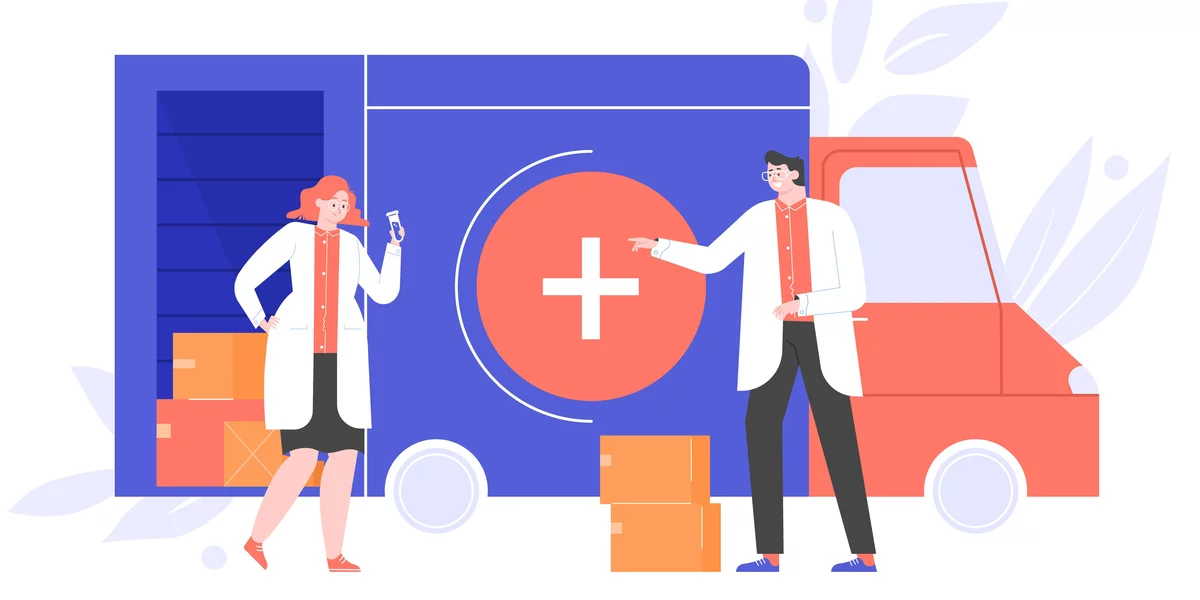 The revolutionary shift in consumers' behavior is also impacting other sectors. For one, health services at home are expected to grow exponentially in the next few years. According to the US Centers for Medicaid and Medicare Service (CMS), home health spending would likely increase to 80 percent, from $97 billion in 2017 to $173 in 2026.
More patients these days are opting to do their dialysis, intravenous administration of cancer drugs, respiratory and physical therapy, and other treatments in the comforts of their home. After all, in-home treatments are cheaper than getting these medical services in a medical office or at a hospital.
As you can imagine, this increase in medical delivery demand presents a number of unique last mile challenges.
Understanding Medical Deliveries
Making in-home medical treatments more accessible requires ensuring that an efficient healthcare distribution solution—one that can handle constant medicine and equipment deliveries—is available. At the same time, B2B medical delivery presents many of the same challenges.
The healthcare sector cannot rely on Fedex or UPS as these goods need more than just mere transportation. Medical deliveries require careful handling and often have specialized requirements. Below are some of the goods that are required for home healthcare services:
Dialysis machines
Life-saving cancer drugs
Walkers, wheelchairs and other mobility-related devices
Oxygen tanks
Most of these items usually have to be delivered within two hours. Strict delivery windows are necessary to ensure that the medicine and equipment are ready at the time of the healthcare professional's visit.
Thus, the pressure on delivery fleets to meet their promised delivery windows is much higher when it comes to medical delivery. Failing to deliver on time can have disastrous and costly results—and end customers will have no compunctions about finding other delivery options that can meet the strict delivery timeframes required in medical delivery services.
What Are the Challenges in Medical Delivery?
Delivering medical supplies and equipment cannot be compared to shipping other goods door-to-door. Last mile deliveries are already challenging, but more problems are facing companies engaged in medical delivery services:
Additional Service Requirements
Not all drivers can complete deliveries for all types of medical equipment. Some products require setting up, installation, or close monitoring of temperature. For example, a driver may have to install a dialysis machine, connect the breathing apparatus to an oxygen tank, or deliver straight to a refrigerator and inspect if the appliance is set to the proper temperature.
Special Requirements
Some drugs require particular temperatures, and failure to adhere to their required temperature settings can cause them to become spoiled or ineffective. Likewise, something like a dialysis machine has to be stored and handled carefully or it might end up being damaged. Thus, last mile delivery companies must ensure that their trucks are well-equipped to transport the medical products and their drivers are well-informed about proper handling.
Complete Visibility
Because drugs often need special handling, it's imperative for all parties involved in the in-home health care visit to know the delivery status at all times. Consider the fact that shipping pharmaceuticals involve refrigerated trucks, temperature storage and control measures, and so much more. Being able to track vehicles carrying medicines is necessary to ensure that all requirements are being met.
On-demand delivery
Medical delivery schedules are made complex by patient requests and conditions, as well as changing care plans. Plus, new patients tend to be added to routes regularly. All these changes can be difficult to handle for dispatchers or transport managers.
Driver continuity
Drivers sometimes are the lone face-to-face interaction of a patient during the day. This is why many healthcare agencies prefer to have a single driver assigned to deliver goods to specific patients. Some drivers are also instructed to observe the patients and inform the healthcare agency of any possible concerns.

How Advanced Route Planning Software Helps
Last mile deliveries are inherently complex, and last mile deliveries of medical products, supplies, and equipment are even more complicated. As you can imagine, any of the special challenges we listed out above are going to make delivery routing radically more complicated. To the right people on the right jobs, you'll need to be able to perform skill-level routing quickly and easily. To ensure on-time delivery within a short window, you'll need a route optimizer that's highly accurate under all circumstances. To monitor the cold chain, you'll need straightforward technology integrations that make tracking easier.
In short: the key to managing all the challenges in medical delivery service is to invest in the right software.
Routing software can help optimize every step of the delivery process—from pick-up at the distribution center or warehouse all the way to the patient's doorstep. Ideally, you'd also be able to pair this functionality with software that can handle quality assurance monitoring as easily as it can report key details, including trailer temperature en route, length of time inside the delivery vehicle, and proof of temperature upon delivery.
You can also use this kind of solution to factor in driver skill levels and specializations. A company can assign a small pool of drivers or even specific drivers to specific patients, in order to meet healthcare agencies' requirement of driver continuity. Likewise, the right software can also match drivers with specific skill sets with the delivery requirements. By matching up the right resources to the right jobs in this way, you can power more optimal (and thus more cost effective) labor utilization.
Accommodating changes while ensuring that promised delivery windows are met is only possible with dynamic routing software.
The last mile deliveries of healthcare products are complex and expensive. Non-automated route planning methods are inefficient and prone to human error. Simply put, they can't address the many challenges of medical delivery services. In that sense, providing medical delivery services requires investing in the right solution. But If you can achieve the level of visibility and on-time performance that this type of last mile shipping requires, your customers will be excited to work with you going forward.