The COVID-19 pandemic affects all aspects of fleet operations, underscoring the need to keep drivers both safe and healthy while on the job. After all, stopping fleets from transporting essential goods and services is not an option. Thus, it is critical for business owners and fleet managers to communicate practical health and safety strategies and for drivers to take all precautions seriously to prevent them from getting infected with—or spreading—the coronavirus.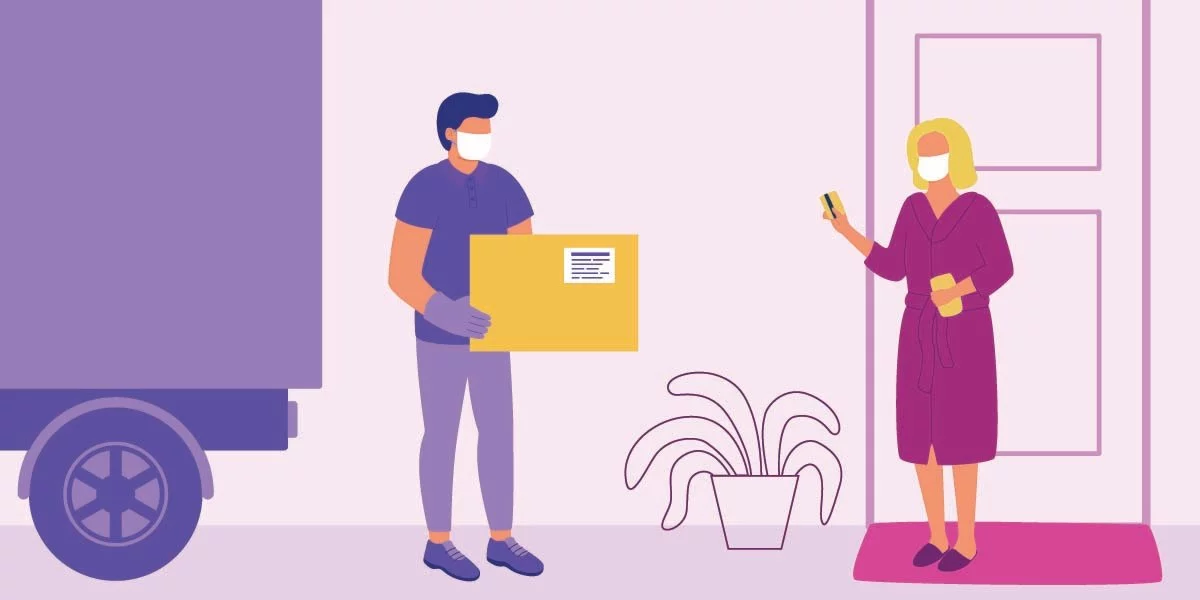 Scheduling Contactless Deliveries
COVID-19 is causing major disruptions everywhere and impacting everyday realities. Truckers who have a crucial role in ensuring basic needs are met are often at high risk of getting infected.
We'll get into the nitty-gritty of the safety tips for truck drivers below, but one of the most important things to think about will be contactless delivery. In addition to marking another hurdle to safety, contactless delivery puts added pressure on your routing and tracking technology. Your route optimization app needs to factor time and other differences between contactless and normal deliveries—and your customer communication has to be comparatively seamless. Otherwise, there's a risk of either unwanted contact or parcel theft if consignees aren't notified about packages in a timely way. While doorstep package thieves aren't likely to pose an issue for something like a couch or a dishwasher, this can still be a concern in food/beverage delivery, medical delivery, and more.
Likewise, you'll need capabilities for taking contactless proof of delivery, which typically means gathering signatures through a mobile application. In short: now more than ever, you need reliable last mile tracking technology in order to stay safe and competitive.
What Can Fleet Owners and Managers Do to Protect Drivers?
Fleet owners and managers have crucial roles to play when it comes to ensuring their drivers' safety. It's important to be aware of the current guidance around preventing the spread of the virus, and to take steps to ensure that drivers aren't being exposed unnecessarily.
Centers for Disease and Control Prevention Guidelines
The United States Centers for Disease and Control Prevention, more commonly referred to as CDC, has rolled out some guidelines that speak to some of the unique challenges of the trucking industry.
Follow CDC guidance regarding critical infrastructure workers who may have had exposure to confirmed or suspected COVID-19 cases.
Designate an employee who is tasked with responding to COVID-19 related concerns. Fleet operators and managers must ensure that drivers know who the designated person is and how to reach them.
Consider having a hotline number for employees who would like to voice their concerns anonymously.
Have a flexible sick leave and other supportive practices and policies. Consider creating non-punitive emergency sick leave rules if some or all employees don't enjoy sick leave benefits.
Create and roll-out a plan with the employees on what to do if they get sick while on the road. The plan should indicate how and where to seek medical attention and stop and contingency plans for freight delivery.
Inform employees on who to contact if they become sick. Employers must trace and inform employees who have been exposed to another employee who was confirmed to have been infected with COVID-19. Companies should maintain confidentiality in compliance with the Americans with Disabilities Act (ADA).
Provide additional support to employees, keeping in mind that the current situation and environment could increase stress levels among drivers.
Social Distancing and Supervisory Measures
Experts recommend fleet owners and managers to roll-out social distancing measures when and where possible. These social distancing measures are as follows:
If possible, study the option of letting drivers use their own vehicles rather than pool vehicles.
Plan for teams to travel using separate delivery vehicles.
Consider alternate shift hours to reduce possible casual interactions among employees.
Find various ways of adjusting refueling behavior. Ideally, drivers should avoid touching the keypad and handling the filler; changing gloves and washing hands immediately after refueling is a must, too.
Fleet owners and managers should also strengthen supervisory measures by doing or implementing the following:
Ensuring compliance with all applicable local, state, and federal regulations.
Ensuring compliance with all public health agency guidelines.
Communicating clearly fleet-related safety procedures to employees, including drivers.
Enforcing regular disinfection and cleaning of delivery vehicles and documenting them regularly. Drivers may refuse to drive a vehicle if they perceive it as a possible source of coronavirus infection.
Implementing face-mask wearing and hand washing rules and regimens.
Distributing disposable disinfectant wipes to wipe off surfaces commonly touched.
Distributing cleaning alcohol that can be used while on the job.
Putting up posters encouraging everyone in the organization to stay home when feeling sick, demonstrating proper hand hygiene practices in the workplace, and illustrating sneeze and cough etiquette.
Vetting and pre-qualifying rest areas, truck stops, and hotels to ensure that these facilities are compliant with COVID-19 practices and are open.
Regularly cleaning and disinfecting warehouses or distribution centers.
Providing proper food service and handling.
Shifting to contactless fuel payment.
Implementing

contactless deliveries

to protect both drivers and customers.
Providing drivers with a truck driver safety checklist.
Truck Driver Safety Tips
Drivers themselves can also take several measures to minimize their probability of getting infected with COVID-19.
Drivers should be vigilant in disinfecting the insides and exteriors of their delivery vehicles by following these tips:
Paying close attention to instruments and surfaces such as shifting mechanisms and steering wheels.
Washing all frequently touched surfaces using a high alcohol cleaning solution (66 percent at a minimum) or hot soapy water.
Cleaning all buttons, switches, touchpad and levers, and living areas.
Washing linens regularly and disposing of plastic bags.
Cleaning mirrors, door handles and windows, and other high touch surfaces like tools and trailer doors thoroughly and regularly.
Following a regular cleaning schedule, including cleaning before and after the shift.
Documenting cleaning procedures for shared delivery vehicles.
Other Truck Driver Safety Tips
Below are other safety tips for truck drivers to follow while on the road:
Practice social distancing as much as possible
Stay inside the vehicle while supplies are being loaded or unloaded. Keep windows up when talking to another person as possible.
Drivers who need to spend a night at a "hot spot" should consider sleeping in the sleeper cab or staying inside hotel rooms.
Avoid touching objects with bare hands such as pens, credit cards, cups, handles, clipboards, and ATM pads.
Wear a face mask and gloves when interacting with others, combined with social distancing.
Disinfect and wash fabric face masks and disposing of surgical masks.
Follow contactless payment mechanisms implemented.
Wash hands with soap and water as much as possible or use alcohol to disinfect hands if soap and water are unavailable.
Use phone or radio to communicate with other drivers, dock managers, or fleet managers if possible.
Pack water, food, and other supplies to minimize the number of stops
Keep the delivery vehicle well-ventilated.
Contact facilities or customers in advance so unloading of cargo or deliveries can be done quickly.
Avoid sharing items such as personal protective equipment, including safety glasses, vests, tools, radios, phones, and other personal items.
Use pre-qualified hotels or truck stops as pre-screened by the fleet operator and managers as having adequate COVID-19 protection.
Ask fleet managers if directives provided are unclear.
Fleet operators and managers can and must put in place COVID-19 measures to protect their drivers from getting the COVID-19 disease. Hopefully, these truck driver safety tips will be a good start for doing just that.