Delighting your customers—whether they're end consumers or other businesses—has never been more challenging. Consumers today expect more affordable or even free delivery. That's a tall order for any business to meet when operating costs haven't gone down.
In efforts to stay competitive, firms must discover new ways to trim costs and increase productivity so they can lower delivery costs for customers. The key to pulling this off lies in a company's last mile logistics tools and tactics. This translates to businesses looking for any and all ways they can enhance efficiency in this tricky segment of the supply chain, including delivery optimization software.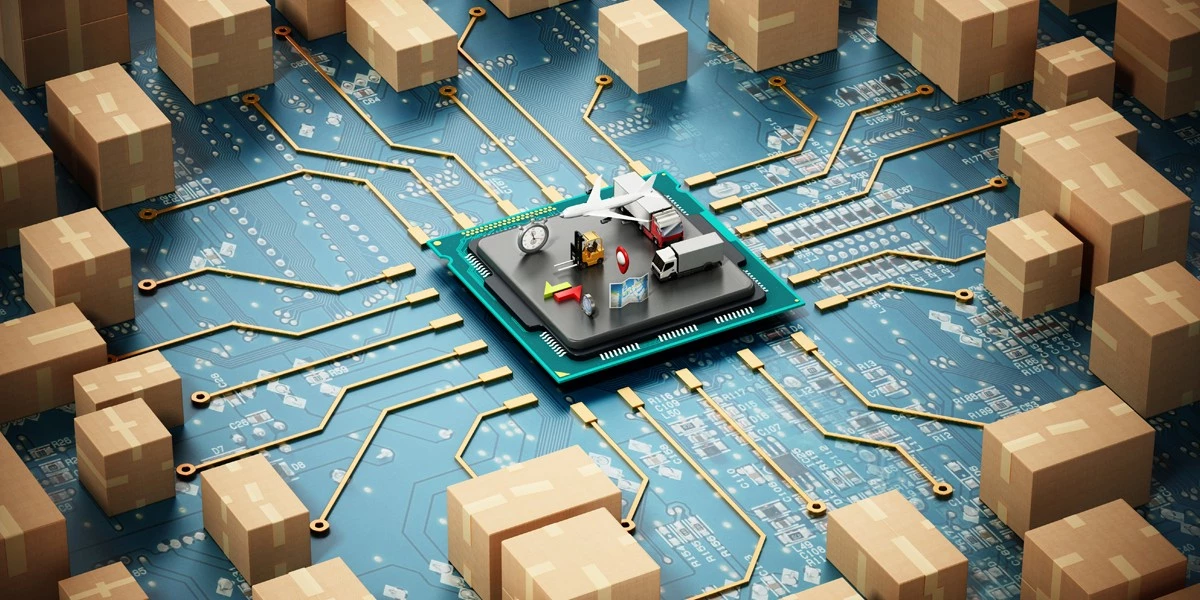 Here we'll explore the key ways that agile, connected, and intelligent software can be leveraged to address and overcome the challenges of last mile delivery that businesses are facing. Streamlining last mile delivery can result in significant savings for businesses across the board—but just as significantly, it can result in deliveries that consistently delight your customers and keep them coming back.
Let's dive into the details of how technology can be used to ensure that you use your resources in the most efficient way while delivering at the right time for your customers.
5 Ways to Improve Deliveries with "Right-Time" Delivery Optimization Software
1. Leverage route planning to trim delivery times
Anyone who delivers orders has to have a route to follow. In a perfect universe, these routes are simple and clear. Most of the time, however, drivers are stuck with routes that are confusing, inefficient, or unrealistic. That means that they're exerting a lot of energy, effort, and fuel on only a few stops. Furthermore, in heavily urbanized areas, traffic gridlock can use up just as much time and gas, even though the drop-offs are closer together. If you're not utilizing the most efficient routes, you run the risk of deliveries that are both expensive and prone to delays.
With the right delivery optimization software, you can optimize delivery routes by automatically factoring travel and service time, location, vehicle capacity, traffic, and driver skill into the equation. When you have the shortest possible routes—and accurate ETAs to match—you can deliver more orders in less time, all while reducing missed and failed deliveries.

2. Reduce manual planning time while increasing predictability
Continuing on the first point, possessing a modern routing engine that can minimize the number of drivers needed in a day to complete the deliveries—but it also means that you can save the time needed to plan routes manually. By automating dispatching as well, you can free up routers and dispatchers to spend their time on more value additive tasks. At the same time, AI-powered route optimization functionality enables you to decrease the frequency with which plans go sideways out in the field, such that exception management effort is decreased as well.
3. Use data to become more agile and intelligent
With the right delivery optimization software, you can monitor key metrics, including success rates, on-time rates, service times, feedback scores, planned stops vs. actual, and more. Detailed, automated reporting helps you identify bottlenecks and problem areas before they become larger issues, as well as helping you spot opportunities for improvement. Ideally, you'd be able to export this data at any time based on your exact specifications to produce comprehensive custom reports. By recording and monitoring these KPIs, you can track your company's last mile delivery supply chain and work on continually improving over time.
Of course, effective data usage isn't just about reporting on deliveries after the fact. The best delivery management solutions also give you real-time data that's intuitive and actionable. For instance, you might have an order management dashboard that shows you your overall delivery performance for the day so far, as well as the live status of every truck and order. From there, you might be able to drill down to specific order details when something unusual catches your eye. You might even have automated notifications and flags for particular kinds of order exceptions or disruptions. In this way, you can spot potential late deliveries before the customer is inconvenienced and find a way to resolve the situation that minimizes disruption. The ability to gain this kind of agility even on the day of delivery is one of the keys to consistently delighting customers.
4. Make proof of delivery simple as pie for drivers
Proof of delivery is documentation that verifies an item has been delivered, e.g. a signature from the recipient or a photo of the delivered item along with a date and time stamp. When your delivery management software includes a robust driver mobile application, proof of delivery is made easy. Drivers can complete the entire process on their phones, capturing photos, signatures, notes, and more with the press of a few buttons. Not only does this make drivers' lives easier, it also gives you a more comprehensive audit trail for your deliveries. In this way, you can more easily avoid false liability claims. This can also help you lay the foundation for automated invoicing functionality—since everything you'd need for an invoice or a driver settlement is already being captured during the delivery and stored in your central system.
5. Elevate customer experience to the next level
Creating value and meaningful improvements to your customer communications requires going beyond simply providing customers with a static tracking number. Consumer surveys have consistently found that customers are expecting more and more from a standard delivery service in order to be satisfied.
When you deploy the right technology, you can give your customers the ability to track their orders in real time from the comfort of their own devices, and receive notifications directly from drivers, confirm their order schedules via text and email, and otherwise stay in the loop. That, in a nutshell, is the premium customer experience that every logistics operation should be aiming at.
At the end of the day, each of these benefits is worth going after on its own. But when you combine them, they add up to more than the sum of their parts. They help you achieve true right-time delivery and consistently delight your customers with kept promises. In the modern delivery world, this is the definition of success.