← Back to All Blog Posts
Delivery Optimization Software: 5 Challenges It Solves
---
Delighting your customers—whether they're end consumers or other businesses—has never been more challenging. Consumers today expect more affordable or even free delivery. That's a tall order for any delivery business to meet when operating costs haven't gone down.
In efforts to stay competitive, firms must discover new ways to trim costs and increase productivity. The key to pulling this off lies in a company's last mile logistics tools and tactics. This means looking for any and all ways to enhance efficiency. In this tricky segment of the supply chain, that usually means leveraging delivery optimization software.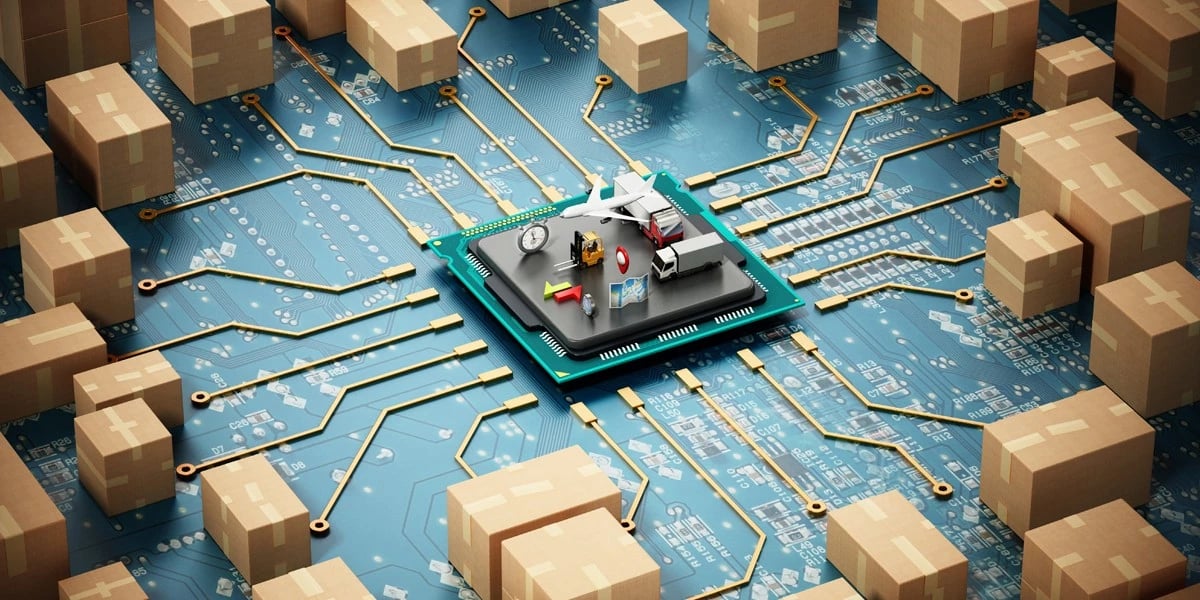 Here we'll explore the key ways that agile, connected, and intelligent routing software can overcome the challenges of last mile delivery. Streamlining last mile delivery can result in significant savings for businesses across the board. But just as significantly, it can result in deliveries that consistently delight your customers and keep them coming back.
Let's dive into the details of how technology can be used to ensure that you use your resources in the most efficient way while delivering at the right time for your customers.
5 Ways to Improve Deliveries with "Right-Time" Delivery Optimization Software
1. Leverage route planning to trim delivery times
Anyone who delivers orders has to have a route to follow. In a perfect universe, these routes are simple and clear. Most of the time, however, drivers are stuck with routes that are confusing, inefficient, or unrealistic. That means that they're exerting a lot of energy, effort, and fuel on only a few stops.
Furthermore, in heavily urbanized areas, traffic gridlock can use up just as much time and gas. This is in spite of that fact that the drop-offs are closer together. If you're not utilizing the most efficient routes, you run the risk of high fuel costs and delays.
With the right delivery optimization software, you can optimize delivery routes by automatically factoring travel and service time, location, vehicle capacity, traffic, and driver skill into the equation. When you have the shortest possible routes, you can increase stops per route and reduce missed and failed deliveries.

2. Reduce manual planning time
A modern routing engine can minimize the number of drivers needed in a day to complete the deliveries. But it also means that you can save the time needed for manual delivery route planning. Simply put, the right route planning software makes it quicker and easier to plan routes.
By automating dispatching as well, you can free up routers and dispatchers to spend their time on more value additive tasks. At the same time, AI-powered route optimization software enables you to decrease the frequency with which plans go sideways. This means that you can decrease exception management effort as well.
3. Use data to become more agile and intelligent
With the right delivery optimization software, you can monitor key metrics, including success rates, on-time rates, service times, feedback scores, planned stops vs. actual, and more. Detailed, automated reporting helps you identify bottlenecks. You can spot problem areas before they become larger issues and find new opportunities for improvement.
Ideally, you'd be able to export this data based on your exact specifications to produce comprehensive custom reports. By recording and monitoring these KPIs, you can track your company's last mile deliveries and work on improving over time.
Of course, effective data usage isn't just about reporting on deliveries after the fact. The best delivery management solutions also give you real-time data that's intuitive and actionable. For instance, a dashboard could show your overall delivery performance, plus the live status of every truck and order. From there, you'd be able to drill down to specific order details when something unusual catches your eye.
You might even have automated notifications and flags for particular kinds of order exceptions or disruptions. In this way, you can spot potential late deliveries before inconveniencing the customer and find a way to resolve the situations. This is one of the keys to consistently delighting customers.
4. Make proof of delivery simple as pie for drivers
Proof of delivery is documentation that verifies an item has been delivered, e.g. a signature from the recipient or a photo of the delivered item along with a date and time stamp. When your delivery management software includes a robust driver mobile app, it makes proof of delivery easy. Drivers can complete the entire process on their phones, capturing photos, signatures, notes, and more with the press of a few buttons.
Not only does this make drivers' lives easier, it also gives you a more comprehensive audit trail for your deliveries. In this way, you can more easily avoid false liability claims.
This can also help you lay the foundation for automated invoicing functionality. You're already capturing everything you'd need for an invoice or a driver settlement during the delivery. This means you can easily store it in your central system.
5. Elevate customer experience to the next level
Creating value and meaningful improvements to your customer communications requires going beyond simply providing customers with a static tracking number. Consumer surveys have consistently found that customers expect more and more from a standard delivery service.
When you deploy the right technology, you can enable customers to track their orders in real time from their own devices. They can also receive SMS notifications, confirm their order schedules via text and email, and otherwise stay in the loop. That, in a nutshell, is the premium customer service that every logistics operation should be aiming at.
At the end of the day, each of these benefits is worth going after on its own. But when you combine them, they add up to more than the sum of their parts. They help you achieve true right-time delivery and consistently delight your customers with kept promises. In the modern delivery world, this is the definition of success.
How DispatchTrack's Delivery Management Software Transforms the Last Mile
The benefits that we've discussed over the course of this article aren't hypothetical. They're just a sampling of what users get when they switch to DispatchTrack. Our platform offers a comprehensive suite of last mile functionality, all tailored to help delivery businesses boost efficiency.
Here's what DispatchTrack has to offer:
AI-Powered Route Optimization
DispatchTrack's routing engine leverages AI and machine learning to create the most efficient possible routes with the most accurate possible ETAs. Our system learns from previous deliveries to effectively predict traffic patterns, service times, and other factors that impact deliveries. The result is 98% accurate ETAs.
Because we've built our system on scalable SaaS technology, users can route thousands of stops across hundreds of trucks in seconds. This means that order cutoff times can be later in the day, and users can more easily make last-minute adjustments.
But our system isn't just fast—it's powerful. It gives you the ability to ensure that your routes work for your business. You can route by skill level, you can handle time window requests, and you can easily manage vehicle, driver, and customer constraints.
The result is that our users see the following benefits:
Significantly reduced time spent routing—no matter the complexity
10% fewer miles driven
10% reduction in fuel costs
98% on-time delivery rates
Significantly fewer missed and failed deliveries
This all adds up to more than just efficiency improvements. It puts you in a position to put more strategic about your last mile logistics. And it enables you to adapt more quickly to changing circumstances.
Robust Customer Communications
Successful deliveries are all about customer experience. And that's exactly what your delivery optimization software should provide. That's why DispatchTrack offers best-in-class customer experience management tools.
We enable delivery businesses to stay connected to their customers at every stage of the process. Communications are fully integrated with routing, planning and tracking—which means that customers are always getting real-time information. Our system supports:
Schedule confirmation messages
Self-scheduling messages
Pre-routing reminders
Next-day delivery reminders
Route start notifications
Next stop notifications
Two-way communications
Live customer delivery tracking via a dedicated portal
Not only do we enable users to send out notifications, we also empower them to customize their communication cadences as needed. You can send out customized notifications for different services or delivery types. And you can do it all with your own branding front and center.
The result is that customers feel taken care of. They feel a sense of trust, and they're confident that the delivery is going to arrive on time. In this way, you can build your brand and boost customer loyalty.
On top of all that, our communication suite can save serious time and money for delivery businesses. By sending messages and notifications at scale, you save time and money. Likewise, by keeping customers informed, you reduce the need to field where's-my-order calls. The result is a more streamlined and cost-effective last mile.
Real-Time Visibility
DispatchTrack's system is built on providing users the right data, in the right place, at the right time. One of the ways we do that is with our real-time visibility dashboard. Here, we take in live updates from drivers out in the field and turn them into immediate insights.
This is more than just GPS tracking. We're able to gather status updates, live ETAs, real-time proof of delivery updates, and more. Then, we centralize that data into a single intuitive dashboard.
The result is that you can see how your entire delivery day is unfolding from a single screen. At a glance, you can see the status of every truck, route, and order. This level of live intelligence turns the dashboard into a true delivery control tower.
The result is that DispatchTrack users are able to:
Spot delivery exceptions at a glance
Proactively reach out to customers about late deliveries
Configure internal alerts for specific exceptions
Instant message customers and drivers to resolve incidents
Smarter Driver Management
DispatchTrack's platform seamlessly blends planning and execution to help delivery businesses boost efficiency across the last mile. To ensure a close connection between planning and execution, we offer an easy-to-use, feature-rich driver mobile app.
When users create routes using our route optimization engine, the system automatically dispatches those routes directly to the drivers' mobile devices. From there, they can see all their stops for the day and access turn by turn directions to each one.
As drivers move from one stop to the next, they can notify customers that they're en route. When they arrive at the job site, the mobile app can offer a checklist to ensure a successful delivery. This can be particularly useful with installations where you want a record that specific steps were taken.
Of course, the mobile also offers robust proof of delivery capabilities. Drivers can take pictures of their deliveries, add notes, and capture client signatures all on their mobile devices.
Proof of delivery is automatically time-stamped and geo-stamped, and it's visible from your dashboard within a matter of moments. This puts each and every delivery in context immediately. And it provides you with a clear electronic audit trail for every delivery.
When a delivery goes according to plan, this helps you realize revenue that much more quickly. And when damage claims come up, a clear record helps you stave off false liability. If, conversely, the customer isn't at home, the driver can take a picture to prove that they made a delivery attempt.
Custom KPIs and Reporting
Having the right data at the right time isn't just about live delivery updates. It's about being able to analyze your delivery operations as a whole. That's why DispatchTrack offers custom delivery reports with the information that's most crucial to understanding and perfecting your last mile deliveries.
From our reporting module, users can access a number of built-in reports:
Planned Deliveries vs Actual
Route Summary
Driver Productivity
Order Completion
Average Customer Satisfaction
On Time Rate
Delivery Report
Reservation Report
Route Manifest
And many more...
But we don't just offer these reports up pre-canned. We give you the ability to customize them to your specific needs. Users can add custom rows and columns, add filters, add HTML customization, and schedule the reports to be generated on a regular basis (e.g. once a week).
Information can go out of date quickly in logistics. That's why DispatchTrack makes it easy to find the data you need, when you need it.
Hybrid Route Optimization
For B2B delivery businesses like food distributors and beverage wholesalers, most route optimization solutions aren't going to meet your needs out of the box. The kind of dynamic routing that works so well for retail deliveries simply doesn't make sense for B2B. When you make semi-predictable, recurring deliveries each week, it's not efficient to start your route planning from scratch.
Does that mean that food and beverage distributors and similar businesses are stuck losing out on potential efficiency gains from route optimization? Not necessarily. By implementing a hybrid approach that blends static and dynamic routing, you can serve your customers more efficiently without sacrificing stability.
Here's how DispatchTrack's solution makes that happen:
Users static route plans as needed to reflect their current delivery plans.
As new orders come in or customer needs change, the system routes new stops dynamically around existing stops.
Depending on your customers' exact needs, the system lets you pin particular stops to specific times or positions as required.
Create and leverage multiple base plans in parallel and swap them in and out as needed, e.g. for a Memorial Day or the Super Bowl.
By combining static and dynamic routing in this way, DispatchTrack helps our customers achieve a number of benefits. Not only are we able to help power higher-density routes, we're also able to speed up route planning significantly.
This can have a transformative effect on delivery businesses. For many wholesalers and distributors, creating new routes is so complex that it can only be done a few times a year. This obviously makes it hard to stay efficient as conditions change.
With DispatchTrack, creating new route plans doesn't have to take weeks or months. You can do it in a matter of minutes. That means that you can respond much more rapidly to changes in your customer base or in customer ordering habits.
And when you do make last minute adjustments, the strength of DispatchTrack's routing engine means that you're able to stay efficient. If a local big box store needs an off-day delivery of a case of beer, you can slot it in with minimal disruption. The result is reduced delivery costs and better customer service over time.
Customer Self-Scheduling
Often, customers want the ability to choose their own delivery times. Unfortunately, tracking them down by phone can be a tedious and time-consuming task. It usually takes multiple tries to reach a customer. And even then you can't guarantee that they'll like the times they're offered.
DispatchTrack solves this issue by offering smart, capacity-aware customer self-scheduling.
When it's time for a customer to schedule their delivery time, the system sends a message with options for time slots. These aren't just the first available slots. Rather, they're dynamically generated based on your existing schedule.
These dynamically generated time slots are capacity-aware. This means that the no matter which time slot the customer selects, their order will fit seamlessly into your existing plans. As customers schedule their deliveries, you're able to maintain route efficiency.
The end result is that customers get the freedom to select their own time slots, building trust and decreases failed deliveries. All the while, you're able to roll out optimized routes that reduce miles driven. And you're able to reduce the expensive phone time that comes from calling customers.
DispatchTrack: One Connected Delivery Optimization Platform
DispatchTrack has powerful features that can help delivery businesses decrease costs and boost customer satisfaction. But the real power of our platform comes from the fact that it's a single solution designed to handle your last mile planning and execution needs.
When you have to switch between solutions to plan routes, communicate with customers, and track deliveries, you lose out on efficiency. When these functions and more are gathered in a single place, you can take a more holistic approach the last mile. You can connect planners, drivers, and customers to ensure that the entire last mile runs smoothly.
For more than 10 years, we've provided delivery businesses with the tools to optimize their last mile logistics from end to end. We're a SaaS-native platform, so our technology is scalable and adaptable. We innovate quickly and push out new features to help our customers maximize their capabilities.
As a result, we've been able to help more than 2,500 businesses around the globe to reduce delivery costs and delight their customers. Large enterprises like Ferguson, Coca-Cola, Ashley, and money others rely on DispatchTrack. Why? Because we have a long track record of last mile optimization and commitment to supporting our customers.
Managing last mile deliveries isn't getting any easier. Customer expectations have skyrocketed in recent years, and you need the right tools in order to keep up. DispatchTrack helps you deliver at the right time, every time by providing the ideal last mile solution for your technology stack.
To learn more, book a demo. One of our experts will be happy to walk you through all the ways that DispatchTrack's platform can reduce costs, boost efficiency, and help you delight customers.
---
DispatchTrack offers the most powerful end-to-end suite of tools for last mile logistics operators. Dispatchers, drivers, customers and clients can access our app on any device to schedule, track, modify and verify your deliveries.
See how DispatchTrack can optimize your operation
Book a demo
Explore DispatchTrack
Product Offerings →
A tool for every job. Be it routing, billing, or customer management, we can help your business be better.
Meet The Team →
What does it take to make a team work? Leadership, experience, and a unified vision of where the company is headed.
Popular Posts
Subscribe now for a weekly blog digest containing growth tips, industry updates, and product announcements!