Omni – Channel Order Tracker
In the current day and age of live communication about all matters, an important matter like tracking your delivery order is something that the customers naturally expect. They want to know the status of the order and the ETA using the communication channel of their choice.
Real-Time ETA
On the day of delivery, the customer is trying to plan out their day. Perhaps they need to take time off from work, or in the case of a business customer, they are trying to plan out rest of their day based on the delivery they are expecting. Everybody understands that traffic and weather can create unpredictability, therefore they want to know the ETA.
DispatchTrack's algorithms take live traffic and order status into consideration and continuously adjust ETA for all stops on the route.
Dashboard
Customers call in to find out the status of their order. When they do that, you want your customer service team to be fully empowered to be able to answer questions about the status of the order and the ETA. DispatchTrack's state-of-the-art Dashboard provides your team with detailed information about the order in an easy-to-use graphical interface. They are able to access all of the following and more when the customer calls in, so that they are able to truly service the customer comprehensively:
GPS location of the driver

Order status

ETA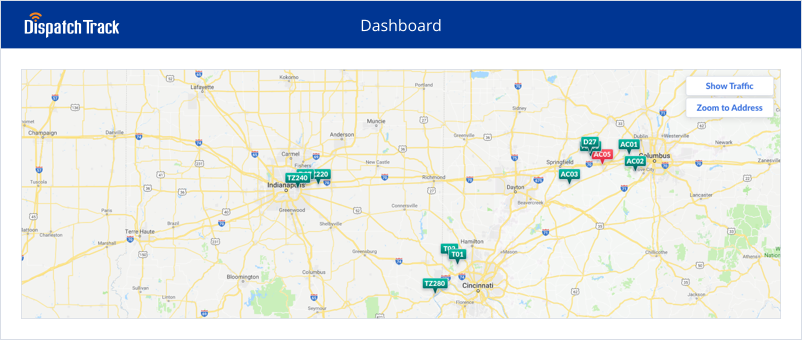 Online order tracker for Customer
Customers also want to self-serve to find out the status of their order. On your website, add the DispatchTrack Track Widget. Customers can simply put in their information and get real-time information about their order in a fully customizable and branded order tracking page. Giving an online order tracker that can give live ETA makes your company look current with technology, which can be a competitive advantage.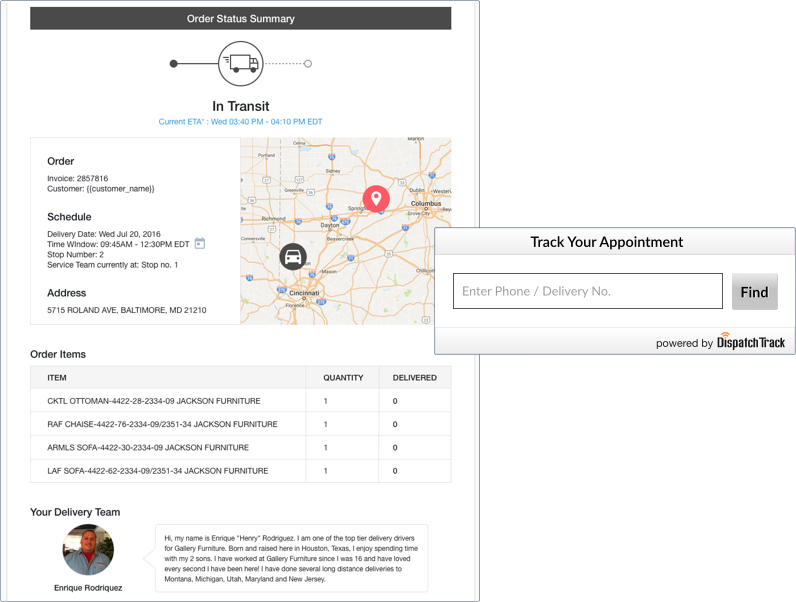 Call-In order tracking
Too many incoming calls can drown your customer service team. Sure, there are situations when there are complicated matters to sort out that requires the attention of the customer service team. But handling incoming calls to check on order status can also be minimized and optimized. DispatchTrack's Call-In feature allows your customers to call into your number and automatically receive status and real-time ETA about their order.

— David Baer
Vice President, Baer's Furniture