Driver is the last person that delivers service for your customer. Therefore in all delivery and service organizations, making it easy for a driver to perform well on their job will directly help the customer in receiving the best possible service from your company. To start with, go paperless.
DispatchTrack mobile application offers a complete set of features so that there is direct and real-time communication between the office and the delivery team. The thousands of drivers that use DispatchTrack have consistently recognized it as an easy-to-use software. It gives a professional experience for the customer, and gives real-time visibility to field operations to all involved.
Proof of Delivery/Service
After a job is done, it is important to get customer's signature as proof of delivery/service. Whether you are a retailer delivering goods, or a third-party logistics company delivering goods on behalf of a retailer, having digital proof of delivery/service is the final confirmation of job completion. DispatchTrack mobile application allows you to customize your terms and confirmation statements, there is absolute clarity for the customer on what they are signing for, and documentation for you that the customer indeed accepted the goods/service. These receipts can be sent to the customer digitally upon request at any time.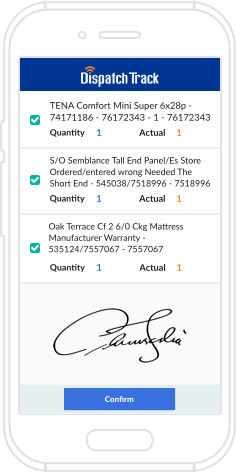 Detailed documentation of job completion is not only needed to avoid false liabilities but also helps you in providing better customer service. If a customer complains about any property damage caused by the driver, it is best to have detailed and auditable information to see if the damage existed prior to the driver's arrival or whether this happened during the delivery process. If there are pre-existing conditions, it is best to have customer sign off Release of Liability forms so that there are no future false allegations and false liabilities to deal with.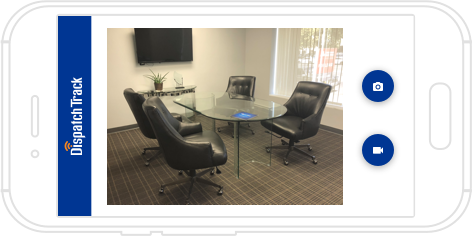 Custom Forms
Sometimes, there are specific forms that you want your customers or your driver/service technician to fill out at the time of the job either to capture more details of the job, or to get customer's confirmation about specific situations. For example, if you are a Pool Service company, you may need your technicians to document the readings, or if you are a furniture delivery company, you may want your drivers to have the customers fill out a Release of Liability form. There are so many situations when having customers fill out or sign specific forms becomes important. DispatchTrack allows you to create your own custom forms to suit any such need.



Android & Apple
DispatchTrack mobile application is supported on both Android and Apple devices. We keep up with emerging technologies on these popular platforms and offer free updates regularly so that you get the best of what these platforms have to offer.
No Connectivity? No Problem!
No connectivity? No problem! Drivers have to go to locations based on where the customer is, and does not have the luxury to be connected all the time. Therefore DispatchTrack has proprietary algorithms that allow the software to work seamlessly with or without connectivity. Drivers can continue to view their task list, and capture customer and job site information at all times.
When you are running a commercial truck, it is important to inspect it and document the findings of the inspection every single day. This is a good way to ensure that there won't be accidents due to faulty trucks. In fact, the federal safety regulations require the driver to be "satisfied" that basic parts and accessories are available and "in good working order" prior to driving the vehicle. When available, the driver is required to review and sign off the final DVIR forms. DispatchTrack provides the ability for you to fill out DVIR forms and make them available for audit any time in the future.

— Norman Alegria
Director Guest Care, The Dufresne Group