In an era of instant communication via internet and social media, when it comes to important delivery and service appointments, customers have come to expect the same level of communication. It may have worked in the past to give an appointment once and expect the customers to remember the appointment on their own without a reminder, but today's exacting customer service standards require providers to confirm that the appointment they are giving is OK to the customer, and then proactively send reminders about the appointments. But doing so manually
DispatchTrack provides customer communication mechanisms that are well-integrated into the delivery workflow so that you can send out communication via email, phone or text to your customers effectively and automatically, without adding to labor costs.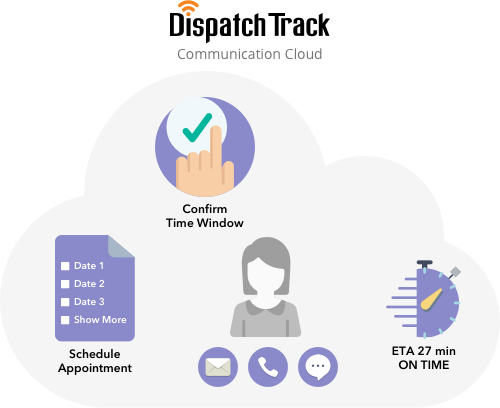 Pre-Call
When you organization provides home delivery or other residential services, it is absolutely important to confirm with your customer that the appointment works for them before your driver goes there. For example, if you are trying to deliver furniture and you only leave a voicemail to the customer with the delivery appointment without confirmation that the appointment will work, you are are rising a situation where the customer is not at home. In that case, it can cost you more in the wear and tear associated with moving the merchandize, re-shelving it etc, not to mention the unnecessary extra expense of labor costs.
DispatchTrack allows you to send out automated notifications to confirm delivery time windows in advance so that you can avoid Not at Home situations, and even more importantly your customers have premium experience with their delivery appointment.
Email, Text, Phone
Not everybody responds to the same mode of communication. Some customers prefer to be contacted by email, some by text and some by a phone call. When communicated via the right channel, you get confirmations quickly and you can complete the delivery logistics processes that much more quickly. Of course, if communicating with customers is labor-intensive, catering to the various preferences of communication channels makes it that much more harder and costlier when done manually.
Call notification capabilities in DispatchTrack are capable of communicating in all three channels, while being mindful of the applicable CTIA regulations.
Call Ahead
On the day of the appointment, customer is trying to re-arrange their schedules. There is great anxiety and anticipation regarding the appointment. If you are servicing a business, their business needs are dependent on the delivery/service appointment. If you are servicing a residential customer, their personal schedules are affected by the appointment. Given that live traffic conditions can affect ETA's considerably, customer is never too sure that the appointment is going to happen at the time that was promised. In order to alleviate these anxieties and to help the customer better plan their day around your appointment, it's best to make call or text them just ahead of their appointment.
DispatchTrack allows your drivers to push out automated calls along with live ETA's, on the day of delivery/service appointment.

Live Order Tracking

Call Ahead

Text Ahead

Real-Time ETA
Call In
Sometimes no matter how you try to contact the customer, you cannot reach them, and the customer wants to call in to confirm their appointment or just find out about their appointment. Handling all those incoming calls can add to your operational costs. DispatchTrack allows your customers to call in, and based on the customer's phone number, able to read out their appointment details and also allow them to confirm them.

— Joshua L Hudson
CEO, Hudson's Furniture