Automate Appointment Setting and Level-load Your Trucks with Reservation System
Running a delivery operation is complex and expensive. Hidden costs include unnecessary fuel costs due to running trucks not completely filled up, and the labor costs involved in the numerous calls to make to set delivery appointments.
Level-loading trucks to maximize capacity requires you to have real-time information on what's already filled up, and for you to have the ability to do the math quickly while looking at various options for the customer. All this must be done, while being aware of the customer's location and your department's delivery zones on various days. Last thing you want is to send a truck with only just one or two deliveries, because the appointment setter did not know how to fulfill those orders by optimizing existing capacity. You also do not want to inadvertently overbook, which result in unpleasant conversations with customers to re-book them for a day when you deliver their order.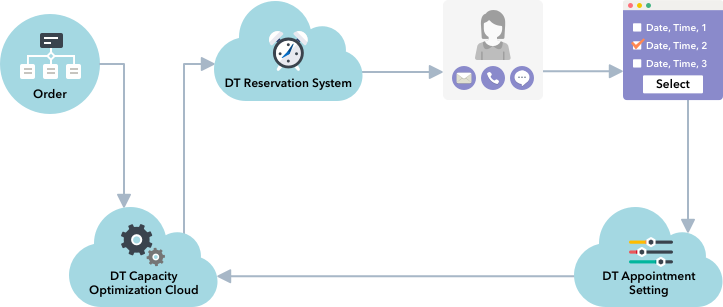 DispatchTrack software provides you with the ability to book delivery appointments digitally, and give options that are based on delivery zones and available capacities. The system will automatically send out text messages, phone calls and emails and allow the customer to self-serve and book their deliveries at a time convenient to them.
On average it takes more than 10 minutes per order to book an appointment because it takes multiple tries to reach the customer, and it takes time to figure out available capacities while having the customer on the phone. This is also heavily error-prone since processing all that real-time information and giving various options takes a lot of calculations. Depending upon the number of orders you process per day, you can see how DispatchTrack Reservation System has a very high ROI.