Go Paperless
The supply chain industry has traditionally been heavily involved in tons of paperwork from orders printed and routing sheets given to drivers to the feedback and acknowledgement collected by drivers from the customers. Many a time there were errors in entering the feedback by the driver or hurriedly scrawled inputs/feedback which are not legible and hence lost for good. The list goes on with lost, torn routing sheets which delay the delivery and lead to customer dissatisfaction. This is on the delivery side! We have a whole slew of problems in the billing and invoicing side of the delivery organization. Manually entering the data on orders, payments, generating paper based invoices, mailing them and this is just the tip of the iceberg. Majority of time is spent in retrieving valuable information and sometimes it is lost in the value chain due to omissions and errors leading to lost business and eroded margins. The enormous amount of staff used to maintain this paper based system and the time, effort and money consumed in this method is an unnecessary waste of resources.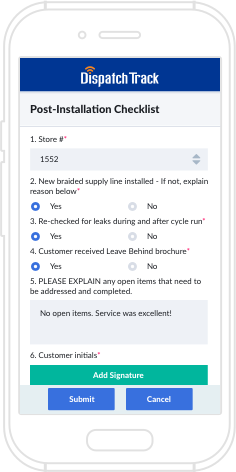 A fully automated, connected, paperless system can minimize labor costs involved in documenting everything. It significantly reduces manual errors and all of this can result in increased revenues and profitability. By automating the processes, you do not need multiple entries, verifications and printing of reams of paper. Added to this is the headache involved in preserving the records!
With the advanced technologies available today, there is every reason for companies to go completely paperless. It makes good business sense and simple common sense to do with paper based system and move on to the automated efficient system for managing your business process.
With the DispatchTrack solution, you can electronically communicate with your field personnel from your office. This gives you the power to quickly resolve any issues on the field and not wait for the driver to return to the office and file the report. You can push routing schedules to your drivers without the cumbersome paper based method where the drivers had to sieve through sheets and sheets of paper to find the next delivery stop. Field personnel can instantaneously send pictures of the items delivered, their condition, notes, signature of the customer, etc. making the process seamless and transparent which is what your customers are demanding.