Retail Customers Expect High Level of Communication
After the customer purchases their furniture or appliance item, before it is delivered, it is important to have clear communication with the customer establishing the date and time of delivery. On hand, customers have huge anticipation of their prized possession and hence are eager to know the status of delivery. On the other, taking merchandise to the customer's location without proper confirmation, risks the customer potentially not being at home. Merchandise that has been unboxed, loaded onto the truck and returned back has a tremendous risk of damaging the merchandise and risk dissatisfaction of your customer. In order to avoid this, it is extremely important to get confirmation from the customer about the date and time window before sending the truck. You are also making the customers feel privileged by taking their consent/preference!
How many times have you ever been able to reach the customer the first time on the phone? How frustrating it is to get a busy tone on the first try and the phone ringing but not picked up. Of course, we all know that when a phone call is made, the person on the other end is mostly not readily available to pick up the call. They may be at work, or at an appointment or simply away from their phone. When they call back, the customer service person may be on a call. Because of this, on average it takes 2.5 phone calls to reach a customer.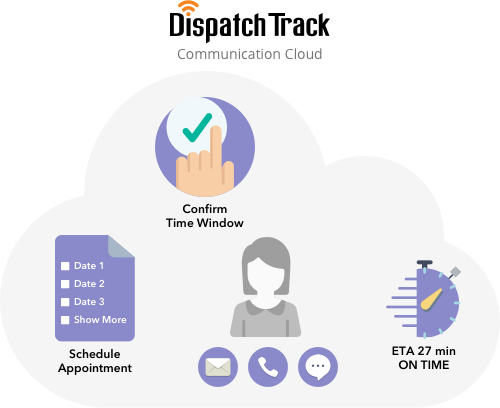 Customers expect instant communication about their deliveries. Given that there are so many modes of communication, different customers have different preferences in the way they would like to be communicated about their orders. It would be a humongous task if you had to instruct your team on who wants a call, or a message or an email and ensure it is executed perfectly.
All of this communication is not only complex but takes a lot of manpower and it needs more staff to stay competitive and provide proactive communication to the customer, which can get costly when a business is trying to protect its margins. Embracing digital culture is the way forward for the logistics industry to manage all these.
DispatchTrack sends out automated communication in multiple channels to the customers and collects their confirmations when needed. Using our automated notification system, businesses have reported having seen cost savings of up to 75%. Additionally, the job is done within just a few minutes, rather than spend multiple days trying to reach customers and confirm their schedules. Real time tracking and push communication keeps the customers informed on the status of the delivery and sets the right expectation bolstering the trust. We ensure that your customers get real time updates by having constant communication with our drivers without disturbing them. They stay focused on their job while we pull data and give you information that is current.