Customer Communicaton
Predictability and transparency create trust. In consumer service deliveries, this equates to a competitive advantage. In order for the client to plan out their day, they need definitive information on when to expect their deliveries. Customers' expectations have gone up and they want to know the order status. As a delivery organizations, you also need confirmation from customer on their specific preferences for delivery before planning your routes. Customer communication is a two way process where both you and your client need to exchange information for efficient execution of order.
As you plan out your routes, it's best to communicate and probably even get the customer's confirmation, just to ensure the time window you selected for them will indeed work. You also need to make sure that the customer specified instructions have been integrated into your planning. It is important to ensure that whatever customer has mentioned while booking the order is translated into the delivery because for some it is a high value item, while for others it could be fulfill an emergency need. Whatever the case, when customer has indicated his needs, you need to capture it and execute it which would make him feel valued. Your clients have their own schedules and deadlines to be met and, they are not willing to adjust their schedules to meet your delivery plan. Customer is God!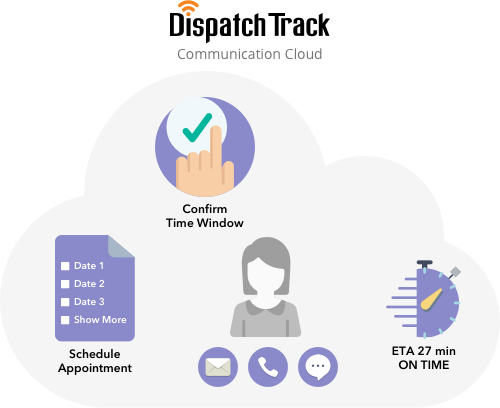 Of course, we all know that when a phone call is made, the person on the other end is mostly not readily available to pick up the call. They may be at work, or at an appointment or simply away from their phone. When they call back, the customer service person may be on a call. Because of this, on average it takes 2.5 phone calls to reach a customer.
Customers expect instant communication about their deliveries. But not all customers are alike, each has their own preferred mode of communication. With so many choices in modes of communication, there could be multitude requests from customers on how they want to be reached about their orders. Few of them want to be called, while a few others may want en email or a push message to know the status. To factor in all these requests, tremendous effort goes into planning which translated into huge manpower requirement if done manually.
To implement the customer communication, you may use more staff to stay competitive and provide proactive communication to the customer, but this could eat into your margins and prove to be costly.So, what is the way out for you? Go digital!
DispatchTrack understands your pain points and has an integrated solution to take care of your woes.DispatchTrack sends out automated communication in multiple channels to the customers and collects their confirmations when needed. Using our automated notification system, businesses have reported having seen cost savings of up to 75%. Additionally, the job is done within just a few minutes, rather than spend multiple days trying to reach customers and confirm their schedules. Moreover, our real time communications enhances the trust of your customers and increases transparency in the order processing giving the customers a sense of control and peace.